When you repurpose your blog content, you multiply the benefits, and multiply the return on your investment in that content.
After all, creating original content takes a lot of time and effort. So you want to maximize your returns wherever possible.
Creating original blog content takes a lot of time and effort. Maximize returns by repurposing it across the web on a regular and consistent basis.
Click To Tweet
And repurposing content you already have is so much easier than starting from scratch (particularly when part of a regular workflow)!
With that in mind, this post gives you over 20 ideas for repurposing your blog content around the web, helping to get the word out about your business to multiple audiences who would otherwise likely never come across you...
21 Ways to Repurpose Your Blog Content
1. Email newsletter
One of the easiest ways to repurpose blog content is to include it as part of regular communication with your list, such as via an email newsletter.
For example, the EverywhereMarketer newsletter repurposes three different blog posts each week by simply including a brief description and a link.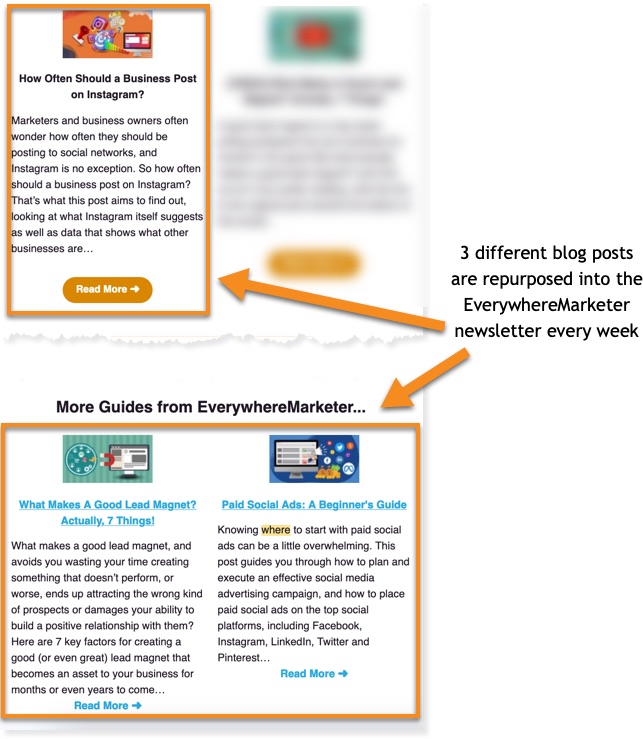 The top one is the most recently published post, with the bottom two from the archives. This means each post appears in the newsletter three different times over the course of a few months, according to when it was published.
Related:
---
2. Webinar
Webinars are another great tool for building the relationship with your list (as well as a powerful list-building tool!) — and you can repurpose your existing blog content to do so.
People learn information (and want to receive information from you) in different ways. Some prefer to read, some prefer to watch a video, others prefer the personalized feel of a webinar presentation.
Webinars also give audiences a sense of community too of course, knowing that others are taking part with you, and interacting via the comments.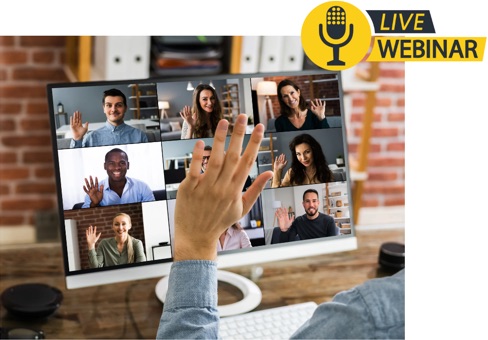 Quality blog posts often contain a wealth of information that can be relatively easily repurposed into a webinar presentation.
It is after all just the same information, but presented in a different format.
Related:
---
3. Social media posts
One of the almost obligatory tasks after publishing a new post is to go share it across your different channels on social media.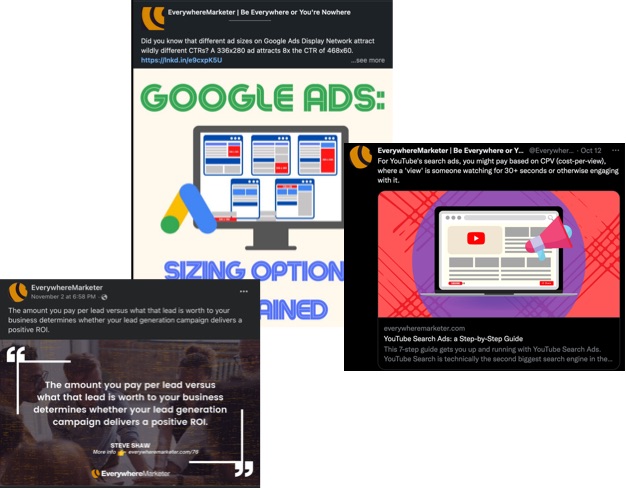 There are however multiple ways to repurpose the content into a social media post, and it doesn't have to always involve including a link back. In fact, you can attract more engagement and grow your audience more quickly by not doing so.
Here are just some ideas:
Repurpose into quote images you can then share
Create a larger square image based on the title to help stand out from the crowd, rather than the usual preview image based on your meta tags
Repurpose into a Twitter thread
Repurpose into a video that you can then share across multiple channels (see #13 below)
Don't just share each new blog post once and then forget about it. Repurpose it by creating and scheduling multiple types of social content.
Click To Tweet
Above all, don't just share each post once and then just forget about it. Instead, systematically create multiple different types of social media posts you can share over time from each new piece of blog content.
Related:
---
4. Autoresponder message
We've already mentioned repurposing your blog content into an email newsletter (see #1). But that's something you have to do again, each time you send out a new issue.
What about repurposing into an email message that's more evergreen?
That's exactly what you can do with an autoresponder or drip campaign email.
Create a set of messages that go out in sequence to new leads, nurturing them and building your relationship.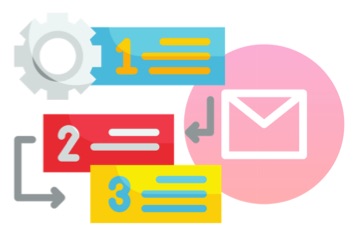 The information from a blog post can be summarized and put into an email. By sharing your expertise in this way, you build your prospect's sense of trust, increasing the chances that they'll say yes when you come to ask for the sale.
It also helps keep you front of mind, with your blog providing you with an abundant amount of material with which to keep showing up in their inbox.
---
5. Newspaper or magazine article
Don't forget the offline world!
Offline publications, including printed newspapers, magazines and newsletters are often crying out for quality content they can use, and blog posts, repurposed as required, are often ideal.
Depending on the publication, this will often get republished online too.
Whether or not explicitly required by the publication in question, it's usually best to rewrite the original blog post so that it's completely unique.
Apart from any other reason, this removes the risk that, should the contributed article appear online, it doesn't then reduce the authority of your own blog, ensuring your own content stays unique.
---
Related: Is There an Ideal Blog Post Frequency for Business Blogging?
---
6. Email course
In addition to an email newsletter and an autoresponder message, another option for repurposing blog content is to repurpose it into an email course.
You might use this as a lead magnet (see #21), or as part of your onboarding for nurturing new subscribers.
An email course essentially involves a sequence of messages sent out at regular intervals—such as once a day or once a week—that helps people reach a specific goal.
You may be able to create an email course by repurposing a single blog post. But more commonly, you'll have a number of different blog posts that cover different angles on a topic and can be reworked accordingly.
It's easiest to create an email course in one sitting, or perhaps over a day or two, which helps ensure that the messages run logically after each other and make sense together as a series.
---
7. Reddit post
For repurposing, Reddit does need to be approached carefully. It's not the sort of website that tolerates self-serving content — you can't even link back anywhere from your profile!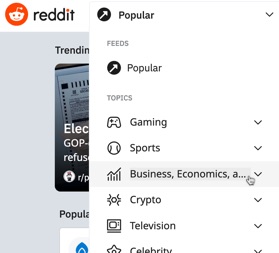 So how can you use it for repurposing your blog content?
Your priority should always be to give value, and to avoid giving the impression that anything you post is self-serving.
So start by finding relevant communities (known as subreddits), and get involved. You'll likely find that you can help with several discussions by repurposing some previous blog content. Add links to other sites where relevant, but avoid linking back to your own.
And avoid adding links to every comment you leave, just contribute in a natural way.
As your reputation grows (referred to as karma on Reddit), you'll likely be able to get away with the odd link back to your own blog content.
But make sure you're only linking back occasionally, and that they're well-diluted with plenty of other links to elsewhere.
A ratio of ten third-party links to one of your own is unlikely to raise any red flags—but proceed carefully!
Related: How to Use Reddit for Marketing
---
8. Quora answer
It's generally a lot easier to link back to your own content from your answers on Quora, but you still have to proceed carefully.
As with Reddit:
Ensure you provide as much value as you can within your answers, by repurposing posts for relevant questions...
Provide a link back to the original post towards the end of an answer so readers can get more in-depth information if they wish, but…
Don't link back from every answer—mix it up a lot, and contribute naturally…
And provide links to other sites too where relevant and where they provide additional value.

For additional info, see the following more in-depth guide: The Ultimate Guide to Using Quora for Marketing
---
9. Quora Spaces post
As well as providing answers on Quora, don't forget Quora Spaces!
Essentially, Quora Spaces is a type of blogging platform, and repurposing blog posts on to it can give you a lot of additional exposure for your content.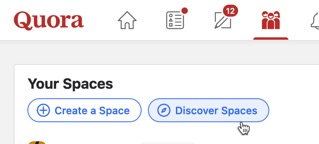 For best results, don't just copy and paste the content on your blog—keep that unique, so that it grows in authority over time rather than gets diluted.
Instead, rewrite the content into a version that can then be posted elsewhere, including onto Medium (see #11) and as a LinkedIn article (see #12).
---
10. Blog comment
Leaving comments on other blogs doesn't do much in terms of SEO, but it can attract incoming traffic and leads.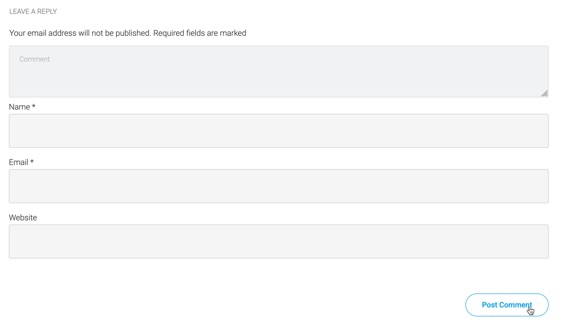 In fact, Neil Patel found that leaving comments on related blogs wasn't just effective for traffic, but also increased his authority, credibility and name recognition.
But they had to be longer comments that provided more value, rather than just leaving a few token words.
And your existing blog content is ideal for helping to do that, by simply repurposing part of the post as appropriate.
---
11. Medium Story
Medium's an increasingly popular website for long-form text-based content, and is a kind of cross between a blogging platform and a social media website.
And it's ideal for repurposing your blog content onto.
As your content on the platform grows, so does your audience, and that helps accelerate the number of people reading your content.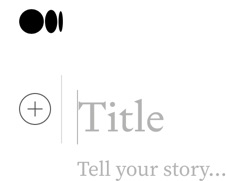 However, as mentioned above in the section on Quora Spaces (#9), it's probably best to have a version of your content for posting on sites like Medium that differs from your original blog post.
Otherwise, you run the risk of Google deciding that the version of a post on Medium has more authority than the one on your own blog, diminishing the value of your blog and the traffic it potentially attracts.
(And yes, this can happen even if you provide a canonical link from Medium back to the post).
Related: How to Blog on Medium (and Why Your Business Should)
---
12. LinkedIn article
Another such platform, of particular interest if your business is B2B, is LinkedIn, where you're able to publish articles, either under an individual profile (which is generally preferable) or even under a Company Page.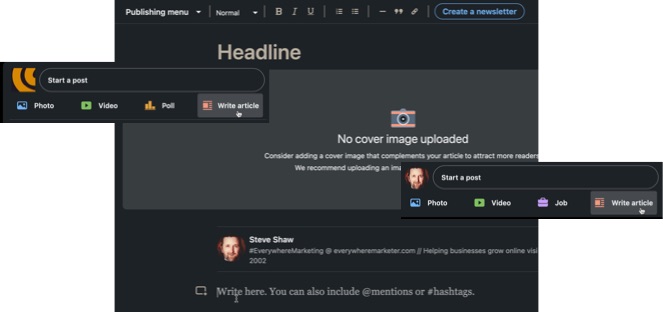 Such articles appear on LinkedIn, and can also appear on Google and other search engines—but only if you've made your articles publicly visible. Here are some instructions on how to do that.
---
13. Video
There are of course lots of different types of video content available online, and a multitude of places where videos can be published.
Some appropriate ways to repurpose blog content into video include:
Video tutorials
A video podcast
Live streaming video
You don't even need specialist equipment any more to shoot a video—the smartphone in your pocket is ideal. In fact, the more authentic it is, the more engagement you usually attract.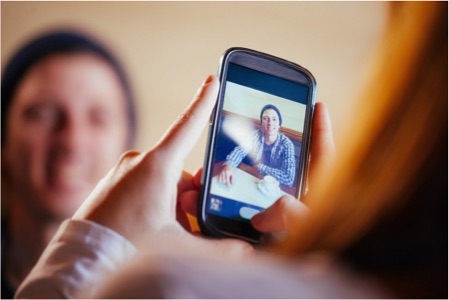 Yes, it can be relatively time intensive to repurpose a blog post into a video, but firstly, it doesn't necessarily have to be.
For example, can you simply make the topic of a Facebook or Instagram Live reflect a recent blog post, and simply talk through the content with your audience?
Secondly, once you have the video, it can be used in a myriad of ways that multiply all the benefits, including:
Embedding back into the blog post to boost its value, and therefore its SEO and incoming traffic levels
Publishing on YouTube and growing your channel
Sharing on social media as uploaded native videos (even if it was previously a streamed Live broadcast)
Related: How to Make Video Content: 14 Awesome Tools and How to Use Them
---
14. Guest post
It's unlikely you'll be able to publish a post already published on your blog as a guest post elsewhere, but posts can certainly be repurposed into unique content that is suitable.
After all, it's going to be far quicker and easier than starting with a completely blank slate.
Usually, you'll have a title that's been agreed upon for you to produce content for. So look for similar posts you've already published, and repurpose relevant sections from one or more posts wherever possible.
In the event that you do have to create brand new content, approach it the other way around. After creating the guest post, schedule a post on your own blog that repurposes it by giving it a new title and angle.
Related: Guest Posting for Backlinks: Does It Still Work?
---
15. Online course
We're already mentioned repurposing your blog content into an email course (see #6).
Why not think about other online formats for such a course too?
Here are some ideas:
One or more video tutorials, perhaps posted on your site somewhere as a series
A course on one of the relevant platforms such as Udemy, Guides.co or Teachable
A set of pages within a login area of your website that your community has access to
---
16. Infographic
When it comes to repurposing blog posts, an infographic may not spring immediately to mind.
But the truth is, they're ideal, and practically every type of blog post can be repurposed into one.
They're not just for posts full of stats and other bits of data!
For inspiration, here are lots of examples of the type of infographic that can be created, along with various tools that make it easy.
Here's just one such example from DesignCap's templates, albeit in miniature:

Remember too that infographics don't just have to be static images. There are also:
Gifographics — basically an infographic in the form of a large animated gif
Videographics — as the name suggests, an infographic in video form, which software like Biteable can help with.
So, what do you do with it once you've created your infographic?
First, share it on social media. They're still one of the most popular and engaging types of content available.
Second, here's a list of dozens of infographic submission sites to help promote it.
Third, embed it back in the original blog post. For added benefit, make it easy for people to share it themselves.
---
17. Book
Of course, not every blog post is going to be long enough to extend into a full on book… but some just might, particularly if you're prone every so often to create multi-thousand word posts.
(Some on this blog for example are 5,000+ words).
In addition, you may have a number of posts that surround a particular topic and can be repurposed into book form.
You can also approach it the other way around:
Decide on a book topic…
Brainstorm 12 or so chapter titles…
Schedule these via your content calendar to be written first as blog posts for over the next 12 months or so, interspersed with other content…
Once you're done, hire someone to compile them into book format, adjusting as required to make it all flow.
That's a whole book written as a side effect of continuing to grow your blog!
But if it still sounds a little daunting, you don't even have to create a book in its entirety.
There may be opportunities in your niche to team up with others and have each person or business provide a contributory chapter relating to a topic. Repurposing your existing blog content makes it easy.
Your book might be in printed or electronic (ebook) format only, or both.
Once created, it can be used as a valuable marketing asset for your business for years to come!
Why not plan your future blog content so you also create a book in the process? Repurpose the posts as chapters.
Click To Tweet
---
18. RSS feed
In contrast to creating a book (#17 above), this is one that really doesn't take any effort at all — in fact, it's probably already being done automatically for you.
RSS feeds aren't talked about much nowadays, but they still have an important role to play in spreading the word about your business and attracting traffic back to your website.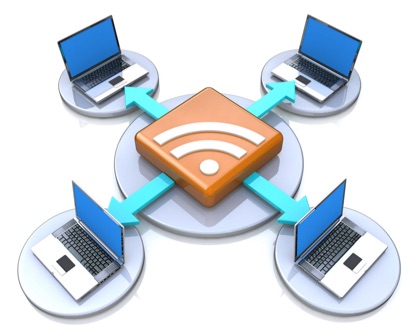 If your blog uses WordPress, you'll find your feed at yourwebsite.com/feed — in other words, visit your blog's homepage and just add '/feed' to the end.
Every time you post new content to your blog, your feed gets updated for you automatically, repurposing your content without you needing to lift a finger.
But how does this benefit you?
RSS feeds mean that every time you update your content, other services that 'subscribe' to your feed are updated.
Here's a list of such services you can submit your feed to — it's a one-time job, and once done it means that every time you publish new content to your blog, you get additional benefits back. Magic!
---
19. Forum post
Before social media, forums were the main place people went to online to discuss shared interests.
Groups on Facebook and LinkedIn, along with sites like Reddit (see #7) and Quora (see #8), now perform a similar role.
But guess what?
Forums still exist and are frequented by thousands of people.
For one, not everyone's on social media or wants to be. Secondly, some people simply prefer the format that the traditional forums provide.
For example, think of sites like Mumsnet. It's a very different (and to many, preferable) experience to that offered by social media.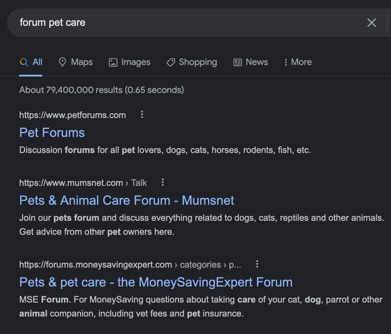 Here's how to take advantage:
Find one or two relevant, active forums by googling, using a search query in the format forum [your niche] or vbulletin [your niche]. For example, forum pet care.
Spend some time browsing the site and familiarizing yourself with the rules, culture and site etiquette.
Look for opportunities to add value, including by repurposing your content.
On many forums, you'll be able to link back to your website in some way through your profile or message signature.
By contributing valuable comments on a regular basis, you'll attract a growing stream of relatively "warm" traffic back to your website consisting of visitors interested in what your business does, and predisposed to do things like sign up to your list or make a purchase.
---
20. SlideShare presentation
SlideShare, now owned by Scribd, used to be owned by LinkedIn, and is essentially a huge repository of slideshow presentations.

It attracts millions of visitors, presentations can attract thousands if not tens of thousands of views, and the slideshows can even be embedded into other content, such as posts on WordPress and Stories on Medium.
An easy way to take advantage of SlideShare, and in a way that attracts multiple benefits, is as follows:
Repurpose your blog post into a slideshow, uploading it to SlideShare — remember a call to action, such as the offer of a suitable lead magnet (see #21 below) to join your list…
Embed your SlideShare back into a suitable post on your blog — for example, embed it in a post where you're already linking back to the repurposed post, adding additional value and helping SEO…
Repurpose the slideshow as a video by simply doing a screen capture video of the presentation, and talking through the slides, using content from the original blog post to help.
Upload the video to your YouTube channel, repurposing the video as described in #13 above.
---
21. Lead magnet
Finally, many blog posts can be repurposed into effective lead magnets to attract people onto your list, such as a free report or checksheet (here are some examples of effective lead magnets).
On a blog, the most effective type of lead magnet is what's commonly referred to as a "content upgrade" — or a high relevance opt-in offer.
In other words, when a new visitor arrives at a post on your blog, you already know what they're interested in, or they wouldn't be there.
When you offer them something directly relevant to that same content, you multiply the opt-in rate many times over when compared to a standard, more generic offer.
So consider repurposing each post into a lead magnet that's highly relevant to that specific post.
Yes, this is more time intensive than simply blasting all your blog visitors with a generic offer.
But once you've nailed down a process for doing it, it's easy to outsource, and longer term each lead will be far cheaper (as well as mostly more responsive) than leads generated via advertising.
To Conclude
As you can see, there are lots of opportunities to repurpose your blog content into different forms, and multiply the benefits…
But the real value from repurposing comes when you do so on a consistent and regular basis as part of an ongoing content repurposing workflow!
The real value from repurposing content comes when you do so on a consistent and regular basis! Being sporadic doesn't cut it.
Click To Tweet
It's the same with most aspects of content marketing. For practically every content platform, the results of those who publish regularly and consistently far outweigh those who are more sporadic.
So start by picking one of the options from the list above, and develop a process that you or someone on your team can follow each and every time you publish new content on your blog.
Get that mastered, then pick another one. Rinse, repeat, and grow!