One of the main reasons business owners and marketers pursue guest posting is for the backlinks it provides for SEO purposes.
In fact, a Twitter poll from 2020 showed this was the main reason by far for well over half of the respondents who did guest posts:

But is guest posting just an outdated technique that in practice no longer works for SEO, or is it still effective today?
That's what this post looks into, examining the potential SEO benefits, as well as the other advantages that guest posting can give you.
So first…
Why Use Guest Posting for Backlinks?
As stated, one of the main motivations for using guest posting is because of the backlinks that accumulate as a result, including from sites higher in authority than your own.
We'll look at what that means in practice for SEO, including Google's stance on the issue shortly.
But what about some of the other benefits?
Backlinks also of course lead to direct traffic, with readers clicking on the links out of curiosity or to find out more information about a particular subject.
Such traffic also tends to be highly targeted. After all, the visitors clearly have an interest in a topic closely related to your business (i.e. your guest post) and be interested enough to click through.
It also affords your website authority by the power of association. In reading the guest post, some sense of authority relating to the hosting website builds in their mind, even if they are a brand new visitor.
Guest posting regularly gives your audience repeated exposure to your message, builds your online visibility, and helps grow your brand.
Click To Tweet
In clicking through to your own website, some of that trust and authority transfers to you.
In addition, a proportion of readers will also look you up on social media and potentially follow you. Some may also search for you or your business on Google, and end up on your website that way.
If readers start seeing your content published on multiple websites, their sense of relationship with you and their trust in you builds, and the chances of them landing on your website increases.
In other words, guest posting regularly gives your audience repeated exposure to your message, builds your online visibility, and helps grow your brand.
Finally, guest posting can lead to new relationships with bloggers, blogging businesses, and experts in the same niche. These relationships can lead to a range of valuable opportunities over time.
Does Google Permit Backlinks From Guest Posts?
In terms of SEO, you'll find many posts claiming that guest posting for backlinks is beneficial. But what actually is Google's stance on the issue?
If you're using guest posting with the intention to gain improvements in your ranking, it has to be said that Google discourages the practice.
This first goes back to 2014, when Matt Cutts, head of Google's webspam team at the time, warned against it…
Okay, I'm calling it: if you're using guest blogging as a way to gain links in 2014, you should probably stop. Why? Because over time it's become a more and more spammy practice, and if you're doing a lot of guest blogging then you're hanging out with really bad company.
Matt Cutts from 2014, then head of Google's webspam team
But what about more recently?
In 2020, John Mueller (Search Advocate at Google) indicated that Google's algorithms likely just ignore the majority of backlinks from guest posts.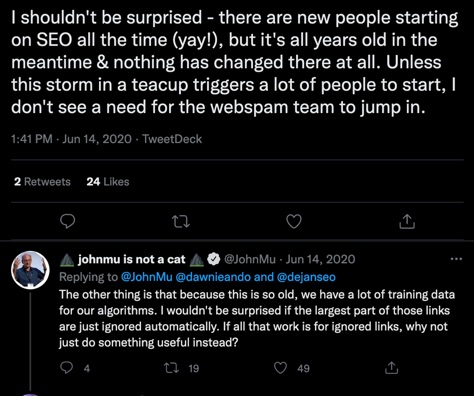 He's also recommended in the past that backlinks in guest posts should be nofollow, effectively telling search engines to ignore the link.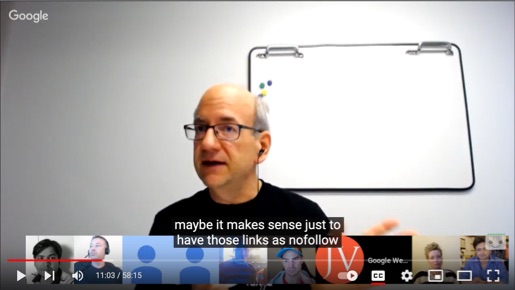 So there are not necessarily any penalties for the practice, but Google certainly discourages people against trying to use guest posting for SEO purposes.
That said, you don't have to look far to find SEO companies using the practice because of the benefits their clients continue to experience.
Guest posting for SEO? Actually, Google frowns on doing it for SEO purposes, and aims to devalue the links you may get as a result.
Click To Tweet
How Does Guest Posting for Backlinks Work?
Essentially, guest posting for backlinks works by:
Reaching out to relevant blogs that accept guest posts
Getting their agreement to write a unique post for them
Creating the content, including any links
Awaiting publication.
In terms of links, depending on the policy of the site in question, you're usually allowed to add a link or two back to your own website.
These might only be permitted in the bio, or you may be able to link back from the body of the post too.
When linking back from the body of the post, you'll likely be expected to link to relevant, interesting content that adds additional value for their readers, such as:
Some original research
Relevant how-to information
Relevant case studies
You're rarely if ever permitted to link back to anything promotional from the main body of the post, such as the front page of your website. Home page links are generally fine from the bio.
What Are the Downsides of Using Guest Posting to Get Backlinks
The main downside is probably the amount of time and effort it can take to get a single backlink or two.
And if your main aim is for the supposed SEO benefits, these may not even materialize (as discussed above)
After all, guest posting involves a set of time consuming activities, including:
If you're new, compiling a list of blogs who publish similar content to your own and who may accept guest posting
For each blog, identifying a means of contact, whether a published email address, a contact form on their website, or a "best guess" email address
Putting together a proposal for potential content you could create
Reaching out to them, preferably with multiple follow-ups to try to get a response
Writing the content itself
Communications related to getting the content published
That's a lot of work!
But, if you still want to pursue guest posting, there are some ways to mitigate some of the time investment required.
Repurposing
One way is to introduce an element of repurposing.
A topic that you've previously covered via one of your own blog posts can easily serve as the basis for a new post elsewhere, with the content completely rewritten including a different title and angle to make it unique.
After all, it's far easier and quicker to adapt some previous content than start completely afresh.
You can also approach it the other way around.
Create the guest post from scratch first, and then repurpose it into a unique post for your own blog for publication some months later and scheduled onto your content calendar.
Either way, repurposing in this way potentially saves you hours.
Guest posting to grow online visibility? Save time by repurposing. Rewrite some previous content, give it a fresh angle. It can save you hours.
Click To Tweet
Link Partners
Although you're limited in the number of times you can link back to your own site from your guest post, you'll likely be free to link to other websites that add value to your own content.
That means you can potentially collaborate with others who are guest posting, getting each other's links into your respective guest posts.
Doing so effectively multiplies the number of backlinks you get back from each guest post you produce.
Gaining a Longer Term Perspective
It's fair to say that as you get more experienced with guest posting, the amount of time it takes to achieve each guest post will decrease.
That's simply because:
You'll have an existing list of blogs to reach out to, rather than having to start from scratch
You'll have existing relationships, such as blogs you've guest posted on before which are happy to accept further contributions
You'll have a growing portfolio of guest posts, making it easier to attract positive responses from new potential opportunities
Guest posting is a long-term play. Most guest posts will stay published for years. And with consistent, regular activity, the results start to compound.
Click To Tweet
It also helps to realize that, while a single backlink or two doesn't seem like much reward on its own:
The benefits are long-term—most blog posts will stay published for years. In terms of brand building and direct traffic, the rewards stack up over time…
Like with most content marketing activities, with consistent, regular action, guest posting has a compounding impact. A single guest post is unlikely to have much impact on its own. But a dozen or so guest posts published across authoritative sites over several months? The impact is likely to be far more significant.
To Conclude
Guest posting can be effective, but maybe not for the main reason most people pursue it, which is SEO.
After all, Google has made it pretty clear their aim is to negate the value of backlinks gained through the strategy.
However, even if SEO benefits are discounted, it can still prove valuable over the long term in terms of brand building, the power of authoritative association, and for gaining highly targeted visitors via direct click-through traffic.