Determining which social media sites best suit your advertising dollar largely depends on your type of business and what your goals are.
For one, each different platform tends to suit different demographics. So a big factor is who you're actually trying to get your marketing message in front of.
Other factors include:
The costs of running ads…
The return on investment that the platform delivers (which you can only determine after running a campaign or two for a while)…
The willingness of your business or brand to be associated with the platform in question (a factor that might change over time, as has been seen following Musk's takeover of Twitter)...
The ease of setting up ads on the platform, which in turn can impact for example whether you decide to do it all in house, outsource it in some way, or perhaps a mix of both.
Test Out Campaigns on Different Platforms
Undoubtedly, deciding which social media sites are best for running your ads also means a period of experimentation.
In other words, it necessitates running campaigns on different platforms and then comparing the results.
But that's not as straightforward as it might sound.
For example, one platform might appear to be delivering a far higher ROI at face value when compared to another, leading you to concentrate more resources on it.
But, through careful analysis of the data, and given a long enough time period for your testing, you might find that customers from the 'losing' platform actually prove more valuable longer term, such as through levels of repeat purchases or referrals.
Ad campaigns take time to reach maximum effectiveness and impact. More data means better optimization, such as through improved messaging and targeting.
Click To Tweet
In addition, ad campaigns, regardless of platform, generally take time to reach maximum effectiveness and impact. The more data a campaign accumulates, the better it can be optimized, such as through improved messaging and targeting.
It means that any early results can be misleading.
In addition, your marketing messages will often need to be adjusted to suit the culture of the social media site on which the ad campaign is running.
But with that said, which social media sites should you be looking at?
Here's a review of the top 9, including a look at their demographics, and the types of businesses best suited to be advertising on each one…
The 9 Best Social Media Sites for Advertising
1. Facebook
Demographics
Facebook is the largest of all social media platforms, with close to 3 billion monthly active users as of July 2022, and 67% of them logging in on a daily basis.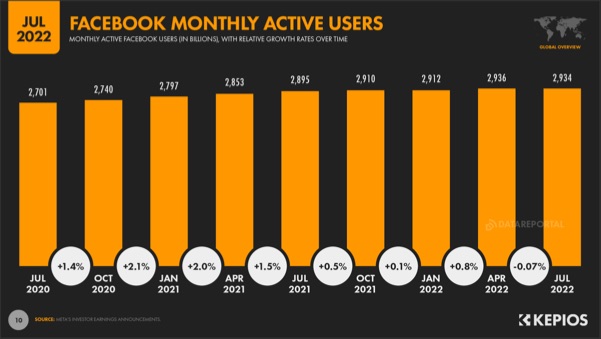 It might be easier to think of it like this—Facebook's audience reaches around a third of the global population.
It means that, whatever your business, it's likely you can reach your target demographic on the platform.
In terms of other factors:
There are around 13% more males than females on Facebook
There is a wide mix of ages, with the vast majority between 18 and 54 years old, with the highest numbers in the 25 and 34 age range.
However, given Facebook's vast reach, and the consequent ability to effectively target virtually anyone, such factors don't have a huge amount of relevance.
Who Is Best Advertising on Facebook?
With Facebook's vast reach and highly specific targeting, it's hard to imagine there are many businesses that wouldn't benefit from advertising on the social media site.
In fact, some research from HubSpot, surveying over 1,000 marketers, found that Facebook generated the highest ROI compared to other social media sites, with Instagram at #2, and YouTube just behind in third place.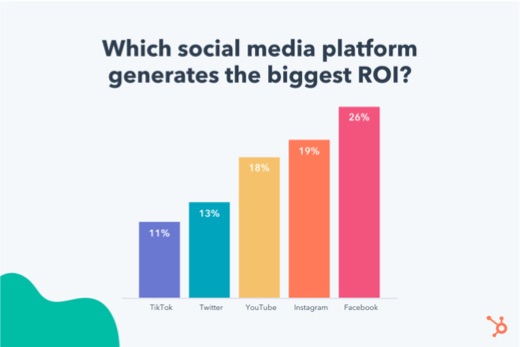 However, to get the best results with advertising on the platform, you do need to have a clear picture of who you're trying to target.
Here's more on how to use Facebook's detailed targeting features.
In addition, watch this short overview of how to create sponsored ads on Facebook:
2. YouTube
Demographics
YouTube is another huge social media platform, with a reported 2.1 billion monthly active users, and the YouTube Shorts format alone attracting 1.5 billion monthly active users.
Most users are based in India, closely followed by the United States.
Globally, there are more female than male users of the platform.
There is a wide age range of users on the platform, though Gen Z and Millennials make up one of the biggest groups.
And according to Pew Research, the more educated someone is, the more likely they are to use YouTube.
Who is Best Advertising on YouTube?
Firstly, you'll need the ability to create video advertising, which isn't necessarily complicated, but does require a suitable script and takes a lot more time than writing a text-based ad.
However, there's no particular need for the video to be professionally produced. Videos shot on a phone can often outperform others because of the raw authenticity they provide, which can improve engagement because of an increased sense of personal connection.
For those willing to give YouTube advertising a go, there's generally less competition and the platform can prove cheaper than advertising elsewhere.
Click To Tweet
You'll also need more than one such video ad in order to start testing one against the other, such as to determine the messaging that might work best for your audience.
Videos where someone is speaking directly to the camera tend to do best, so you'll need to have someone suitable.
If you'd prefer to create non-video ad formats, then you'll need to look at other social media sites.
But for those willing to give YouTube advertising a go, there's generally less competition and the platform can prove cheaper than advertising elsewhere.
3. Instagram
Demographics
Instagram's 2+ billion monthly active users are roughly evenly split between males and females.
Although predominantly used by individuals, there are over 200 million business profiles.
The platform is however relatively business friendly, with:
One third of the most-viewed Stories coming from businesses…
44% of users using Instagram to shop on a weekly basis
The platform skews towards a young adult demographic, with two-thirds of users between 18 and 34 years old.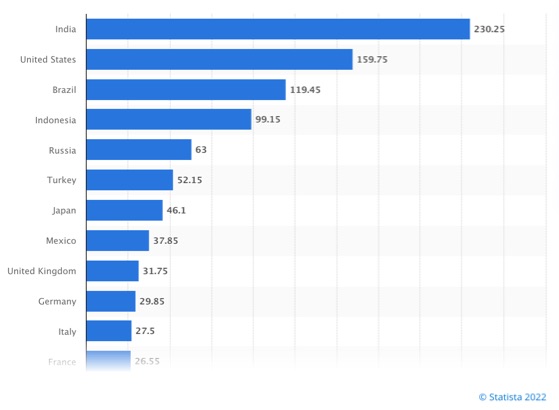 Similar to YouTube, the country with the highest number of Instagram users is India (21%), followed by the United States (17.3%).
Who is Best Advertising on Instagram?
Instagram is best suited to businesses selling direct to consumers, so B2C. Ecommerce-type businesses that sell consumer goods are ideal.
If your business sells B2B, there are more suitable options.
If you're intending to advertise on Instagram, remember it's a very visual social media site, and high quality images and other visual content are a must in order to maximize engagement levels and results from your ads.
If that's likely to prove problematic, at least in the short term, you'll likely achieve better results by focusing on a different, less visual platform.
Which social media sites are best for you to advertise on? It largely depends on your goals and who you're trying to reach.
Click To Tweet
Related: How to Advertise Your Business on Instagram
4. Twitter
Demographics
Twitter stopped reporting its monthly active users in 2019, when it stood at 330 million.
In 2022, the total number of Twitter users was reported as around 450 million, with 96% of US-based users accessing the platform at least once a month.
In terms of the age of Twitter users:
Around two fifths of users are in the 25 to 34 years old age bracket…
A fifth of users are aged 35 to 49…
Most of the remainder split roughly equally between those aged over 50, and those aged 18 to 24.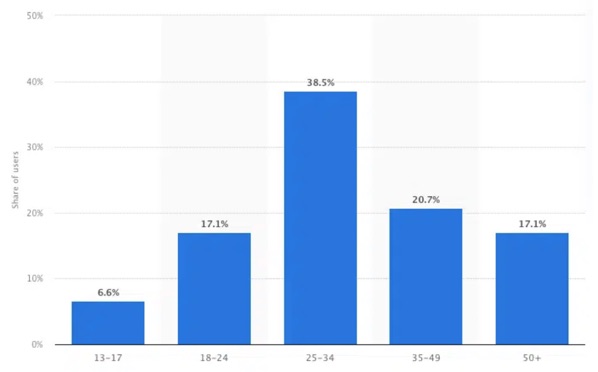 There are around 10% more males than females on the platform, with most users based in the United States followed by Japan.
Who is Best Advertising on Twitter?
Twitter ads tend to be cheaper than other social media platforms, and can be a useful tool for example to test out the messaging for a product or service to help determine what resonates best before you potentially scale up your marketing activities.
It also has some useful targeting features, such as the ability to target the followers of a particular Twitter account, such as those of a competitor, and target people with a demonstrated interest in particular keywords.
While Twitter may not be the first choice in terms of advertising on social media, it can prove a profitable addition to advertising elsewhere and is well worth exploring.
To get started, watch the following short guide on how to use Twitter ads:
5. LinkedIn
Demographics
LinkedIn is growing rapidly, with over 875 million users from most countries around the world. The highest proportion of users are in the United States.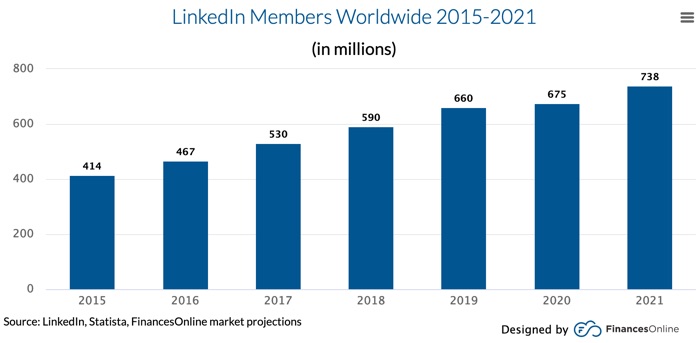 There is no reporting on how many of these users are active on a monthly basis.
LinkedIn users are relatively affluent and tend to be professionals. Higher income and education levels tend to correlate with higher usage of the platform.
In fact, the demographic is heavily skewed towards relatively young adults on a professional career track, either currently in college or at a relatively early stage in their career.
Around 60% of users are between 25 and 34 years old, with around 20% between 18 and 24. Most of the remaining 20% are between 35 and 54 years old.
The user base is weighted slightly more towards men, with three out of five users male.
Who is Best Advertising on LinkedIn?
If you sell B2C, you are better off advertising on other social media sites.
But for B2B, and with the right approach towards maximizing conversions, LinkedIn can prove extremely profitable.
Advertising on LinkedIn can, initially at least, seem to be more expensive than other social media sites.
However, the quality and relative affluence of LinkedIn's user base can mean higher conversions, as well as higher customer values over the long term, making a significant impact on the overall ROI.
Related: How to create a paid ad on LinkedIn
6. Snapchat
Demographics
According to Statista data, Snapchat's global audience skew younger than many platforms, with:
Eight out of ten users aged between 13 and 34…
Around 40% aged between 18 and 24
In addition, there is a higher proportion of female than male users.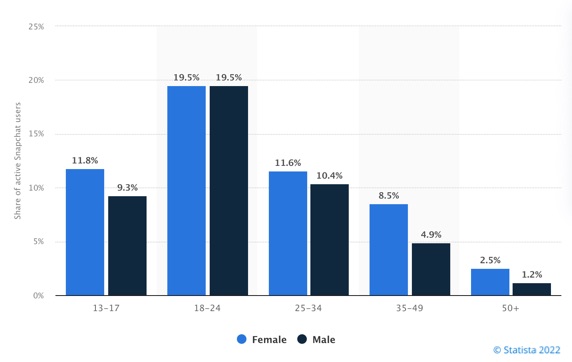 The platform has over 360 million daily active users.
Who is Best Advertising on Snapchat?
Like Instagram, advertising on Snapchat is more suitable for B2C businesses.
And for maximum impact, your target market should sit somewhere in the 13 to 34 age range, or else you're likely better focusing on a different platform.
Ads on Snapchat are also very visual, with tools and templates available to help you create ads, such as filters and tools to help create AR (augmented reality) experiences. However, their targeting tools aren't as sophisticated as on some other platforms.
As with Twitter ads, advertising on Snapchat might not be the first port of call for most businesses.
But if you're already advertising successfully on say Facebook, and you believe your audience is reachable through Snapchat, it's certainly worth experimenting with and exploring further.
7. Pinterest
Demographics
At around 460 million monthly active users, Pinterest is larger than Twitter and Snapchat, and continues to grow.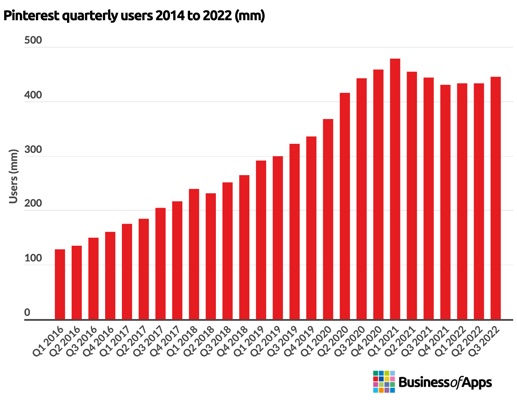 The platform has always attracted more female than male users, though that might be beginning to change, with men becoming one of their fastest growing demographics (along with Gen Z) back in 2020.
However, there seems to be a long way to go. For advertising purposes, by comparing different audience sizes based on gender selection, it was found that over 75% of the audience are female.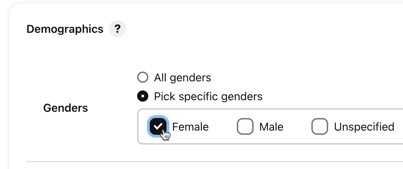 Pinterest also regards itself more as a search engine than social media site. Users are often on the platform searching for inspiration, including for products they can buy, and are more open to commercial messages than most other platforms.
Who is Best Advertising on Pinterest?
Pinterest is ideal for direct to consumer ecommerce-type businesses. If that's you, then advertising on Pinterest can prove very profitable.
For one, with the right type of content, your Pin can be re-pinned multiple times, greatly increasing your reach.
For another, Pins don't disappear like with tweets, or posts on Facebook, so can continue to be found for a long while afterwards.
They also have a range of powerful ad formats, including the 'Try on product Pin' that uses augmented reality, and Idea Pins that provide up to 20 pages of content within the same Pin.
If you have an ecommerce business, sell to consumers, and have products that lend themselves to the creation of attractive, visually engaging Pins, you could find advertising on Pinterest very valuable.
8. TikTok
Demographics
Since launching in 2016, TikTok has been on a very steep growth trajectory, and in 2022 boasts over one and a half billion monthly active users in 154 countries, making it far more popular than say Twitter and Snapchat.
It is skewed more towards females, with 57% female and 43% male.
It's easy to still think of TikTok as predominantly appealing to teens, but that's just how it initially grew.
In fact, the under-18s now make up only 28% of their users. 35% are aged 19 to 29; 18% aged 30 to 39; and 19% are aged 40 or over.
Engagement tends to be much higher on TikTok than on other social media platforms.
Who is Best Advertising on TikTok?
It has to be said, there does appear to be an increasing risk of a TikTok ban in the US, and presumably from there to some other western countries.
So if that's your audience, it may be best to focus on other platforms for now rather than to risk finding yourself with an optimized ad campaign that might turn out to be unusable at some point.
But if you're happy taking the risk, or your audience is generally elsewhere, then TikTok can prove a profitable social media site for advertising.
As shared above, TikTok's audience size is huge, the age ranges are diverse, and engagement rates are high.
Even better, setting up ads is relatively straightforward, as long as you're happy creating the type of visual content that fits into TikTok's vibe.
It's generally best suited to B2C businesses. For B2B, it may not be your first port of call for social media ads, but can still work if you approach it in the right way.
9. WhatsApp
Demographics
WhatsApp is one of the most popular messenger apps available, with over 2 billion people using the platform every month, and 1 billion messages sent every day.
The highest proportion of users by far are from India (390 million), followed by Brazil at 108 million, and the United States at 75 million.
However, one in two US-based users are on WhatsApp at least once a day.
Over half of users, at least in the US, are between 18 and 44 years old (58%).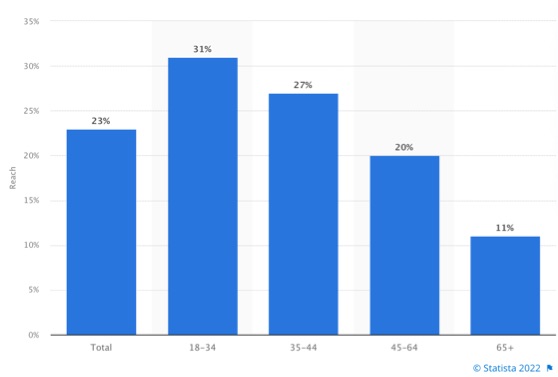 Who is Best Advertising on WhatsApp?
Businesses can run ads on WhatsApp to encourage recipients to chat with you, click through to your website, or take other actions in line with your marketing objectives.
(By the way, you can also run ads on Facebook or Instagram that open to a WhatsApp chat, but that's not what we're talking about here).
These ads are a very new format, and involve sending messages to a target audience via a Meta partner, such as Sendinblue.
The ads can involve sending messages one to one, as well as broadcast-type messages. As such, it can be thought of in a similar way to SMS or email marketing campaigns.
While different to the other types of social media ad platform discussed above, given the high engagement rate of WhatsApp users, this type of advertising communication is certainly worth experimenting with for most businesses.
To Conclude
Determining the best social media sites to advertise on really depends on your type of business, who your audience is, and what your advertising objectives are.
For most businesses, given its huge reach, high ROI, and powerful targeting capabilities, Facebook is still likely one of the best social platforms to start out on.
(And, while we review several here, starting with just one platform and mastering that first is, after all, the most effective paid social strategy).
Once you've got campaigns running on Facebook that are proving effective and profitable, it's then worth exploring some of the other platforms referred to above.
Given its huge reach, high ROI, and powerful targeting capabilities, Facebook is still one of the best social platforms to start advertising on.
Click To Tweet