For effective email marketing, staying in contact with your list is vital, and one way to do that is via a regularly published newsletter.
By consistently showing up in their inbox, a newsletter builds a relationship with your prospects over time by helping them get to know you, showing ways in which you can add value and providing opportunities for them to engage and interact.
But where do you start?
Fortunately, there are many email marketing platforms out there that make it easy to create a newsletter. Let's look at some of the best platforms currently available…
1. SendInBlue
SendInBlue focuses on SMBs, helping them build relationships with prospects and customers through email marketing and other types of marketing automation. Founded in 2012, it has grown to support over 300,000 active users around the world.
They provide a drag and drop editor to help users create newsletters and other marketing emails, with over 40 responsive email templates provided out of the box. If you need more choice, there are multiple other websites that provide free email templates that can then be imported into your SendInBlue account.
Emails can be personalized as needed, and the platform also provides segmentation features so that your messaging is as targeted as possible.
All their account levels give you an unlimited number of contacts, including their free level. Pricing (paid accounts start at $25/month) depends on the volume of emails you want to send a month, as well as access to features such as A/B testing, statistics, landing pages and marketing automation features.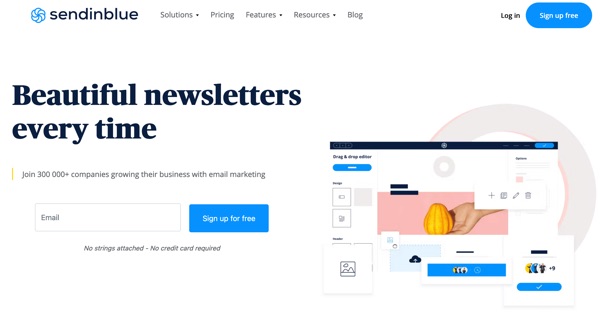 2. CampaignMonitor
CampaignMonitor is designed to help power email marketing for small and medium-sized global businesses, with additional features such as SMS. Leads can be added via signup forms they provide as well as integrations with multiple other services.
Again, they provide a drag and drop email builder, with precise customization abilities and templates designed to be responsive to mobile devices. Sections of a template can be locked in order to keep them intact, while allowing team members to adjust other parts as needed.
You can choose from a number of different email newsletter templates designed for different industries and niches, as well as generate templates designed to suit your business's branding.
You can test out the platform for free with up to five subscribers, and then choose between one of their three paid account levels, Basic, Unlimited or Premier. Higher levels come with additional features (such as email section locking and advanced link tracking), with pricing determined by the number of contacts you have in your account.
3. HubSpot
HubSpot is of course one of the main CRM platforms available, with email marketing functionality forming a key part.
As with the other platforms referred to here, they provide a drag and drop email editor for your newsletter and other emails, along with email templates that can be customized as required.
You also get email tracking and notifications, segmentation, personalization, lead acquisition forms, and more.
You can start with HubSpot for free, with up to 2,000 email sends included. Pricing then starts at $45 monthly, depending on the features you're looking for and the number of contacts in your account.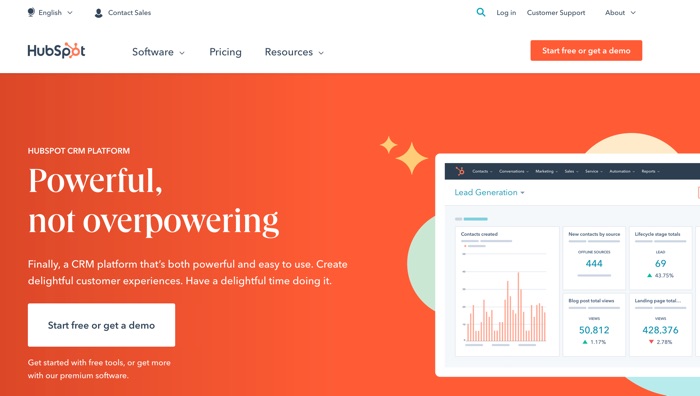 4. AWeber
Founded way back in 1998, AWeber is positioned to appeal to small businesses, including one-person operators, making it easy to take advantage of email marketing even if you don't have a team around you. Since then, they've grown to support over 300,000 users around the world.
They provide over 600 responsive email marketing and newsletter templates, customizable via a drag and drop builder, including the ability to add images straight from Canva via an integration. Email templates can also be created to fit your branding based on a website URL or Facebook page.
Users can even set up an automated newsletter by connecting up an RSS feed such as from your blog, YouTube channel or podcast.
AWeber lets you get started for free with up to 500 email subscribers, with paid plans starting at around $20 per month, and increasing depending on the number of subscribers.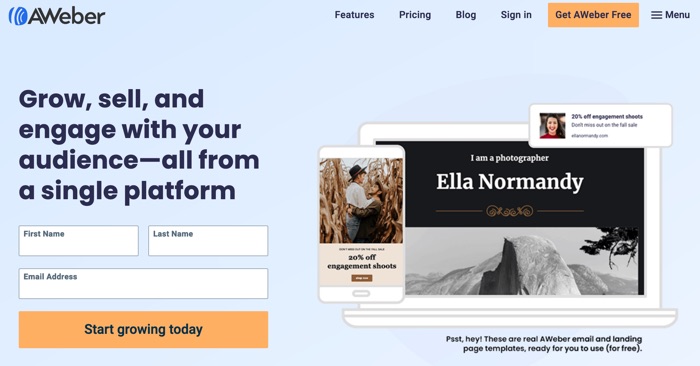 5. GetResponse
Founded around the same time as AWeber, GetResponse was one of the first autoresponder companies, since growing to tens of millions of dollars in revenue and over 100 thousand customers.
They make it easy to create newsletters, as well as other types of email, with a drag and drop email builder and pre-designed responsive templates. Or you can build your own template to suit your needs. An in-built photo editor provides the ability to crop and edit images, apply filters, add text and so on.
While email personalization often simply refers to the ability to include your subscriber's name in the email, GetResponse goes a step further with the ability to show different images and text based on a contact's characteristics.
As with AWeber, you can get started for free with GetResponse, giving you unlimited newsletters and up to 500 subscribers. Paid plans provide access to features such as autoresponders, segmentation and email scheduling.
To Conclude
The good news is that before you decide on a particular platform for creating your own newsletter, most let you try them out for free to get a feel for how they work and the type of features they provide.
Remember too that, beyond any free plan, the pricing models can differ markedly between different platforms as the number of contacts you send to or the number of emails you send increases over time.
The most important factor with any newsletter however is consistency, ensuring that you're publishing on a regular basis, showing up in front of subscribers in a reliable way, and growing your authority and credibility in the process.