According to a recent survey, nine out of ten marketers find repurposing content more effective, in terms of time, cost and the benefits you get back, than creating and publishing brand new content.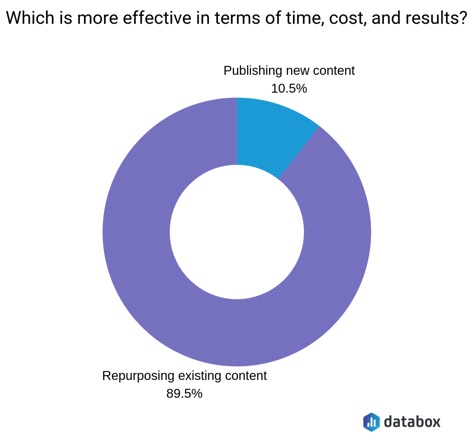 One of those benefits (presuming you approach content repurposing correctly) is in terms of SEO, helping you:
Rank higher in search…
Get more of your content showing up in the SERPs, whether publishing on your site or elsewhere…
Attract more search engine traffic back to your website.
With that in mind, here are 12 tips on repurposing content for SEO, helping you to maximize results.
Nine out of ten marketers find repurposing content more effective than creating and publishing brand new content. #contentrepurposing
Click To Tweet
1. Repurpose onto Different Platforms
By repurposing content onto different platforms, you quickly multiply the amount of content you have on the search engines for your target keywords.
In other words, let's say you run a membership site related to dog ownership, and wrote a blog post related to the keyword, train a puppy to lie down.
You then repurposed that same post (see 4. below) for Medium.
You then created a video based on the post for YouTube.
Doing so means that anyone searching Google for keywords related to train a puppy to lie down has many more chances of finding your content.
Your content on your blog, on Medium and even on YouTube could potentially even be listed for the same search query on the same page.
We use a different keyword here for the example, but that might start to look something like the following: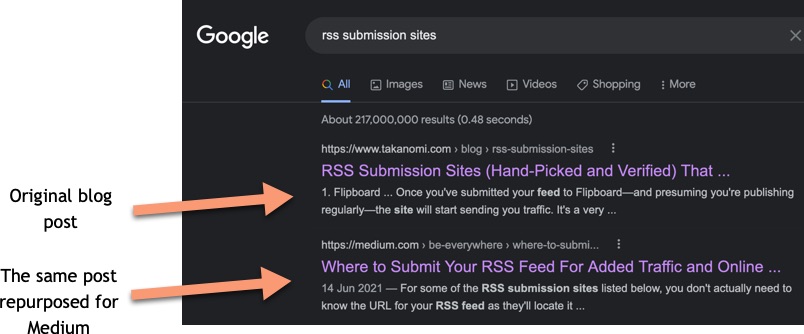 This is how you start to dominate your niche—and it's far easier doing it by repurposing existing content than creating brand new content.
Remember too that the benefits aren't solely restricted to just Google Search.
Content platforms have their own search functionality too that get a lot of usage - like YouTube, Quora, Medium, LinkedIn and so on.

Repurposing onto multiple platforms means your content shows up on these other search engines too, putting you in front of brand new audiences.
Repurposing content onto different platforms quickly multiplies the amount of content you have on search engines for relevant keywords. #keywordresearch
Click To Tweet
2. Link Back from Repurposed Content
Where possible, link back from repurposed content to your blog content.
For example, this is at the bottom of one of our repurposed Medium posts, linking straight back to this blog: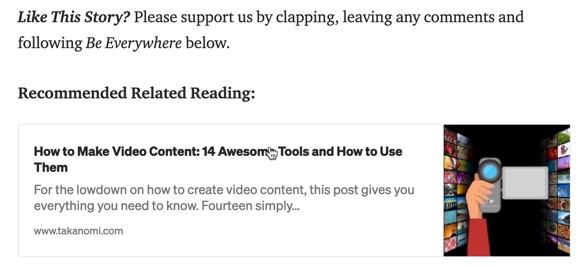 Doing so won't always give you direct SEO benefits, but people clicking through to your blog can help you indirectly, such as when they:
Share your blog's content or follow you on social, helping to boost social signals for SEO
Sign up to your newsletter and from there, connect with you on social or click through on your content in the SERPs, thanks to the relationship they have with you (another positive SEO signal)
Add a comment to your blog
3. Embed YouTube Videos Back Into Your Blog
If you're repurposing blog posts as YouTube videos, embed them back into your blog.
We've started doing that here, you'll see an example further down this post.
It not only helps those videos attract viewers, and helps your channel attract subscribers, it also:
Adds to the value you provide to visitors (essential for good SEO)...
Builds your relationship with visitors…
Keeps them on your blog for longer, one factor that can increase rankings and search engine traffic.
4. For SEO Benefits, Don't Just Copy-and-Paste Verbatim
When repurposing blog content for long-text content platforms like Medium and Quora, to get advantages for SEO (and avoid disadvantages) don't just copy and paste your blog post word for word.
Avoid copying and pasting blog posts onto other content platforms verbatim. Instead, repurpose each post as a new version. It's far better for #SEO.
Click To Tweet
How Could a Quick Copy-and-Paste Damage Your SEO?
While you can point back to your original blog post from the repurposed content, and hope that Google recognizes it as the original, it's not guaranteed that it will do so.
If you repurpose a post for Medium, it may end up seeing that post in due course as simply more authoritative and drop your own blog's listing from search.
So What Should You Do?
Rework the post when publishing it elsewhere. That means changing the title, rewording it, moving things around (easy with listicles).
Yes, I know, I know. That takes longer. But not that much.
It's a lot quicker than writing a brand new post from scratch. It can also be easily outsourced or otherwise delegated.
It's also well worth it, because now not only do you keep your own blog's content unique, you also end up with more than one listing in search, multiplying the traffic your content can now attract.
And the same reworked post can be posted on multiple platforms. So rework it for Medium, but then publish it too on say LinkedIn Articles and Quora Spaces.
5. Repurpose Content as Guest Posts
We've covered guest blogging for SEO before, here's a quick summary of how to get started:
When guest blogging, rather than start a brand new post from scratch, repurpose an existing post on your own blog.
It needs to be unique, so that means rewriting it to suit the blog in queestion, but doing so is a lot less work than creating a brand new post.
How Does This Help SEO?
In return for your guest post, you'll nearly always get one or more links back to your website.
And as you'll often be posting on more authoritative blogs, that helps transfer some of their authority to you.
It also introduces you to brand new audiences that can provide additional (though usually indirect) SEO benefits, such as those listed in (2) above.
6. Repurpose from SlideShare to YouTube

Repurposing content involves work. Naturally.
But, as we saw in the intro above, it also delivers a higher ROI than creating brand new content.
And the more efficient we can make the repurposing process, the higher that ROI climbs.
A common repurposing recipe is to take written content, usually a blog post, and convert that into a video that can then be posted to YouTube and elsewhere.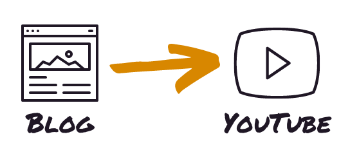 (And we talked in #3 above about then embedding that back into your blog).
One approach is to create a slideshow presentation, similar to what you might see on a webinar, using that as the basis of the video.
In other words:
Create a presentation based on the blog post content
Talk through the slides, using the blog content to elaborate on each of the slides
Record the whole thing, or run it as say a Facebook Live and use the recording of that for YouTube.
In doing so, you not only have a video, but you now also have a presentation that can now be added to SlideShare, one of the top few hundred websites in the world.
That's two for the price of one, including another potential listing in the SERPs.

Related content: How to Use SlideShare for Marketing
7. Repurpose Video or Podcast Content as Blog Posts
We've talked about the Blog -> YouTube repurposing recipe. Of course, it works the other way around too.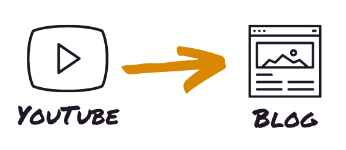 So if you tend to create videos as your primary content, you then repurpose those videos as blog posts (embedding each video in the relevant post, as per #3 above).
This might for example take the form of a transcript of the video, using that as the post.
The same applies for audio podcast content.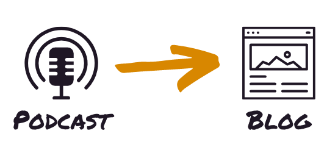 Doing so gives you all the advantages of text-based content for visibility on Google Search.
Plus, for YouTube content, you get additional video views and channel subscribers for additional YouTube visibility.
Related content: Optimizing Videos for YouTube: The Ultimate Guide
8. Use Canva for Your Featured Image
When creating a featured image for your blog posts—useful for increasing engagement in and click-throughs to your post—try using Canva.
The same image can then be easily resized and adapted when repurposing the post into different forms, all helping your SEO in one form or another, including:
A thumbnail for a YouTube video
A first slide in a slideshow
A square image post on Instagram
A Pinterest Pin
A cover image for an article on Medium or LinkedIn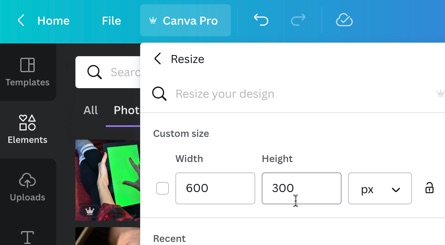 Here are some examples from a recent post on how to add Google Search to your website: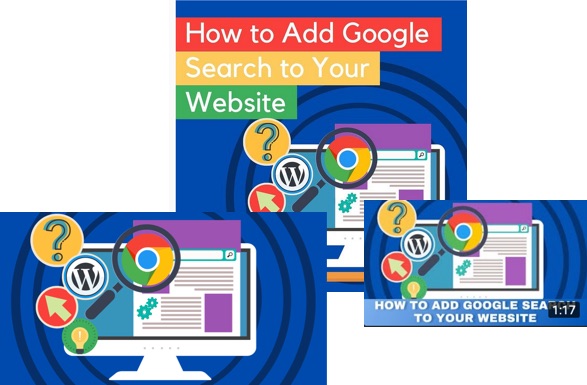 9. For Maximum SEO, Be Consistent
We all know that for successful blogging, consistency is key, particularly when it comes to SEO.
The same applies when repurposing content for different platforms.
You've got to keep showing up.
Unfortunately, a lot of the advice out there on repurposing seems to promote the idea of "Random Acts of Repurposing".
In other words, if a blog post happens to do particularly well, then repurpose it elsewhere. Otherwise, don't bother.
Really?
For successful blogging, consistency is key. The same applies when repurposing that content. By repurposing consistently, you build audiences, authority and long-term SEO advantages. #bloggingtips
Click To Tweet
First, there's no guarantee that just because a post did well on your blog that it would do likewise when repurposed elsewhere.
Second, a sub-performing post on your blog could become a successful outlier when repurposed onto another platform. Why ignore that possibility?
Third, the content consumer doesn't know that what they're looking at is repurposed. For them, it's fresh and new.
But for them to join your audience, they don't want sporadic, every-now-and-again content. They want consistency, they want to know you're committed to that platform.
That's the only way you build relationships, build up results, grow long-term SEO benefits and increase payback.
Otherwise, it's a little like only turning up for a date every now and again.
Probably wouldn't work out too well.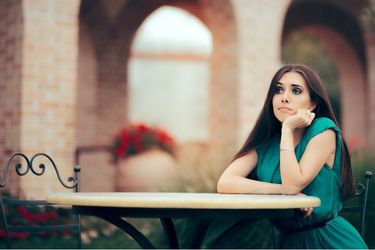 Instead, effective repurposing, including for SEO, demands consistency, repurposing for relevant content platforms on a regular basis.
The best bet is to use software like Trafficonomy (designed to make organic content marketing more efficient and effective), which creates repurposing (and promotional) campaigns each time you publish to say your blog, delegating the relevant tasks as required.
It's the only way to ensure the required consistency, growing your audiences on those platforms and building the authority that translates into long-term, impactful SEO benefits.
The truth is, "Random Acts of Repurposing" simply doesn't cut it.
10. Repurpose to Attract Leads (Indirectly Helping SEO)
As already mentioned, leads on your list help build SEO indirectly through the relationship they have with you.
For example:
When they connect with you on social, engage with your posts, and share your content with their own audiences, that all helps build positive social signals for SEO
Their relationship and growing familiarity with you means that, when searching for relevant keywords, they're more likely to click through on your content in the SERPs—more positive signals for SEO
Some may even link to your content from their own
So it figures that by repurposing content into lead magnets to attract more leads onto your list, you're also helping your SEO.
This can be as simple as repurposing a blog post as a downloadable PDF that can then be offered via your blog or other channels as a lead magnet.
Rather than leave leads on the table, you could again use Trafficonomy to get someone to take care of this each time you post.
11. Update Blog Posts Regularly
Another way to repurpose blog posts is to update them on a regular basis.
This keeps your content fresh. Combined with its longevity, this can provide a rapid SEO boost, increasing the rankings of that content.
After all, Google loves to push the freshest, most relevant content to the top of the SERPs.
Best practice is to revisit blog posts after a year and update it, extending its life by another 12 months and providing a boost to the traffic it then attracts for another several months.
Do this like clockwork, and the impact becomes significant.
(And yes, use Trafficonomy to do this too, scheduling it automatically so it gets taken care of. Scheduled tasks are tasks that get done.)
12. Repurpose Content as FAQs
Finally, there are likely to be a few, even several, of your posts, videos or podcast episodes that effectively answer questions that you get asked frequently by prospects and customers.
So why not repurpose that content as answers to FAQs on a separate section of your website?
Doing so:
Attracts additional search engine traffic by reusing that content
Boosts the SEO of the original content if you link to it for further reference
Keeps visitors on your site for longer, another positive SEO signal
Simply, paraphrase or summarize the relevant content as an answer to an FAQ. Where suitable, provide a link to the original content, giving your visitors more in-depth information on the topic if required.
To Conclude
So that's 12 tips on effectively repurposing content for SEO, helping you:
Grow your visibility on search (as well as content platforms like YouTube)
Increase the amount of traffic you attract back from Google and other search engines
Can you think of any more? Connect with me on social and let me know!