LinkedIn, billed as the world's largest professional network with nearly a billion members across the globe, is invaluable for generating B2B leads.
There are various ways to do so, including via paid campaigns which we're exploring in this post.
We'll first look at laying the groundwork, namely optimizing your presence on the platform, and then we'll look at the 3 steps you need in order to get started with a LinkedIn lead generation campaign.
Finally, you'll get some best practice Do's and Don'ts for running a successful campaign.
But first, let's just answer the following popular objection to using LinkedIn to generate leads…
Don't Leads On LinkedIn Cost More?
Often, you'll find they do, yes.
But only at face value.
What do I mean by that?
The apparently higher cost of leads on LinkedIn can put many businesses off from pursuing lead generation campaigns on the platform, but they're likely looking at the wrong metrics.
Leads coming from LinkedIn tend to have a professional, business-focused mindset and often have a higher net worth than elsewhere.
This means they often:
Convert more easily…
Have a higher lifetime value, such as longer retention periods for subscriptions, or just buying more products and services, more often.
Leads acquired on LinkedIn can cost more than on some other popular ad platforms. But they can also be worth a lot more.
Click To Tweet
As a very simple example to illustrate, would you prefer to:
Pay an average of $10 per lead, with an average value per lead of $30… or
Pay an average of $20 per lead, with an average of value per lead of $100?
Most businesses would prefer the latter!
(Or even better, do both… they're both profitable).
This is not to say that leads on LinkedIn will always be more profitable than elsewhere. You may find something different for your business, and that's fine.
But just remember to have all the information so that you can make the proper comparisons in terms of bottom line profitability before declaring that one lead source is "more expensive" than another.
That should include investing a suitable amount into a LinkedIn lead generation campaign and optimize it appropriately so that you can collect the necessary data to be able to make the appropriate decisions.
Optimizing Your LinkedIn Presence
For any LinkedIn lead generation campaign, a proportion of people seeing your ads will be clicking through to your LinkedIn Page (such as a Company Page) to check you out before providing you with their contact details and other information.
So for best results, optimizing your presence on the platform is crucial.
(In addition, if you don't yet have a LinkedIn Page, you need one before you can start running ads)...
Creating and then optimizing a LinkedIn Page is detailed here, but in brief, first create a Page if necessary via the For Business menu in LinkedIn…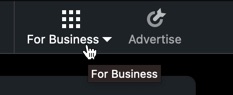 And set it up by adding your logo, header image, and filling in the profile information as much as possible.
To build credibility, trust and authority, your Page then needs to look active, interesting and engaging. Do that by…
Building Followers to the Page
For a business- rather than personal-focused profile, this can take time. After all, people like to connect with people. And remember everyone starts at zero.
But start by asking employees and others in your team to follow the Page to give it an initial lift.
LinkedIn then provides monthly invitation credits to super admins of the Page so they can invite connections.
This is usually 100, but you can get up to 250 a month depending on your account.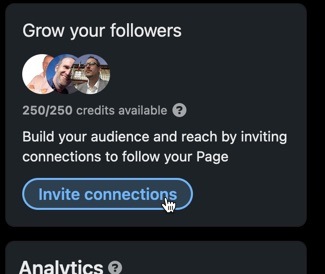 In addition, remember to include a link to your Page on your website, in email footers, and the usual places to help build followers from existing customers, visitors, prospects and others.
And then also by…
Regularly Publishing Great Content
Not only will you attract more followers, but you'll also help dispel the doubts of people seeing your ad who want to find out more about you before taking any action.
Publish content as regularly and consistently as you can.
The best foundation for this is to set up a system that regularly repurposes content you publish elsewhere into posts you can use on LinkedIn. We talk about this kind of workflow here.
For an optimal LinkedIn Page, publish regular content to keep it active and engaging. For starters, create regular posts by repurposing previously published content.
Click To Tweet
Vary up the content so you mixing posts of different types, such as:
Link posts, linking to your other content including articles on LinkedIn and other sites (including your blog) — note though that the former may achieve higher reach as it doesn't take users away from the platform …
Video posts — such as by repurposing YouTube videos into native social media videos…
Quote images, for example based on previously-published content, with perhaps some explanatory text content…
Other image posts, such as photos from relevant events, behind the scenes photographs, images related to your products and services, and so on…
Conversation starter posts designed to stimulate conversation and build connections…
Polls and surveys…
As with most social media platforms, look to make your posts visually engaging, while also focusing on delivering value for followers.
How regularly should you post?
Research indicates that once to twice daily is probably ideal.
But in the main, at a frequency you can manage consistently, while maintaining the quality of your output. Quality is far more important than quantity.
Install LinkedIn's Insight Tag
Before doing any advertising on LinkedIn, it's a good idea to install their Insight Tag.
Watch the following video for a quick overview, and then click here for the full guide.
Installing the tag means you'll be able to see insights about your visitors, including people who have taken an action such as opted in or bought something, and then use that intelligence to help build similar audiences to target with your ads.
3 Steps to Creating an Effective Lead Generation Campaign
1. Set Up Your Lead Generation Campaign
After logging into LinkedIn's Campaign Manager, click to create a new campaign.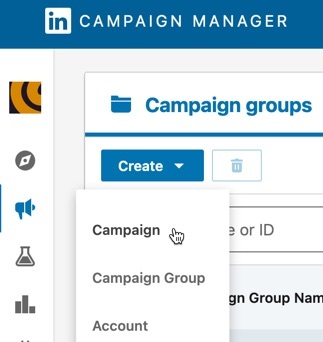 Give the campaign group (that the campaign will sit in) a name. Or if you want to put it in an existing campaign group, select that first before clicking to create a campaign.
Presuming you've created a new campaign group, select Lead generation as the Group Objective.
Note: setting an objective at the group level means you can take advantage of budget optimization. But if you don't intend to use that, you can turn off the Group Objective option and set objectives at the campaign level instead.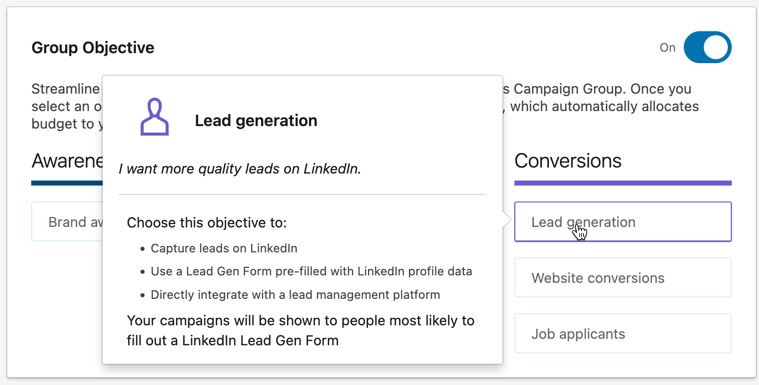 The Lead generation objective means your ads will use a Lead Gen Form to collect lead data, rather than sending people to your website to do so.
(But if you'd prefer to do that, select the Website conversions objective instead, though we won't be covering that here.)
Lead Gen Forms have a couple of main advantages:
The form is pre-filled with the lead's data, so they can just amend if necessary, add anything further that may be required, and click to submit. Quite often it's just a single button click to sign up…
The lead doesn't have to leave LinkedIn and then work out a completely different website, which can introduce quite a bit of friction and reduce conversions.
The end result is often significantly higher conversion rates than you would otherwise achieve with a more traditional LinkedIn ad.
Here are some examples of what Lead Gen Forms look like:
Click here for more information about how they work.
With your Group Objective selected, the next stage is setting the overall Group Budget and Schedule. The default is to let it run continuously from a start date, but you can optionally set an end date with a lifetime budget to be used up over that period.
(You'll also then set a budget and schedule at the campaign level).
Choose your preferred approach and click Next to set up the campaign itself.
The campaign is where you decide who you want to target, your ad format, and refine your budget and schedule for the individual campaign. You can also optionally set up conversion tracking.
The first step is your targeting. In other words, define who you want to see your ads.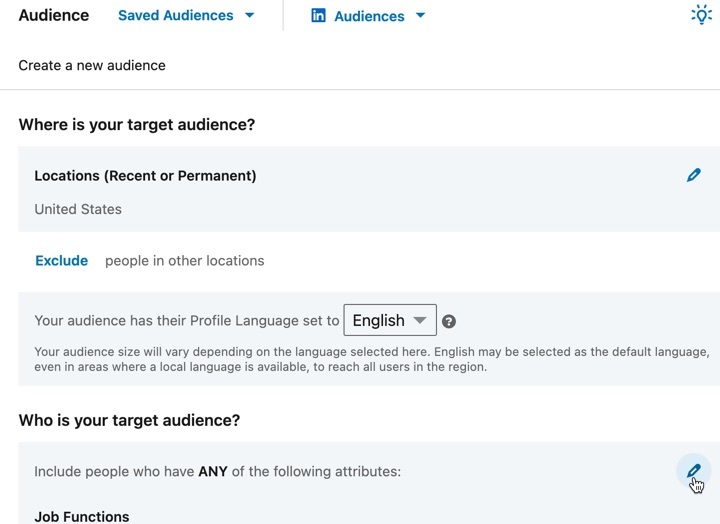 In the Audience section, you can select a Saved Audience to show your ads to, select one of LinkedIn's predefined audiences, or create a new audience by setting their characteristics, such as:
Where they live (you can also exclude locations)...
The language they speak…
Who they work for…
Their education…
Age and gender details…
Interests and traits.
You can also choose to do things like target a lookalike audience, retarget visitors (or people who have, say, visited your Company Page), or target people based on a list you've uploaded.

It's well worth exploring and learning more about the various targeting options available.
Next, select your ad format.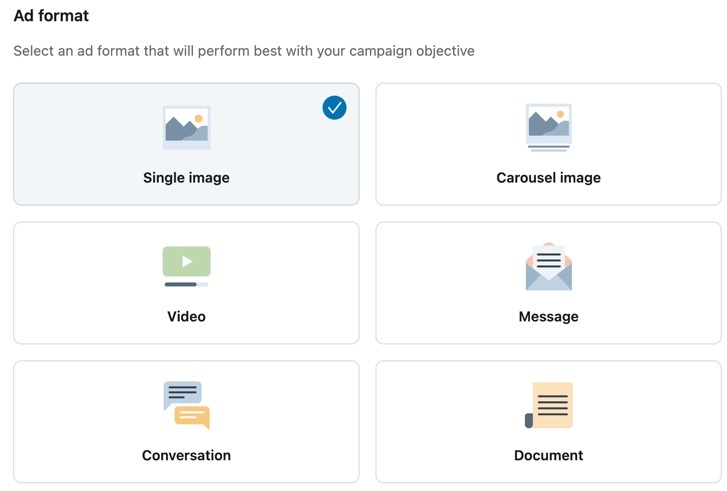 You can just ignore the Placements section. As you have selected the Lead Generation ad objective, you can only show the ads on LinkedIn itself.
Adjust the settings in Budget & Schedule if you want to.
You can also track conversions via the Conversion tracking section (used for tracking actions that leads take on your website after signing up via the Lead Gen Form in your ad).
We won't be covering conversion tracking in this post, but there's more info on setting it up here.
Click Next to start creating your ads.
2. Create Your LinkedIn Ad
The success of your LinkedIn Lead Generation campaign largely depends on both your targeting options (discussed above), and how effective your ad manages to capture attention and engage your target audience.
Rather than re-use one of your posts, it's best to design an ad specifically for your goal of generating leads.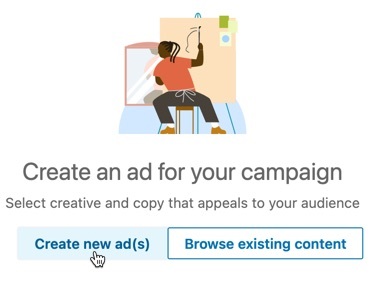 Create your ad ensuring that you have:
Engaging text—this should speak directly to the person you want to attract, capturing their interest and engaging them enough so that they take action. Remember to use a clear call to action.
Engaging visuals—depending on the ad format you chose, this might be a video or one or more images. Either way, the visuals you choose must again draw the attention of your target audience.
You're unlikely to get the elements of your ad perfect to start with, but test different options and aim to continuously improve your results.
For the Lead Gen Form itself (again, click here if you want to see examples of these forms in action), start by selecting an appropriate call to action.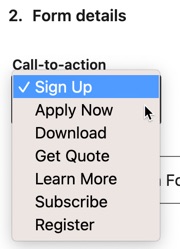 This defines the text on the button people will click on to open the Lead Gen Form.
Test different options over time to find out which one works best for your audience.
Unless you've already got a Lead Gen Form to use, you'll need to create a new one.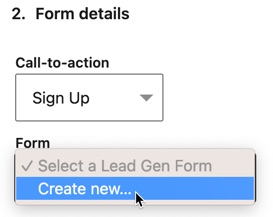 This is where you set different options including:
The offer headline and details…
A link to your privacy policy, along with any additional related text…
The pre-filled form fields you want to display, based on their profile information — fields other than their email address will be read-only…
Additional questions you want to ask them…
Consent checkboxes.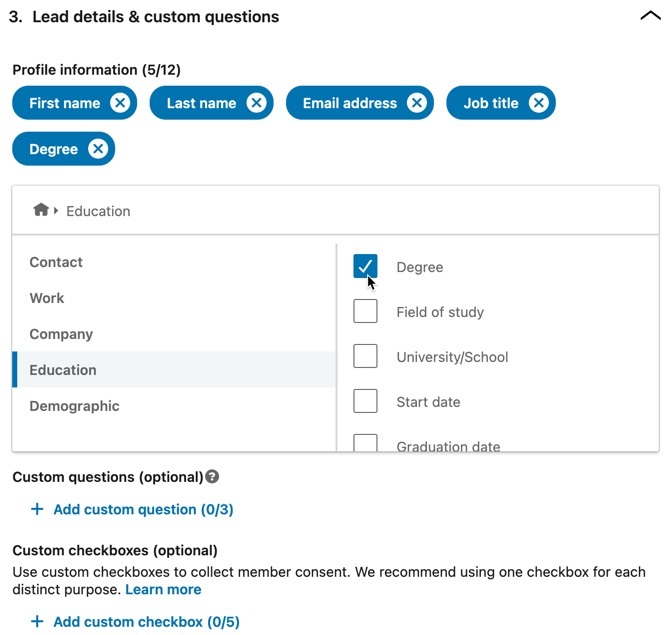 You then need to determine the confirmation info that will show once the user has submitted their information, namely:
Some text…
The text for a call to action button, and the URL of a web page the person will go to after clicking the button.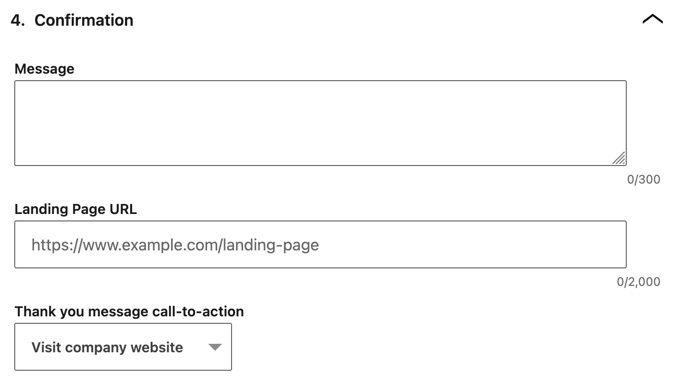 Finally, you can also optionally set some hidden fields on the form that you can use for tracking purpose, such as a field added to their lead information to track how the lead was acquired.
Click to save your ad before making any final changes to your campaign and launching it.
3. Tracking and Measuring Your Campaign's Success
Launching your LinkedIn Lead Generation campaign is really only the start.
It helps to think of it as a "best guess" as to what might work well for your target audience. To start with, you're essentially just collecting data to help you optimize the campaign over a longer time period.
So the focus now should be on continuously testing different approaches in order to optimize your campaign over time.
Launching your LinkedIn Lead Generation campaign is just the start. Next, keep an eye on the data, test different approaches, and steadily improve its performance.
Click To Tweet
Use LinkedIn's Campaign Manager dashboard to track your ad's performance, including:
Impressions
Clicks
The click-through rate (CTR)
Your cost per lead (CPL)
The conversion rate (the percentage of people seeing the ad who filled out the form, but also look at the percentage who took the initial action of clicking the button to see the form, and the percentage of people who saw the form and completed it)
Test out different ads, where you tweak a certain element each time, to attempt to improve your metrics. Elements you can test include:
The different textual elements of your ad
The visuals
The calls to action
The amount of data requested—don't forget to track the impact this has on the lead quality. For example, requesting more data might result in fewer leads at a higher CPL, but the leads may be higher quality, easier to convert, and ultimately result in more revenue. So beware of making base assumptions without the wider implications.
On top of testing elements in the ad itself, test different targeting options too.
Best Practice Do's and Don'ts for a Successful LinkedIn Lead Generation Campaign
Creating a successful LinkedIn Lead Generation campaign can be challenging, but keeping some do's and don'ts in mind can help keep everything on the right track towards an effective, scalable campaign.
Do's
Do Customize Your Messaging — ensure your campaign's messaging is designed to resonate with the exact audience you are targeting…
Do Use LinkedIn's Targeting Capabilities — use LinkedIn's targeting options to ensure those seeing your ads are as relevant as possible to your business…
Do Watch Your Metrics — use LinkedIn's analytics tools to monitor your metrics and campaign's performance, and adjust your campaign to optimize its performance…
Do A/B Test Your Ads — test continuously, experimenting with different offers, headlines, ad copy, visuals, ad formats and CTAs to discover what works best with your audience.
Don'ts
Don't Ignore the Leads That Come Through — follow up promptly with the leads you acquire through your campaign, whether that's through drip campaign emails, a telephone call, or mixture of the two…
Don't Neglect Your Company Page — remember that potential leads will be checking out your Company Page after seeing your ad, so make sure it's professional, that you keep it engaging and up-to-date, and that you're growing your followers steadily over time…
Don't Blow the Budget Out the Starting Gate — a successful campaign takes time to develop, so start with a modest budget that allows you to test some things out without breaking the bank. Once you've got a campaign that's optimized and profitable, you can start to scale it up by gradually increasing your budget…
Don't Forget to Test Your Website Too — part of making your LinkedIn Lead Generation campaign profitable is, for many businesses, what happens on their website afterwards. Your website needs to look authoritative and credible too, and if this is where sales conversions happen, continuously test aspects of your website to boost conversion rates. If you're not sure how, watch the following video for a quick overview and then click here for the full guide:


Conclusion
For B2B businesses, LinkedIn is a valuable source of high quality leads — and a LinkedIn Lead Generation campaign can be one of the most cost effective ways to acquire them.
This post has shared exactly how to approach it, from optimizing your presence on the platform, to setting up your lead gen campaign and creating your ads, to optimizing your campaign's performance afterwards.
Remember, it's unlikely that your campaign will be a roaring success straightaway — if it is, then great, but you'll mostly need to allow time to collect enough data so that you can optimize it over time through testing, and discovering what works best for your market.
It's rare for an ad campaign to be a roaring success straightaway. Collect data, test changes, optimize, and discover what works best for your market.
Click To Tweet
Once optimized and profitable, you'll then have a highly valuable source of new leads for your business that you can start to scale.