Platforms like LinkedIn are of course invaluable tools for generating leads and driving sales.
A key way to do that on LinkedIn is by using lead gen forms. Essentially, these are a type of ad that shows in the feed that allows prospects to submit their info in a really easy way.
Conversion rates tend to be relatively high because potential customers:
Don't have to leave the LinkedIn platform…
Have their info pre-filled in the form, so no typing (particularly beneficial for mobile users)...
Can submit their info in just a couple of clicks.
One of the easiest ways to generate leads on LinkedIn is to use lead gen forms. Prospects sign up in just a couple clicks.
Click To Tweet
Whether you're looking to dive in and start to use such forms yourself, or to optimize an existing campaign, it's helpful to see how other businesses approach them in order to gain inspiration and valuable insights.
This blog post showcases 10 examples of real lead gen forms found in the LinkedIn feed that are helping different businesses attract new leads, generate sales, and grow (including some well known brands).
Let's take a look…
10 Examples of Lead Gen Forms on LinkedIn
1. IAPP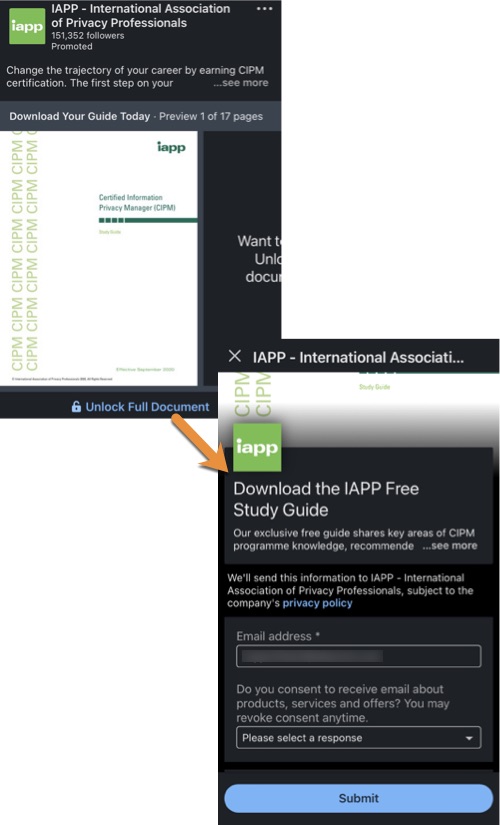 This example from IAPP (International Association of Privacy Professionals) offers a free guide, using the call to action Unlock Full Document.
On clicking the CTA, the lead gen form asks for just two bits of data:
The user's email address (which comes prefilled)...
Whether the user consents to receive emails, with Yes/No options provided in the dropdown
This form could potentially be improved by asking for the name of the user too.
This would be shown as read-only on the form (as per other examples below) and is unlikely to suppress conversion rates, but would help improve relationship-building with the prospect and increase sales conversions.
There are no guarantees, but it would certainly be worth testing if they haven't done so already.
2. AWS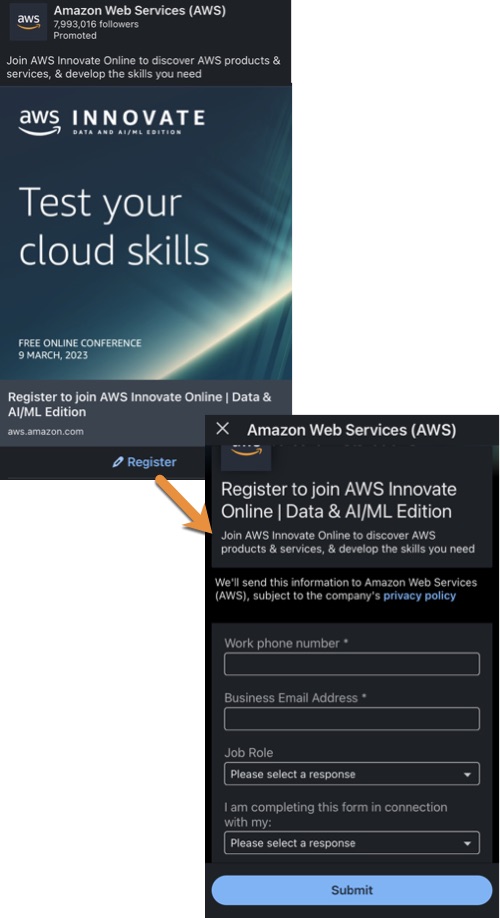 AWS's ad offers users the chance to register for a forthcoming webinar on working with cloud technologies.
After clicking the Register button, the form requests for a phone number, business email address, job role (selectable from a dropdown) and a supplementary question that presumably helps AWS target its follow up messages appropriately.
Strangely, the phone number and email address fields were not pre-filled, but should have been, so presumably a LinkedIn glitch!
Maximize conversion rates for Linkedin ads by using lead gen forms. The prospect's info is pre-filled, and they don't even have to leave LinkedIn!
Click To Tweet
3. Vestd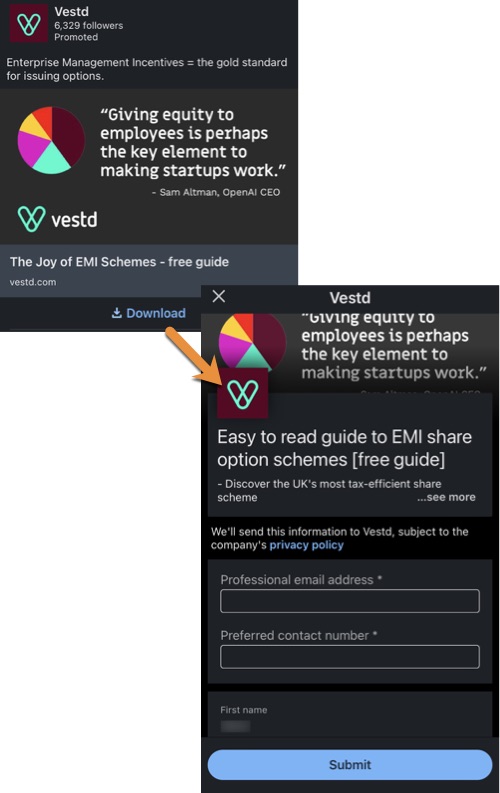 This LinkedIn lead gen form example is from Vestd, an investment platform, and offers the download of a free guide for employers interested in share incentive schemes for employees.
To get the guide, prospects need to provide an email address and contact number (both of which were again strangely not pre-filled as they should have been), along with their first name which was provided as read-only data.
4. Goldman Sachs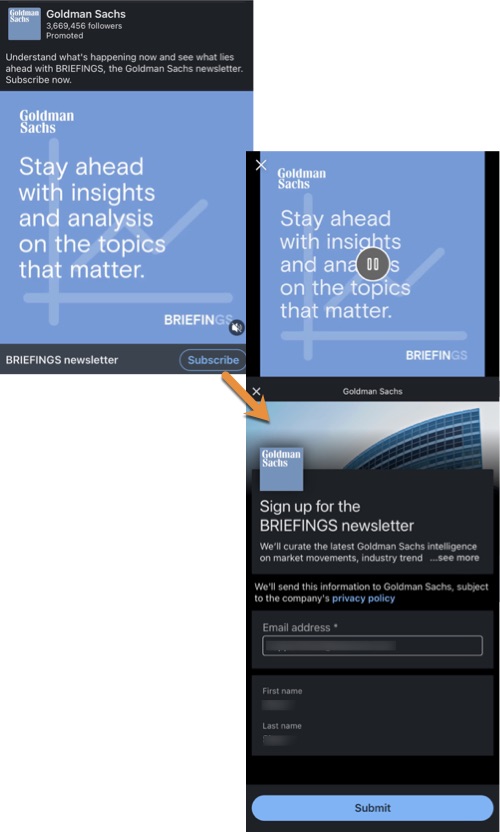 The investment bank, Goldman Sachs, is using a lead gen form here to attract new subscribers to their Briefings newsletter.
The form simply asks for an email address (pre-filled in this case), along with the prospect's first and last name, both again showing as read only text.
The user only needs to click Submit to subscribe, so a super quick and easy experience.
5. Cigna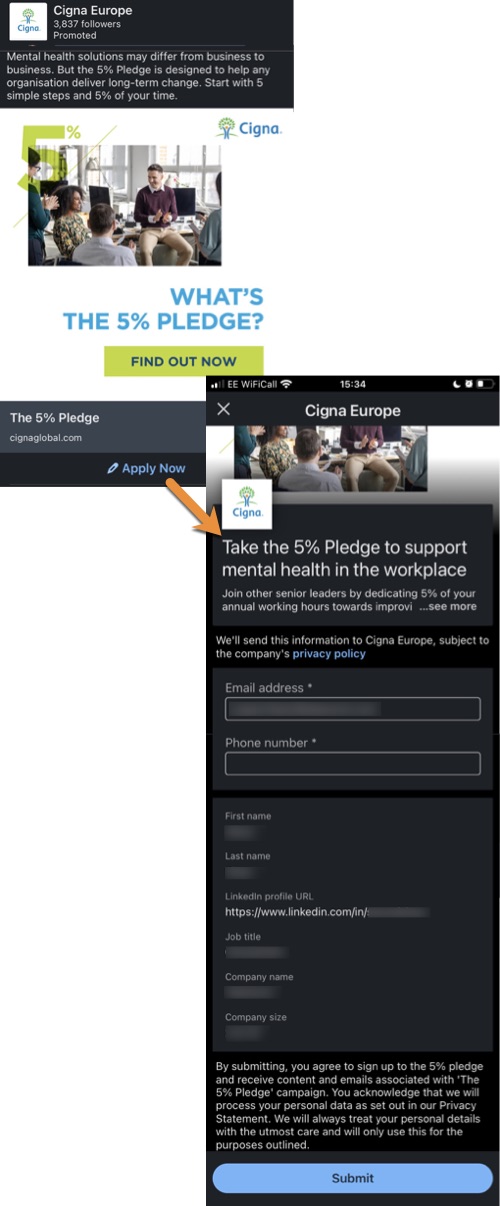 This example of a lead gen form from Cigna asks executives to find out more about making a pledge to dedicate a percentage of their working hours to support mental health in the workplace.
In addition to email address and phone number, there are quite a few other bits of data that will be submitted too, including first and last names, LinkedIn profile URL, job title, company name and size, all read only.
Note also the customized text block that Cigna has opted to include at the bottom of the form.
6. Build38

Build38 is an AI-based app protection and management platform, and the lead gen form example here offers the download of a free book that explains more about what they do.
It requests the user provide their phone number, city and email (only the email was pre-filled), also sending their first and last names, and company name.
7. Dashlane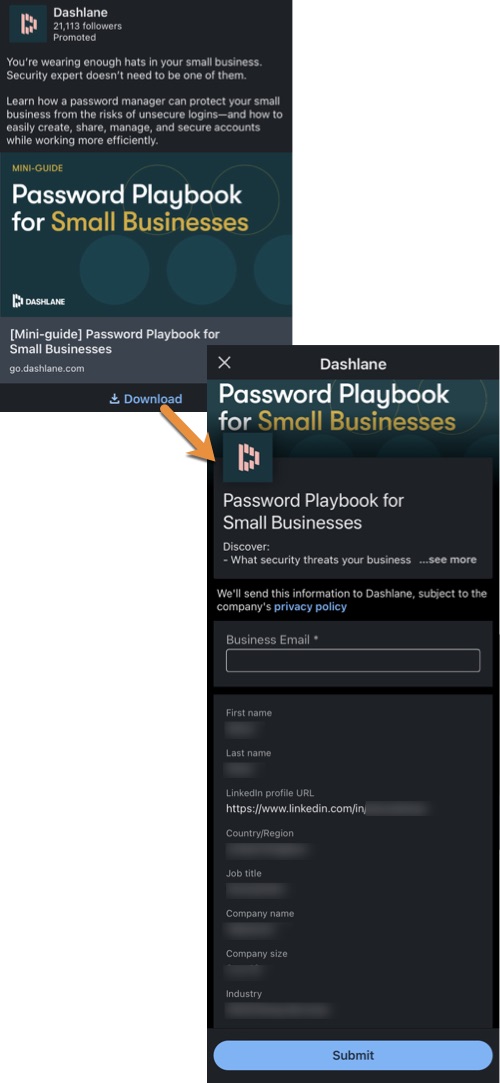 Dashlane, a password manager and digital wallet app, has an ebook available for download to interested prospects.
As you can see, this example of a LinkedIn lead gen form just requests the prospect's email, but also requests a relatively long list of other data, from name to country to company information.
Given the generally low perceived value of an ebook, it's likely that the relatively extensive amount of requested data will put some prospects off submitting their information.
It would be interesting to therefore A/B test the conversion rate of this against a form with a lower amount of data requested, such as just the prospect's first name (which the company may of course be doing).
Either way, presuming the email address is normally pre-filled, subscribing is a simple one-click operation.
Advertising on LinkedIn? Their lead gen forms often deliver higher conversion rates than using traditional landing pages thanks to a relatively friction-free experience.
Click To Tweet
8. Builder.ai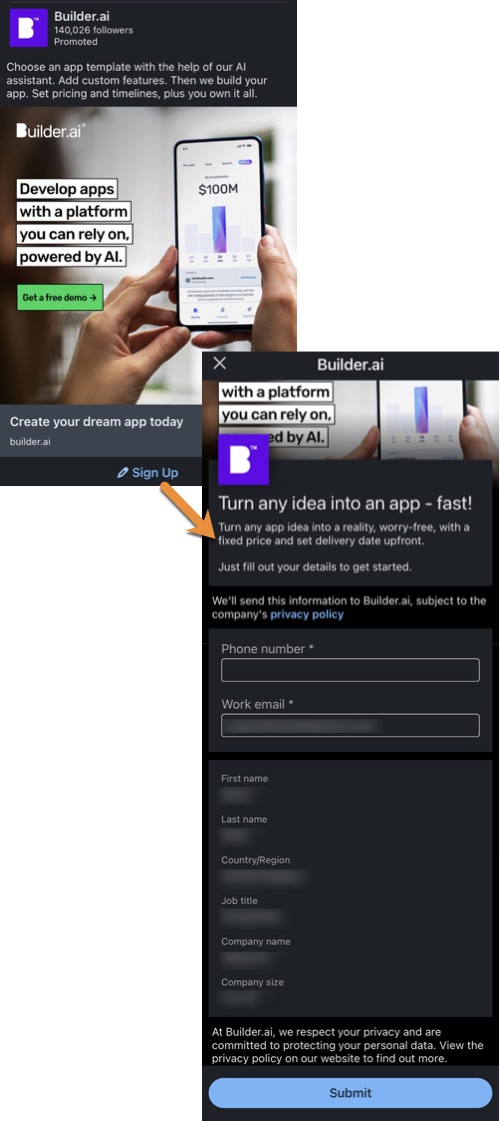 Another relatively long LinkedIn lead gen form example, this time from Builder.ai (an app development tool), featuring two input fields at the top for phone number and email (the latter this time pre-filled).
Note too the custom text again at the bottom of the form, similar to the Cigna example above (see #5).
9. Vivup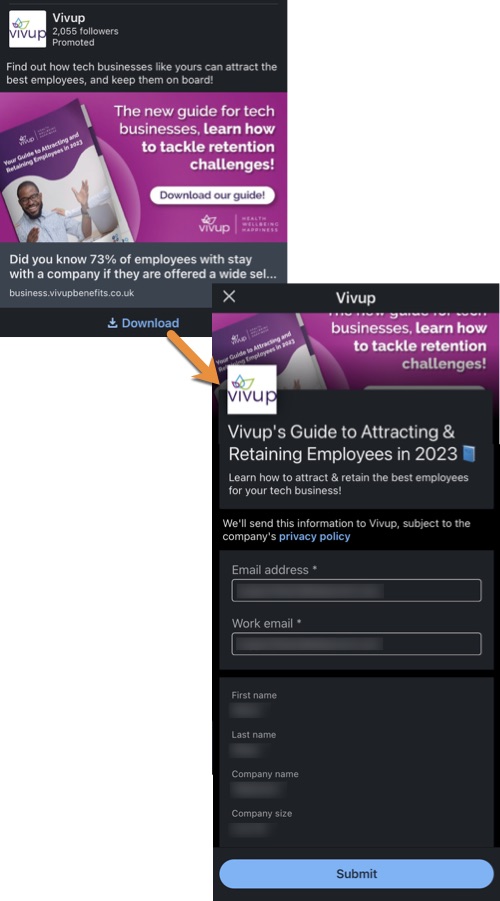 Vivup's ad above offers a free guide to help businesses tackle employee retention challenges, with the lead gen form strangely requesting two email addresses. Although pre-filled, this is likely to suppress response—apart from anything else, it's likely to confuse prospects.
However, the other data requested is relatively minimal, and it's a simple one-click sign up to get the guide.
10. Deel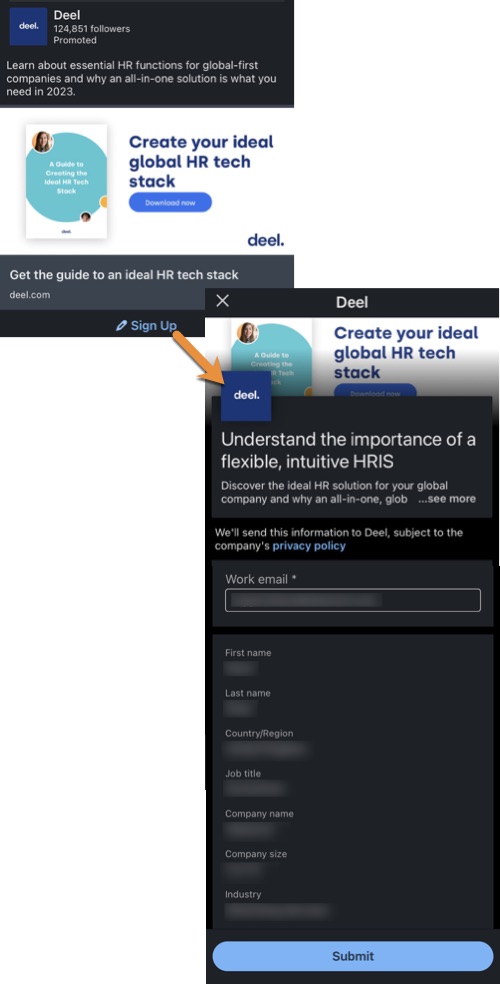 Payroll and compliance provider, Deel, is offering a guide to the 'ideal HR tech stack' here.
The lead gen form just requests an email address (pre-filled), which will be submitted along with various other bits of data relating to the prospect, similar to Dashlane above (#7) but without the LinkedIn profile URL.
Again, it would be worth testing (which they may already be doing) a reduced data form to see what the effect on conversions was.
To Conclude
In conclusion, using LinkedIn lead gen forms can be a great way to generate leads for your business and grow your customer base.
Because of the seamless sign-up experience they offer, conversion rates are often a lot higher when compared to ads that send users to landing pages on third-party sites.
Use these examples to help inspire your own lead gen forms on LinkedIn. Note the different options available, such as in the amount of data requested and the use of custom text blocks.
Above all, remember to optimize your campaign with continuous A/B testing. Small changes in your approach can provide remarkably significant improvements in conversion rates and the cost per lead you achieve, and therefore the overall success of your campaign.
Using LinkedIn lead gen forms? Don't forget to use A/B testing to maximize conversions — small changes can make a big impact on your campaign.
Click To Tweet