Business owners and marketers often make the mistake of overlooking LinkedIn for lead generation, in favor of its larger and somewhat more dominant cousins like Facebook, Instagram and TikTok.
But for generating B2B leads, LinkedIn is second to none, with people on the platform looking to advance their careers and their businesses, and open to connecting with others who can help them do so.
In fact, LinkedIn has been found to produce the best results by far for B2B content marketers, whether using it on an organic or paid basis.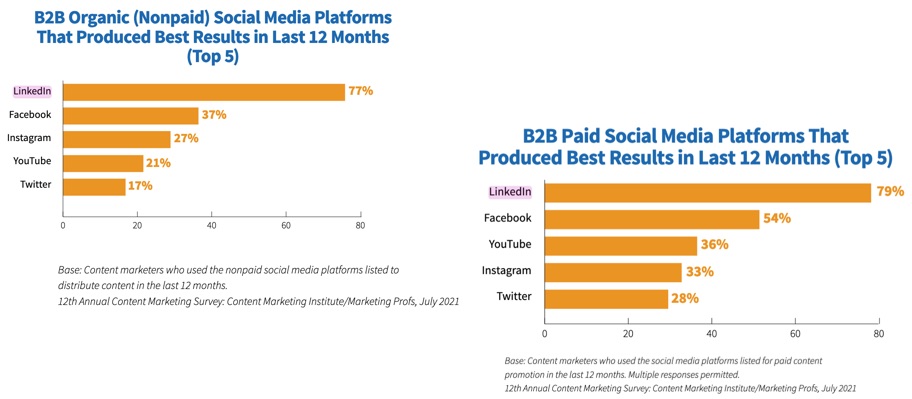 And multiple studies have found that LinkedIn comes out on top when it comes to generating B2B leads from social media.
But what do you actually do when it comes to generating leads from LinkedIn?
That's what this post helps you with, showing you exactly how to create leads on LinkedIn, from firstly putting in place the right foundations, to 5 key ways to use LinkedIn for lead generation, to finally what to actually do once you've found suitable leads on the platform…
When it comes to generating B2B leads from social media, multiple studies show that LinkedIn is second to none.
Click To Tweet
Creating Leads on LinkedIn — Laying the Foundations (3 Steps)
#1 Identify Your Ideal Lead
Before you even start looking for leads on LinkedIn, you have to know exactly what you're looking for.
And that comes down to identifying your ideal prospect.
So who is it exactly that you're looking to connect with?
It helps to first establish who the key decision maker is when it comes to purchasing your product or service.
Is it going to be the CEO? The CTO? The director or manager of a particular part of the company?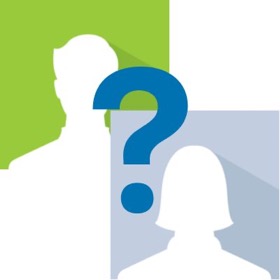 Take a look at your existing customers and what type of role do the majority have in common.
While there are likely to be variations in the name of the job title held by your ideal prospect, it will help to compile a list of some of the most common ones.
Also, consider where they are based. Even if you sell internationally, which country do your best customers—and prospects who tend to be easiest to convert—actually come from?
Finally, identify some of the key people your ideal lead may follow or be connected with.
What you're looking to do is build a basic avatar of your ideal lead so that you know exactly who to target on the platform later on.
[Twitter=Before creating leads on LinkedIn, get the right foundations in place. Create a lead avatar, and optimize your personal profile and Company Page accordingly.]
#2 Optimize Your Personal Profile
Now you're clear about who you're targeting, consider your personal profile and what is likely to appeal to potential leads and encourage them to connect with you.
Start by ensuring you have a profile photo. Without one, people are far less likely to connect with you as your account will seem neither genuine nor trustworthy, nor will it look like you're active — so why bother?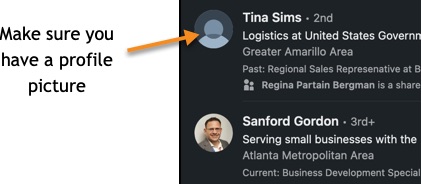 Obviously, make sure your name is set too!
The next most important section of your profile is the headline. This is what shows under your name and is a key part of what people look at before deciding to accept a connection request or click through to your profile to find out more about you.

If for example you are looking to connect with CEOs, it's likely there will be more willing to connect with other people in a similar position.
If you're not a CEO, founder, director or something similar, use appropriate wording so that you still come across as authoritative and someone they would have a potential interest in connecting with.
As well as information about your position, use additional text to stimulate interest and curiosity in your prospect (see the profile headline in the image above for an example).
Before accepting a connection request, a good proportion of people will click through to check out your full profile, to make sure you are genuine and would be someone of potential interest to them.
So ensure the rest of your profile is filled out in as much detail as possible, including the About, Experience, Education and Skills sections.
#3 Optimize Your Company Page
Once your personal profile has been optimized, it's time to move onto the Company Page for your business on LinkedIn.
While people prefer to connect with and engage with other people, your Company Page is nonetheless an important part of your business's overall presence and ability to create leads on LinkedIn.
As with your personal profile, ensure all the relevant sections are filled out with information that is likely to be of appeal to your ideal prospect.

This includes:
Your cover image
Your logo
The name and description
---
With the foundations now complete, you're ready to start using LinkedIn to create leads. Here are the top 5 ways to do so…
5 Key Ways to Create Leads on LinkedIn
#1 Publish Content Regularly onto LinkedIn
One of the most important factors for creating a supply of leads from LinkedIn is to ensure you're publishing content onto the platform on a consistent and regular basis.
That means a mixture of:
Publishing your own posts
Publishing regular articles on the platform
Sharing relevant content from others
Engaging and interacting with other people's posts
For a regular supply of leads from LinkedIn, you have to keep showing up! Publish posts and articles, share other content, engage and interact.
Click To Tweet
In doing so, you're constantly showing up, and thereby building your authority and credibility in the process.
It's a little like offline networking. If you go to relevant events once or twice, the benefits will be negligible. But keep showing up, people come to recognize you, familiarity grows and so do the relationships you develop.
For the first two above—publishing your own posts, and publishing regular articles on the platform—look to make this as efficient as possible by using Trafficonomy to help.
For example, each time something is published via another channel, such as your blog or YouTube channel, someone can be tasked with adapting that into some kind of content for LinkedIn.
#2 Search for People to Connect With
Use LinkedIn's search facility to find the exact type of person you want to connect with, based on the lead avatar you created earlier.
Once you're connected to someone on LinkedIn, you're then able to message them. We'll discuss towards the end of this post how to approach this.
After typing in something of relevance to your avatar, click the People filter so it focuses on showing potential leads rather than other content.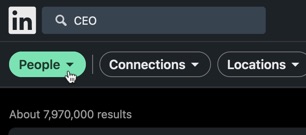 You can also use the other filters, such as Locations if you want to narrow down your search to a specific country.
Try also clicking on the All filters option. Note you can find people based on whether they're connected to one of your existing connections, or followers of a LinkedIn creator (whether or not you're connected to them personally).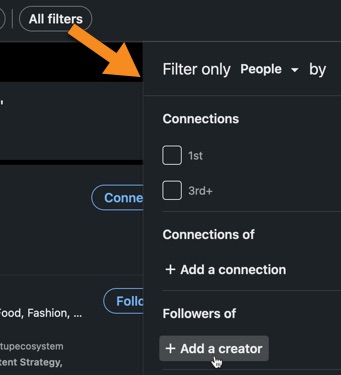 Note that for the people listed in the search results, there will either be a Connect or Follow option.
Clicking Connect will invite that person to connect with you. Once connected, you're able to message them.
For Follow, clicking the button means you'll be following them, but that doesn't give you permission to connect with them. Instead, click through to their profile, click the More button, and then click the Connect option from there.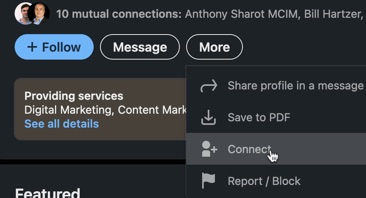 #3 Use Sales Navigator
To ramp your search up a gear or two, try LinkedIn's Sales Navigator. At the time of writing, you can try it out for 30 days for free, and see if it works for you.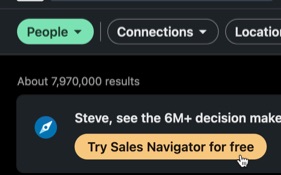 Amongst other benefits, Sales Navigator means you're able to message people without needing to first be connected with them, see more leads in the results, save your searches, and get access to additional filters to better target people to connect with.
#4 Find and Join Relevant Groups
Another way to find, attract and interact with potential leads is to join groups relevant to your lead avatar's interests.
To find relevant groups, again use LinkedIn's search facility. Enter a relevant search term, and once you've got some initial results, click on the Groups filter.

There might be hundreds if not thousands of groups you can potentially join, and joining a particular group is likely to require approval.
Once joined, look for groups that are active, and join in the conversation, both engaging with other posts and sharing your own content.
Most groups have a set of rules you need to follow, which mostly involve avoiding posting anything promotional in nature, and posting off-topic.
As well as contributing, keep an eye out for people that fit your lead avatar, or who are posting content that indicates they would benefit from the type of product or service you offer. Connect with them in the usual way.
By being active in relevant groups, you'll find people will also send invitations to connect with you. Again, look out for those who fit your lead avatar so you can message them accordingly (see the approach to follow in the section at the end of this post).
#5 Use LinkedIn Advertising
Of course, one of the top ways to create leads on LinkedIn is via their advertising options.
Advertising on LinkedIn can cost more than other social platforms at face value. But the lead quality is generally a lot higher, they convert more easily, and thus the actual ROI can be higher.
There are a number of different options for lead generation, including running ads that:
Point to a landing page on your website that's been optimized properly for lead capture
Contain a lead generation form that's prefilled with the person's data (an example of what these look like is shown below, click here for some more).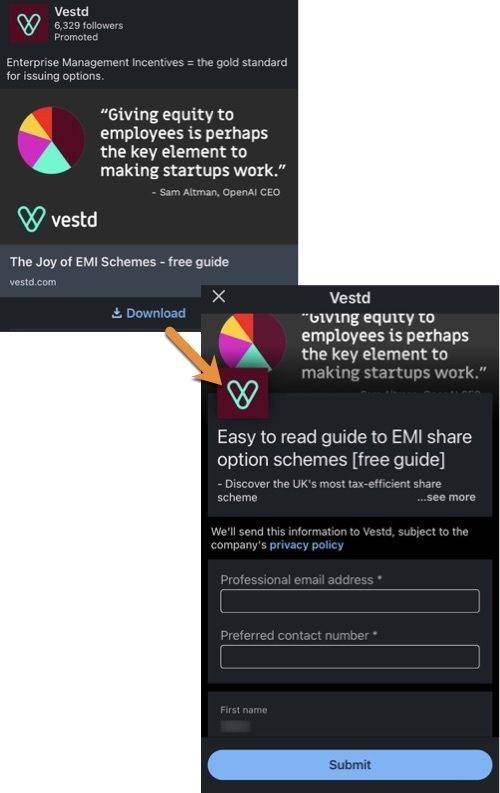 The latter will generally provide more leads at a lower cost per lead. But they can be harder to convert because they're not as committed as someone who's left LinkedIn to visit your website and enter their information manually.
So test both approaches, and evaluate your results.
To get started, sign into their Campaign Manager tool and click to create a new campaign.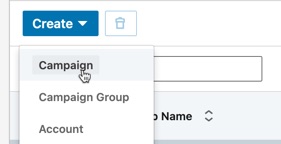 When asked to select an objective, the two relevant for lead generation are shown below, namely Lead generation and Website conversions.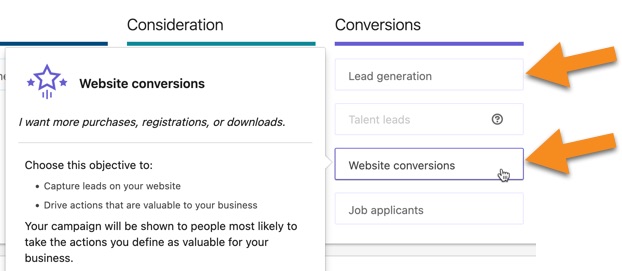 For the latter, you'll need LinkedIn's Insight Tag installed on your site so that LinkedIn can track conversions achieved through your ad.
For more information on setting up a paid ad campaign via LinkedIn, see this post.
Finally… What Should You Do With Leads Created On LinkedIn?
It's advisable not to try to sell directly on the LinkedIn platform. Doing so can seem spammy and can just mean your messages are ignored.
Instead, your aim should be to get them off of LinkedIn, and onto your email list or some other permission-based marketing funnel. That means you're able to follow up with them more effectively, and with their full permission to do so.
Doing this successfully will mean offering something to them that has a high enough perceived value that they are willing to provide their email (or other contact information) in exchange for it.
Depending on what you are selling, this might include offering:
A free consultation of some kind
A free audit
Access to some valuable information, such as a video or video series, or maybe a book you'll post to them for free
What should you do with leads on LinkedIn? Don't try to sell them directly. Get them off of LinkedIn and into a permission-based marketing funnel.
Click To Tweet
To be successful, the perceived value has to be high, because remember they're not necessarily looking for the information at the time of your message, are likely busy doing other things, will likely see your message as an unwanted interruption, and are likely receiving several other such messages a day.
Test out different approaches to see what seems to get the best results (use each approach for at least 100 recipients before drawing any conclusions), and personalize each message to the recipient as much as possible.
For example, it can help to reference some specific content they've posted that's relevant to what you're messaging them about, and to potentially engage directly with that content as well.
To Conclude
As stated, LinkedIn is probably the most powerful and effective platform for B2B lead generation.
This post has detailed exactly how to create leads on LinkedIn, including five top ways to approach it, and how to approach messaging leads to move them into your marketing funnel. All that's left is to start putting it into action.