With over a billion active users, Instagram has solidified its position as a crucial platform for businesses looking to:
Reach new audiences…
Create a community around their content…
Drive meaningful engagement.
So how can you best take advantage?
As with any social platform, posting regularly and consistently is vital. But what does that actually mean, and how does it apply to Instagram?
A content schedule for Instagram makes it easier to publish quality content consistently that engages your audience, while avoiding the inevitable stresses of last-minute publishing.
Click To Tweet
In this post, you'll uncover the ins and outs of crafting a successful Instagram content schedule that works for you, including aspects such as:
How often to post, and the best times to do so
Scheduling tools that can help take the load off
Planning content effectively that resonates with your audience
Key metrics to monitor so you know what's working and what isn't.
Let's dive in!
First though…
Why Do You Need an Instagram Content Schedule?
Without a content schedule, posting to Instagram is liable to just become simply random, leading to:
Inconsistency—in other words, a failure to keep showing up…
Content that fails to resonate…
Poorer results than you could otherwise achieve.
In contrast, an Instagram content schedule offers clarity, and means your content is prepared well ahead of time.
Just as with a content calendar for your blog, a content calendar for Instagram makes it far easier to:
Publish content that aligns with your brand voice and strategic goals
Plan in advance, including aligning input from different contributors
Deliver quality content on a consistent basis
Avoid the inevitable stresses that come with a looming publication deadline and little idea of what to publish.
So let's take a look at how to create an Instagram content schedule that works for you…
6 Steps to Creating an Effective Instagram Content Schedule
Creating an effective Instagram content schedule hinges on:
Knowing your audience…
Delivering consistent, relevant content designed to resonate.
Here, we outline the crucial steps to build a schedule that resonates and drives engagement.
1. Understand Your Audience
Understanding your audience is crucial for for creating an effective Instagram content schedule.
When you're well-informed about your followers' preferences and interests, you can plan content that's naturally more aligned with what your audience wants to see.
To create an effective Instagram content schedule, start by understanding your audience, including what they're likely to engage with and when they're online.
Click To Tweet
That leads to:
Improved engagement levels…
A stronger bond with your community.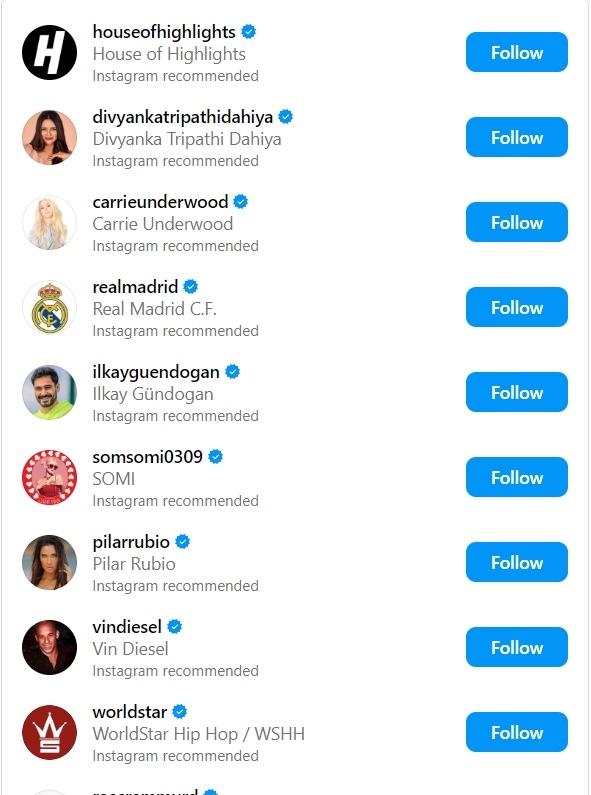 It's not enough to just know your audience at a surface level, with basic demographics like age or location.
Going deep and obtaining more nuanced information about who is most likely to engage with your content is key.
Tools like Instagram Insights can provide a comprehensive view, providing details such as your follower's:
Interests
Habits
Activity times.
Armed with the right info on who your content resonates with, you can make better decisions on what to add to your content schedule, including:
Content types and formats (see #3 below)…
Posting times (see #5 below)
By the way, if your Instagram account is a little light on followers at the moment, you might want to consider using Facebook Ads to increase them. Here's a quick video primer, or refer to the full guide by clicking here:
2. Set Clear Goals
Before creating an Instagram content schedule, it's important to know what your objectives are.
So start by clearly defining what you want to achieve through your Instagram presence.
For example, you might be looking to:
Boost brand awareness…
Drive traffic to your website…
Generate leads…
Increase sales
Or perhaps a mix?
Either way, knowing your objectives helps to guide the type of content to add to your schedule and plan for, not to mention the metrics you measure to determine the success of your activities on the platform..
You might like to use the SMART goal setting process to help, in other words:
Specific
Measurable
Achievable
Relevant
Time-bound
For instance, a SMART goal might be to increase website traffic by 20% within three months through your use of Instagram.
This type of specificity and time frame make it easier to track and work toward a particular objective effectively.
3. Choose the Right Content Mix
For the right content mix, you need to plan for content that incorporates different content types and post formats.
Let's take a look at each in turn...
Content Types
A mixture of different types of content helps you to:
Create a diverse content schedule
Keep your feed vibrant
Attract engagement
Cater to the varied interests of your audience.
Examples of different content types include the following.
User-Generated Content (UGC)
Sharing photos and videos from followers can be a powerful driver of conversions and user loyalty.
It adds authenticity to your feed and showcases the real-life impact of your brand or products.
When planning your content for Instagram, think about both different content types and different post formats to appeal to different segments of your audience.
Click To Tweet
Behind-the-Scenes
Give your followers a peek into the day-to-day life of your brand.
Whether it's a glimpse of office life, the making of a product, or just a casual day in your life, these posts create a personal connection and build trust.
Product Features
If you operate a business or sell products, highlighting their features, benefits, or uses can be incredibly beneficial.
Show your followers what's unique about your offer and how it can benefit them.
Quotes or Motivation
Everyone appreciates a bit of inspiration. Share quotes or motivating messages that align with your brand's message, providing a source of encouragement and positivity in your follower's feeds.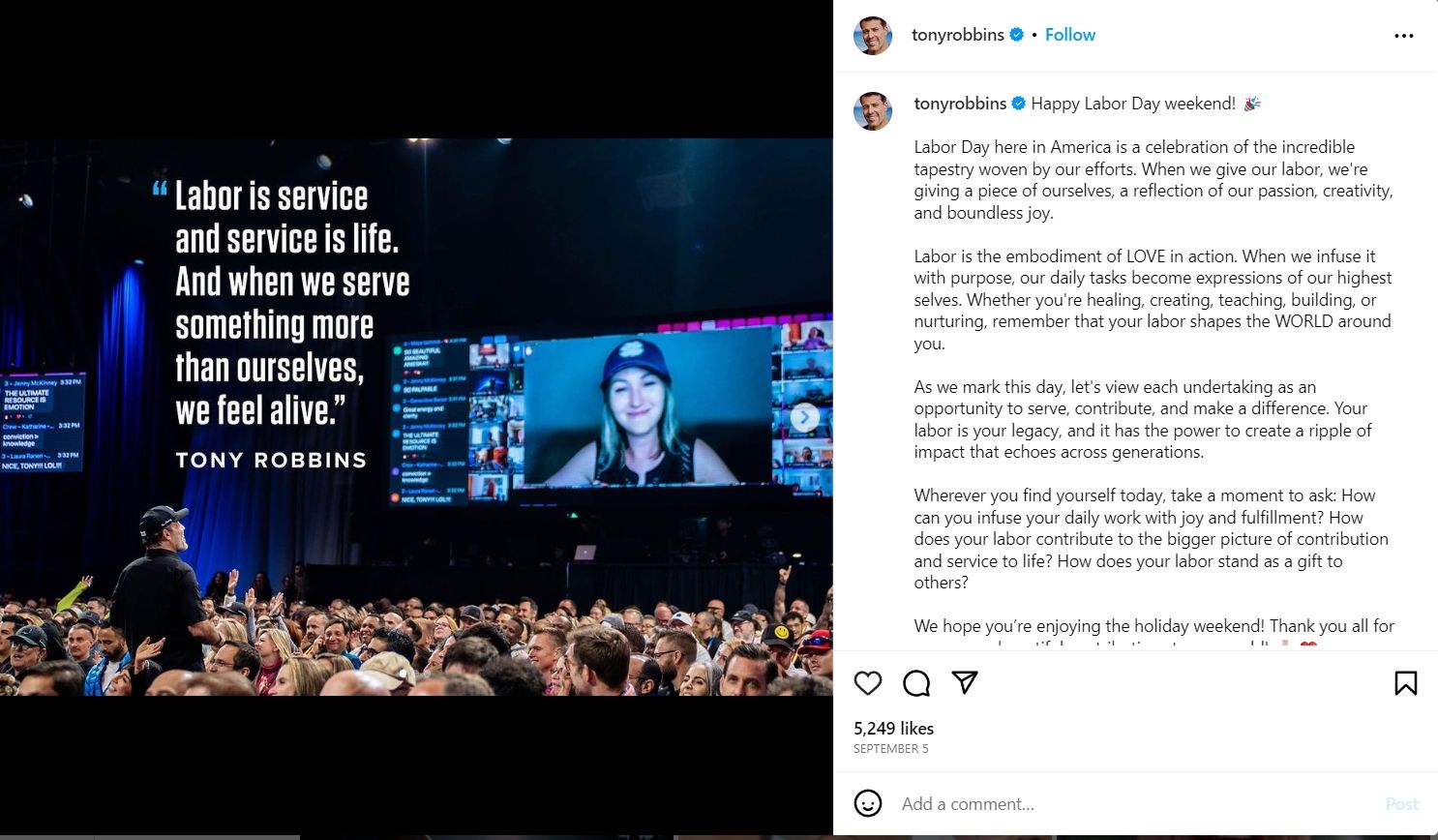 Educational or How-To
Provide valuable insights or tips related to your niche, such as a DIY tutorial, a piece of advice, or an informational post.
Such content helps to establish your brand as a knowledgeable source in your field.
Engagement Posts
Engage directly with your followers by asking questions, conducting polls, or initiating challenges.
It's a fun way to interact, encourage engagement, understand your audience's preferences, and keep your community active and involved.
Post Formats
As well as the different types of potential content as discussed above, it's a good idea to take advantage of the various content formats Instagram supports to help mix up your content further.
This helps you connect with different segments of your audience—different formats tend to appeal to different types of people, after all—by taking full advantage of the platform's features.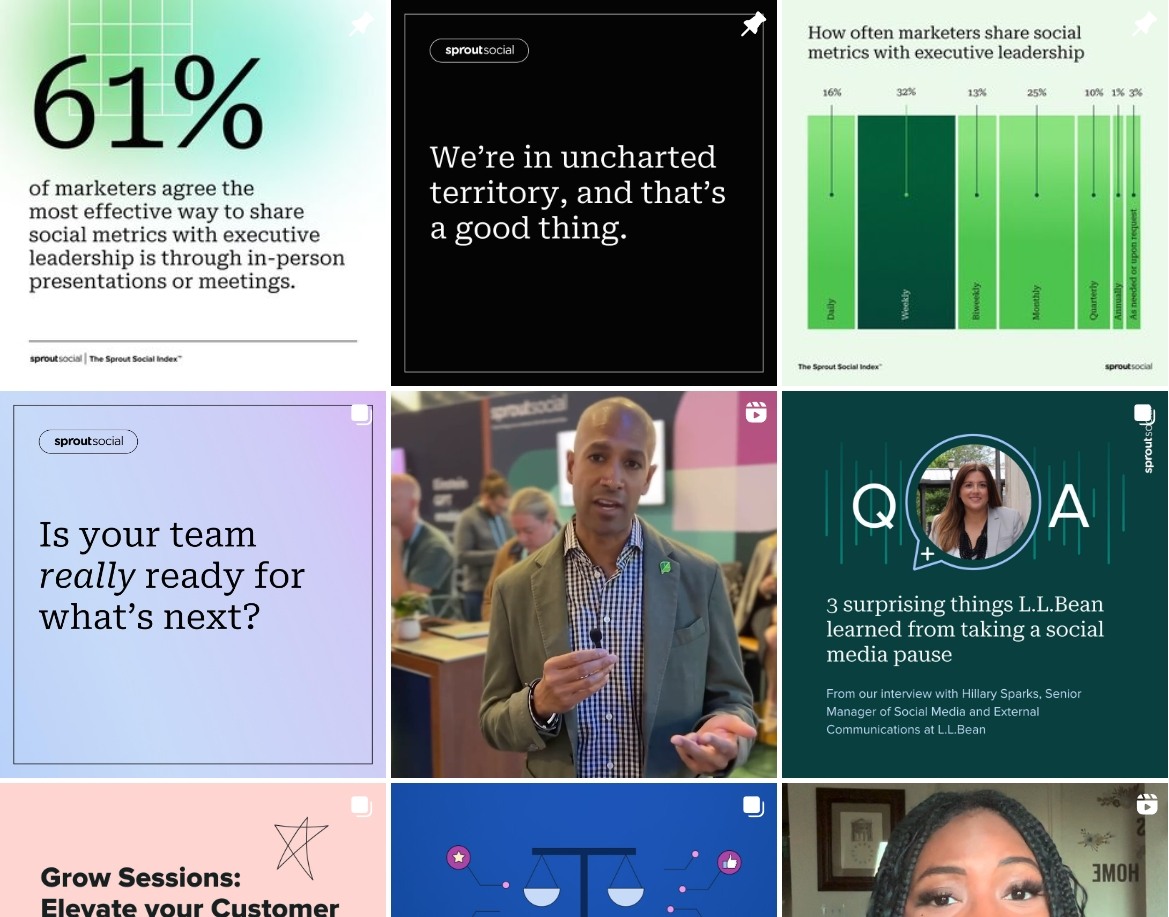 Photos and Videos
Photos have always been the heart of Instagram, but videos are becoming increasingly popular too.
Mix up your content by including both formats.
High-quality, visually appealing photos can tell a story or showcase products, while videos can provide tutorials, behind-the-scenes glimpses, or shareable content.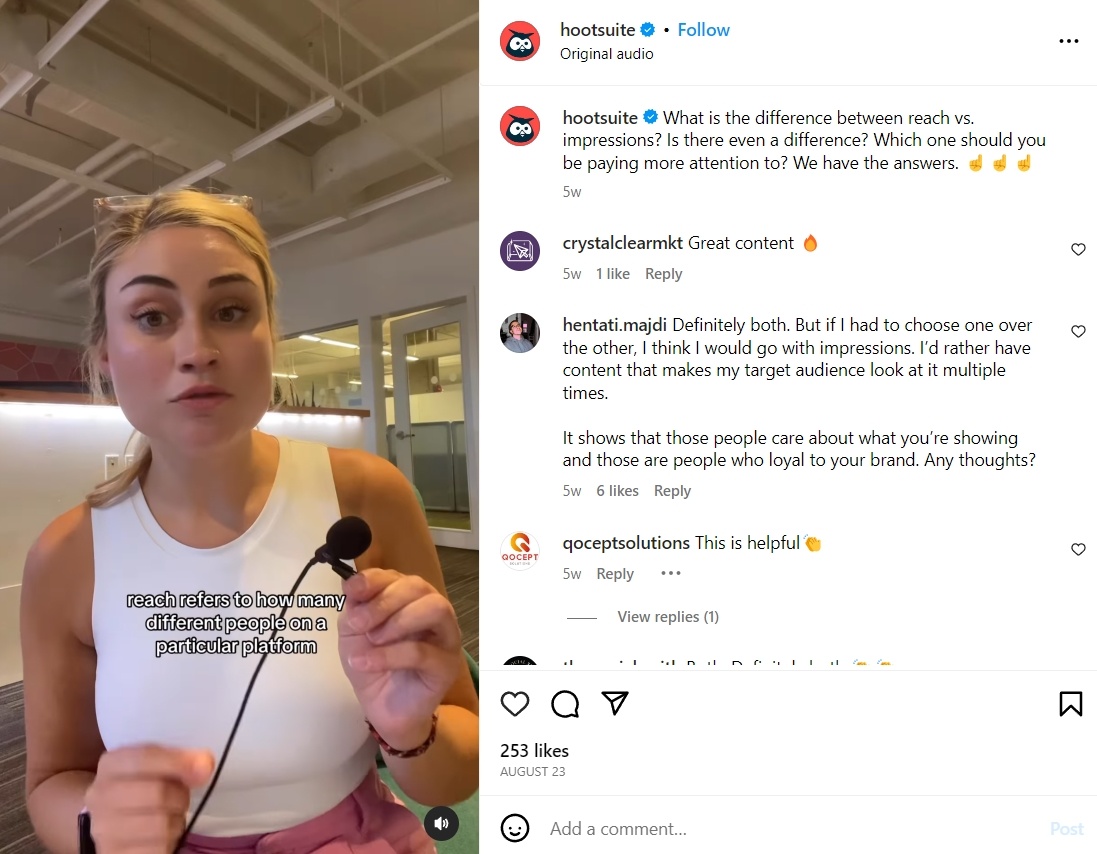 Stories and Reels
What's the difference between stories and reels?
Instagram Stories are perfect for sharing moments that don't need to be permanent on your feed (check out our guide on using Instagram Stories for business).
Reels, on the other hand, are short, attention-grabbing videos that can showcase your creativity and engage your audience in unique ways.
---
When considering what type of content to share, you might think that videos attract higher engagement levels and should be prioritized:
But consider these interesting stats:
Videos have an average engagement rate of 1.45%, while…
Images attract an average engagement rate of 1.74%, and leading the pack are…
Carousels with an average engagement rate of 1.92%.
Here's an example of how you might map out a weekly content mix:
Monday—product feature
Tuesday—behind-the-scenes
Wednesday—engagement post (e.g., "What do you want to see more of?")
Thursday—UGC or a customer testimonial
Friday—educational post or tutorial
Saturday—quote or motivational content
Sunday—rest or a personal post
4. Plan to Post Frequently and Consistently
How Often Should You Post?
The average posting frequency on Instagram is 4 times per week, but there's no golden rule to follow. The ideal posting frequency for one account may completely differ to another, and depends on factors such as:
Your audience's preferences…
Your content creation capacity, and…
Your goals.
The best approach is to simply find a balance between staying active while not overwhelming your followers.
For some more detailed guidance on how often to post on Instagram as a business, watch the following video for a quick overview, or click here for the full guide.
Develop a Consistent Posting Schedule
Remember that consistency is key to building a loyal following and attracting rising levels of engagement, so choose a posting schedule you can realistically maintain, whether it's daily, three times a week, or even once a week.
Sticking to your schedule helps create expectations and builds confidence and trust among your followers.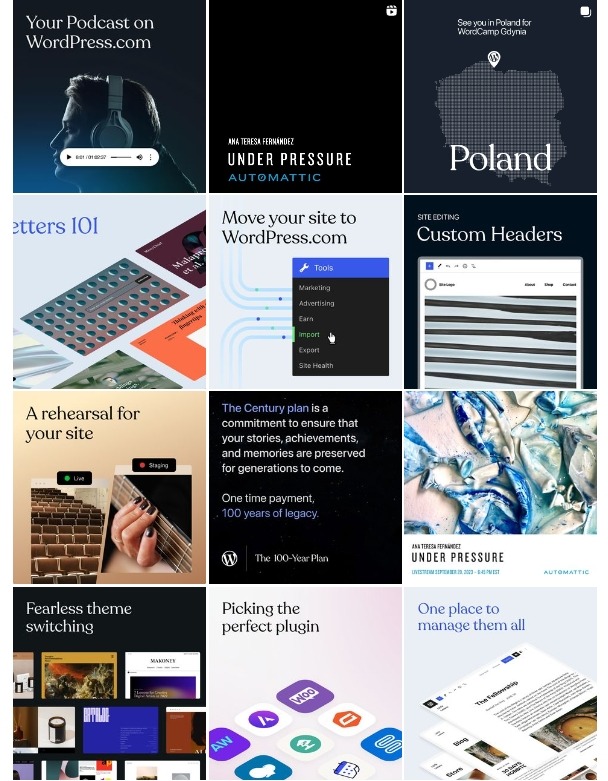 Use Scheduling Tools to Help
To help with posting consistently, consider taking advantage of relevant scheduling tools. Here's a brief intro to a few platforms you might want to look at: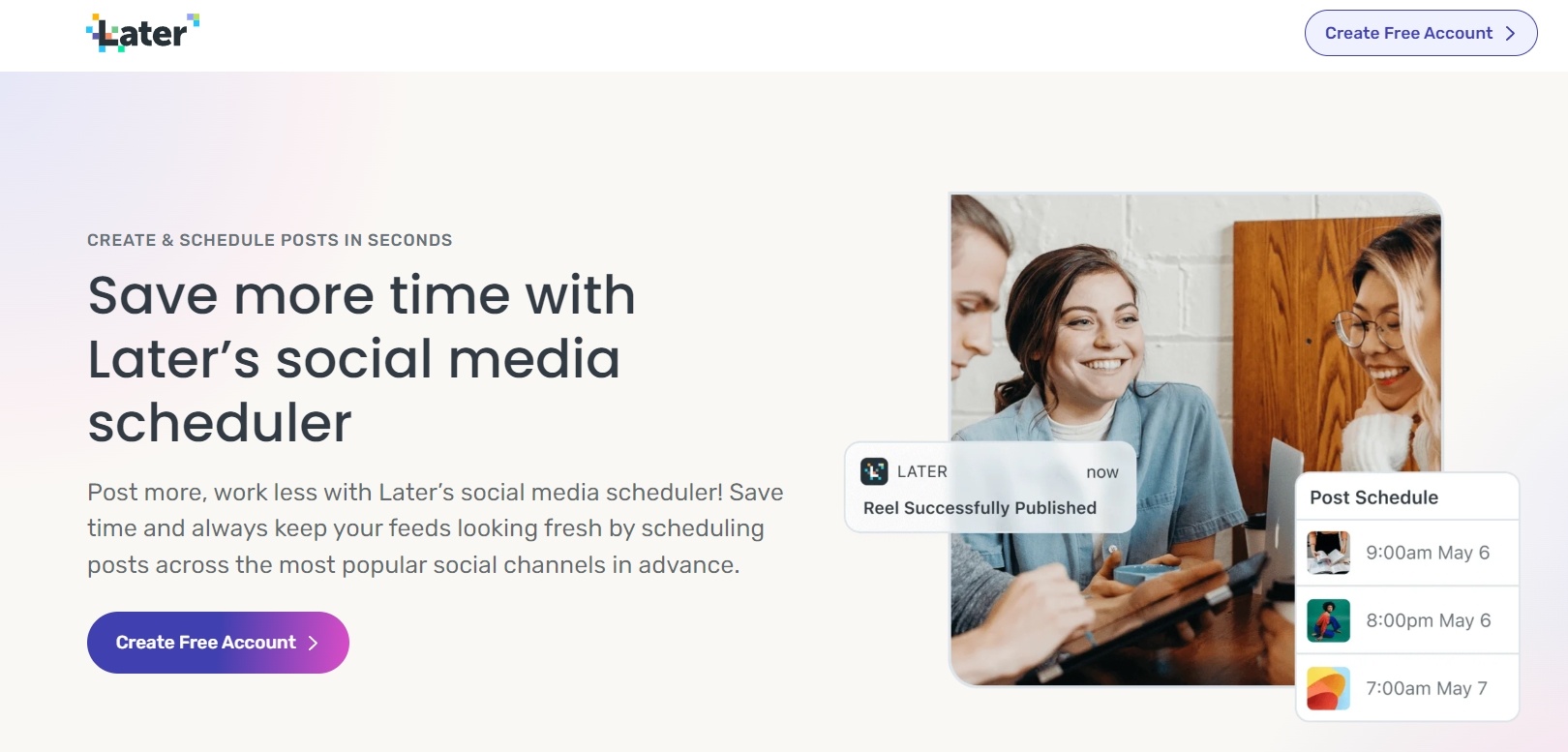 Primarily a visual content calendar, Later uses drag-and-drop functionality, making it easy to schedule your content for posting onto Instagram.
It also suggests optimal posting times (see next section below) based on your audience's activity, helping to ensure your content has the best chance to getting seen and attracting engagement.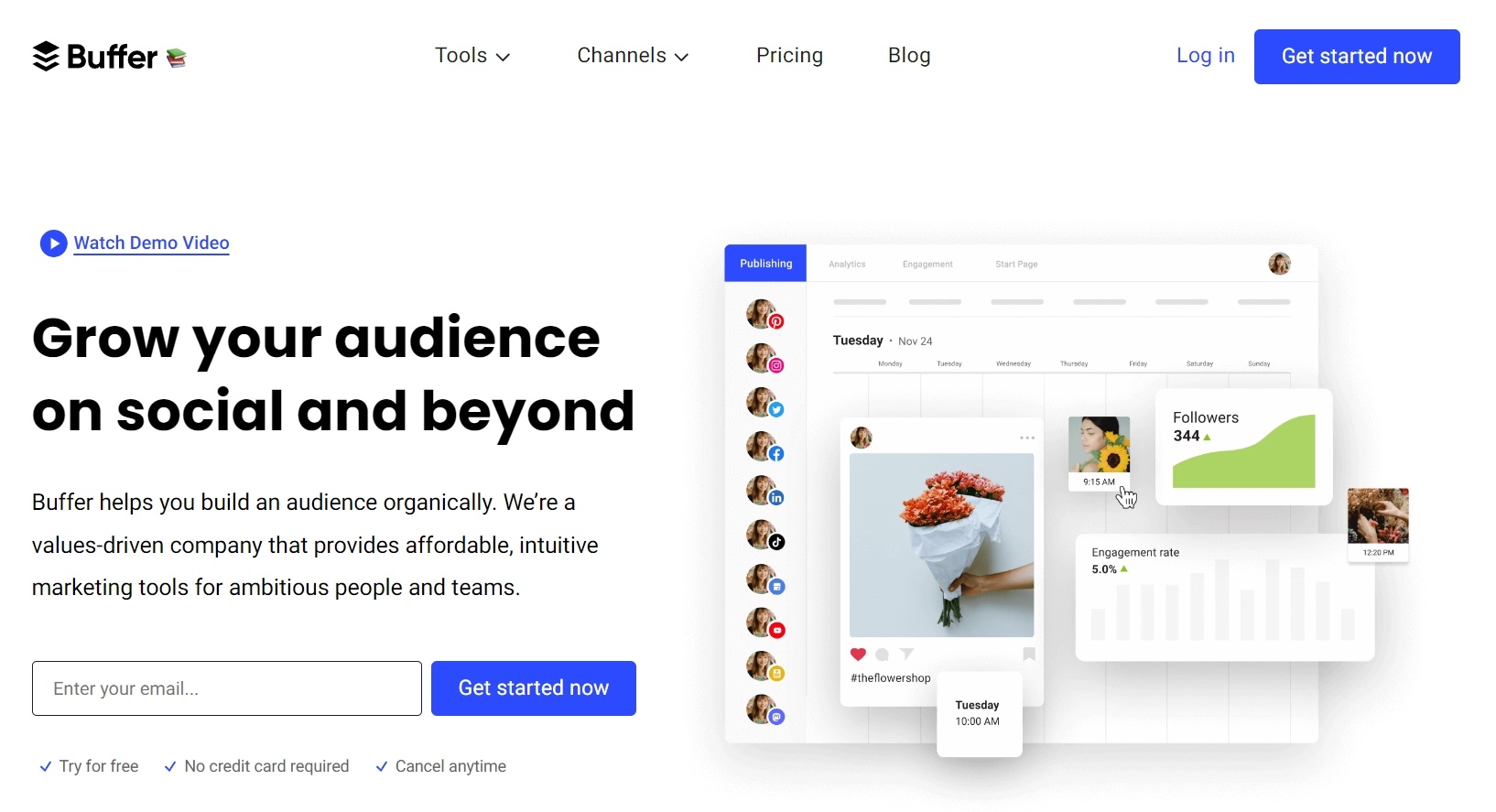 Buffer offers a smooth scheduling experience for Instagram and other social channels, and comes with in-depth analytics to help you refine your posting schedule.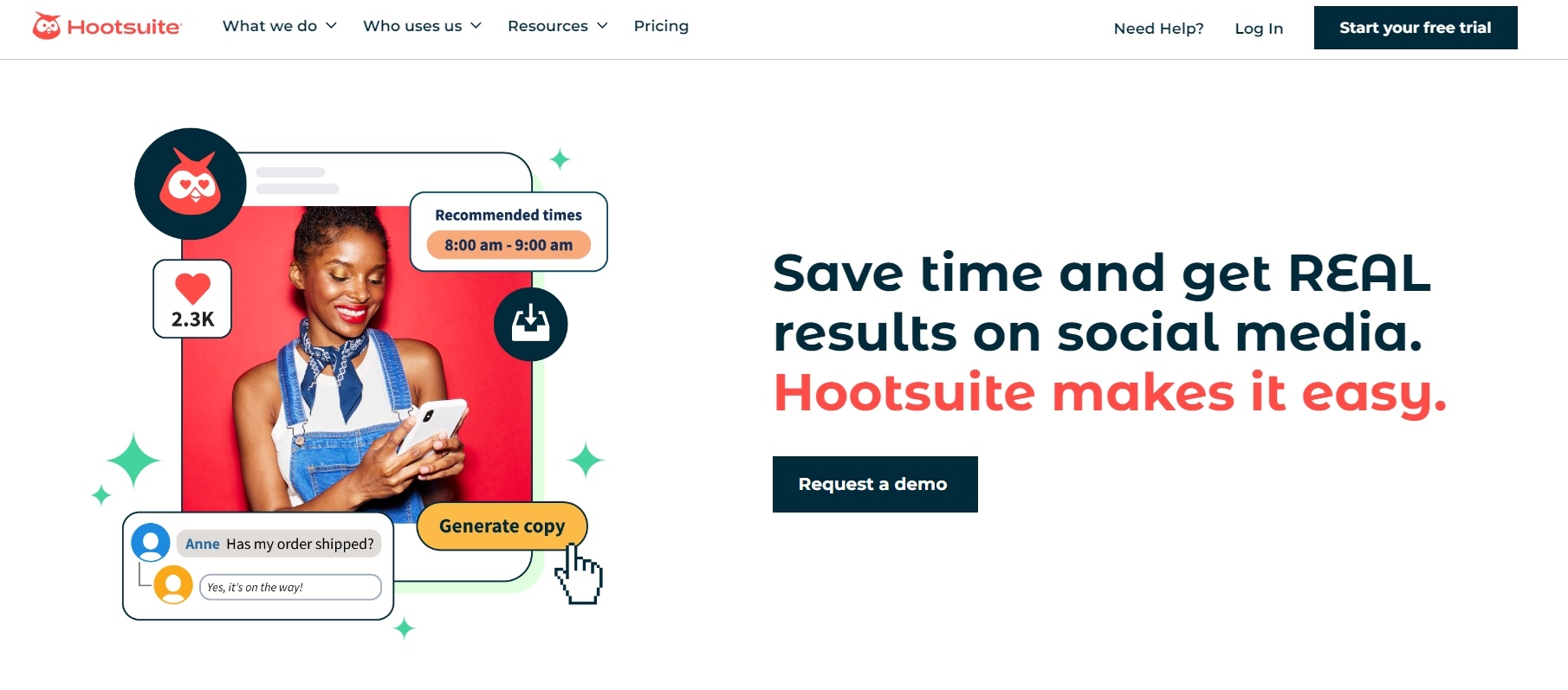 As well as helping you schedule content, Hootsuite offers an extensive suite of tools, including monitoring and analytics, and facilities for team collaboration and task delegation.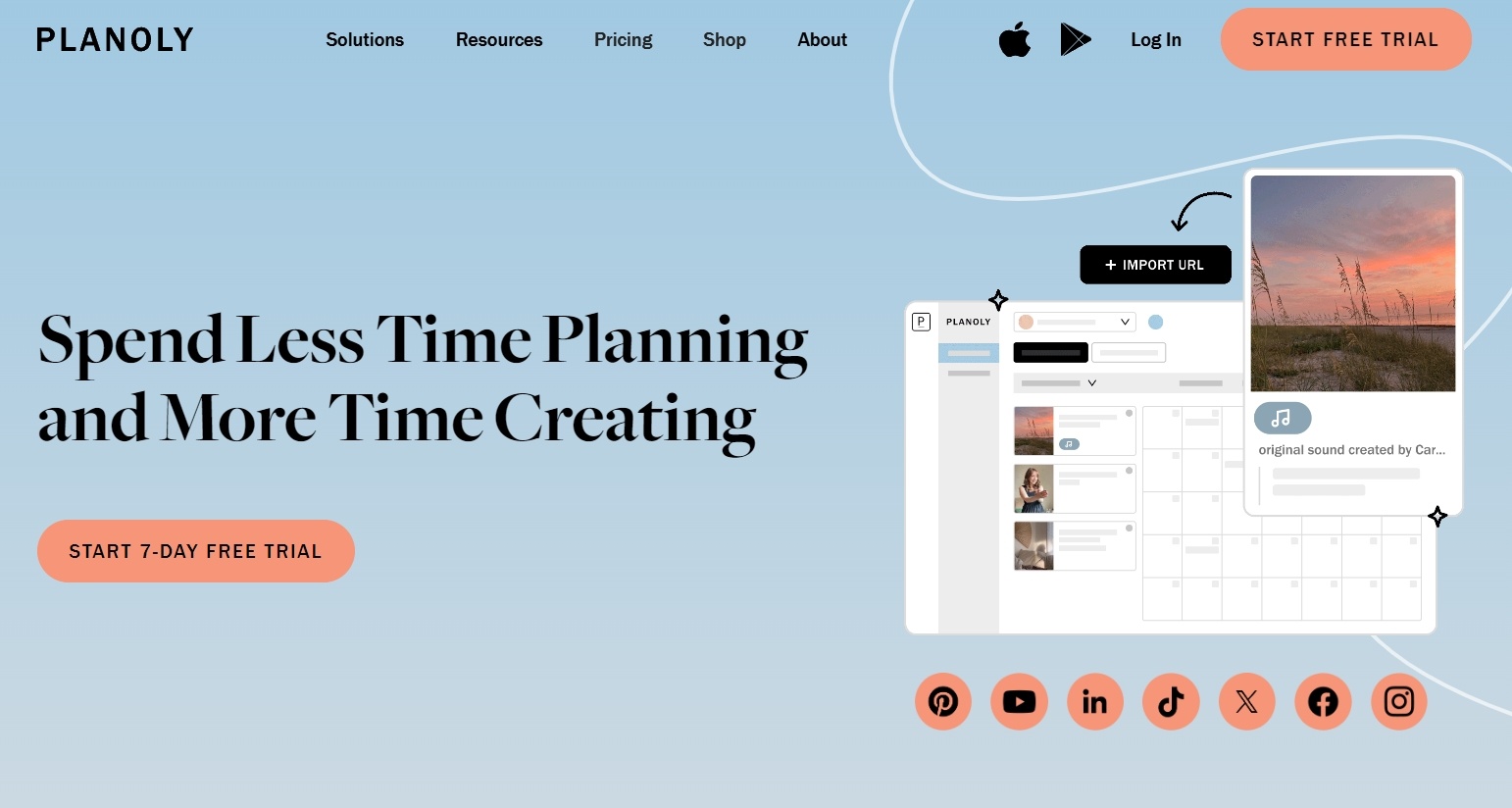 Planoly gives you the ability to visualize your content schedule before posting, helping you maintain a consistent and curated feel to your Instagram feed if that's something you're looking for.
5. Determine the Best Times to Post
When it comes to determining what time of day to post, different sources have different advice, and there's little info on what time zone they're referring to, all of which can get pretty confusing:
The best advice is to simply analyze your own data to determine when your own audience is most active.
There's lots of different advice about when to best post to Instagram, much of it contradictory. Experiment for your own audience and study the data.
Click To Tweet
You can get the data you need from Instagram Insights, showing you the days and times when your followers are online and thus more likely to engage, ensuring your content reaches the maximum number of people.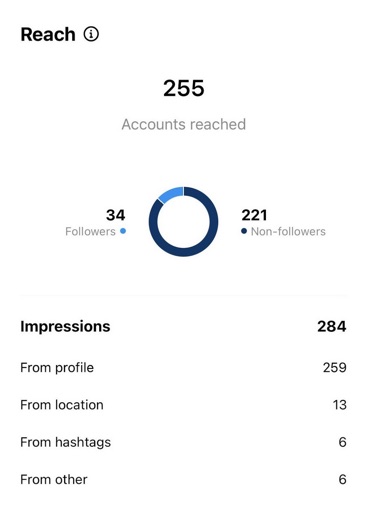 However, keep testing different approaches and experiment with different times, adapting accordingly based on your specific audience's engagement.
6. Create Your Content Schedule
By creating a content schedule or calendar, you can plan your content well in advance, including the type of content, the format, the accompanying text, and the posting date, as well as to plan who is responsible for what and by when.
It also means you can plan the type of content that might take advantage of holiday dates like national festivals, and key events on the calendar for your niche that would be of particular interest to your audience, thereby maximizing the potential for engagement.
When you can see exactly what content you have scheduled, you can then:
Plan the creation of that content accordingly, including aspects such as photoshoots and video recordings where required
Delegate to appropriate members of your team so they know what they're responsible for
Batch-create multiple pieces of content in a single session
Your Instagram content schedule can also include appropriate hashtags to use, and notes that will help the creation of engaging captions:
Hashtags
Hashtags are instrumental in categorizing your content and boosting its visibility.
To effectively maximize their potential, plan to use tags that are both relevant to your content and resonate with your audience.
This can be easier to do via a content schedule rather than on the fly, as you can:
See at a glance what hashtags have been used before...
Save time by planning to use the same (or similar) hashtags on multiple related posts.
Remember too that achieving a balance between popular and niche hashtags can significantly widen your content's reach.
For a more detailed guide on how hashtags work on Instagram, click here.
Captions
Captions are more than just descriptions; they provide an opportunity to connect with your audience.
Share personal anecdotes, ask questions to spark engagement, provide value, or share inspiring stories to make your captions captivating.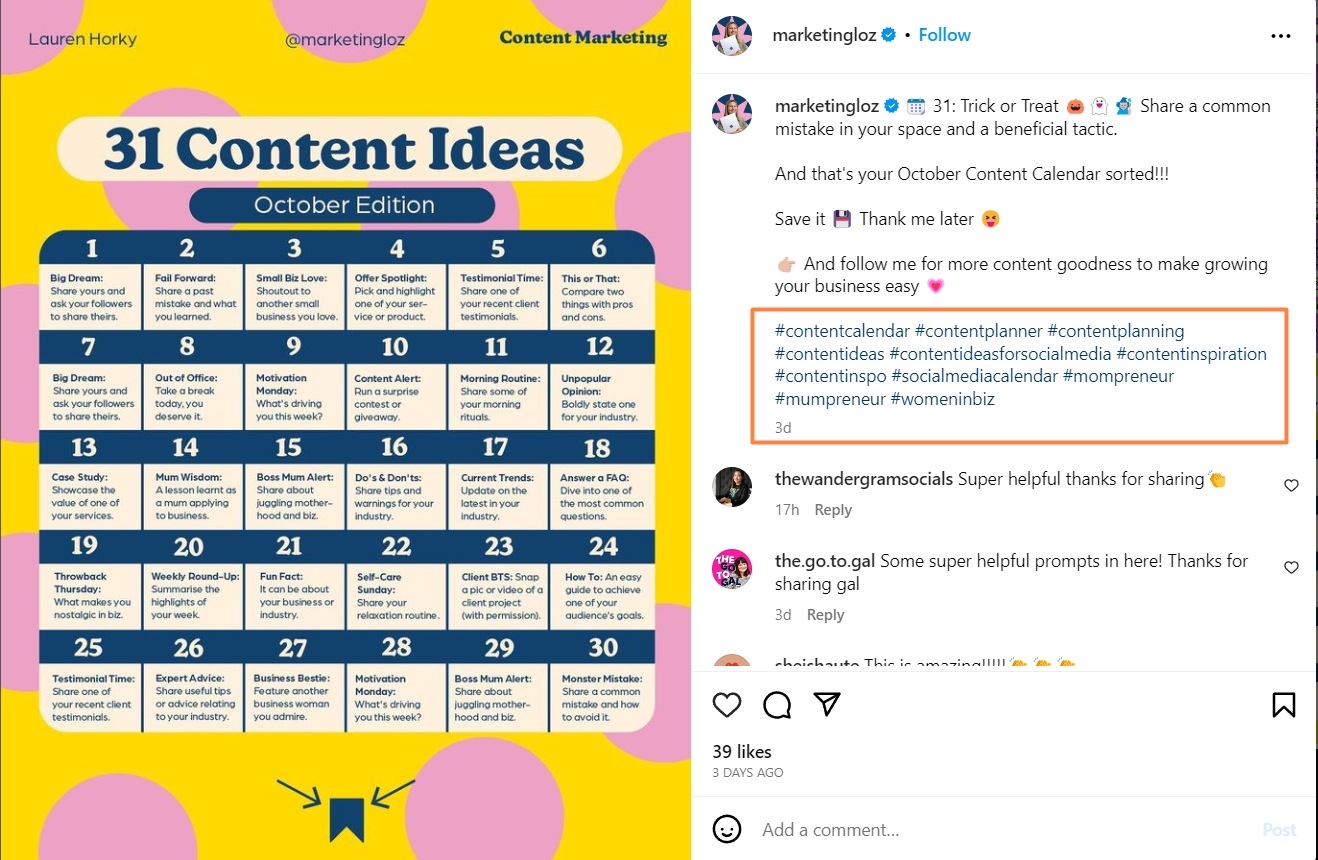 How To Track If Your Instagram Content Schedule Is Working
Determining whether your content schedule on Instagram is all about tracking the relevant metrics, providing you with invaluable insights into your content performance and a clearer picture of what's working (or not) with your audience.
That then allows you to constantly improve your results by adjusting your content schedule accordingly.
Here are three key metrics to monitor.
Follower Growth Rates
Track the rate at which your follower count i changes over time.
Rapid growth might indicate a successful content campaign or a particular post that resonated deeply.
Conversely, stagnant or decreasing numbers could signal a need for strategy reassessment.
For further guidance and insights on this, check out our guide on how to grow Instagram followers.
Instagram Stories Engagement
Studies have shown that one-third of the most-viewed stories on Instagram come from businesses.
Monitor how your audience interacts with your Stories.
Are they swiping away or clicking through? This feedback is immediate and can guide future adjustments to your content schedule.
Saves and Shares
Beyond likes and comments, the saves and shares metrics on Instagram provide deeper insights into how well your content is resonating with your audience.
A high number of saves indicates that your content is valuable enough for viewers to revisit, while shares signify content worth spreading, both of which can guide the type of content you choose to create in future.
---
Use the insights you gain by monitoring your metrics to make informed adjustments to your content strategy.
For example, if a particular type of content performs really well with your audience, create more of it.
Or if engagement drops during specific times, adapt your posting schedule accordingly.
Continual testing and refinement is the key to Instagram success.
To Conclude
Crafting an effective Instagram content schedule helps maintain consistency, streamlines your posting process, drives up engagement and visibility, and strengthens your brand's presence on the platform.
But remember, while a valuable starting point, your schedule is not set in stone, and it's vital to keep learning and adapting accordingly.
Use the steps shared in this post as a guide, monitor your results, and adjust your approach for continued success.