With well over 1 billion active users, Instagram is of course an important channel on which to promote your blog, reach your audience, and grow your brand and revenue.
But one of the main questions businesses have is… how?
What exactly should you be doing on Instagram to help get your blog out there and take advantage of everything the platform has to offer?
To help you promote your blog on Instagram successfully, this post guides you through the six key steps you need.
Let's get started…
1. Optimize Your Instagram Profile
The first step for promoting your blog on Instagram is to ensure your profile is optimized.
This is essentially the foundation for everything else.
After all, your profile is your 'identity' on the platform. Leaving a positive impression is vital in order to:
Establish credibility and appear legitimate…
Build your audience…
Attract readership of your content.
Start by ensuring your profile is complete.
That means taking care of the following as necessary:
Adding or updating your profile picture: if you're operating as a personal brand, this should be an appropriate facial shot; otherwise your business logo.

Switching to a professional account: a professional account provides access to certain features that helps promote your blog on Instagram, such as access to Instagram Insights (see #5 below) and the ability to have others help manage your account.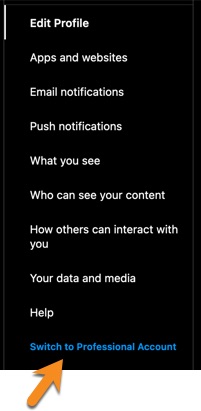 Check your profile's name: this should reflect either your blog, your business, or for personal brands, your own name. Either way, your profile should be easy to associate with your blog—the last thing you want is any confusion!
Updating your bio: why should someone follow you or read your content? Make your bio benefit-rich, and include emojis to help it stand out and attract attention. Above all, make it clear and succinct—someone reading your bio should know exactly what you stand for.

Check your link: provide a link in your bio to your blog, or somewhere where visitors can join your email list, enabling you to promote your blog to them on a regular basis such as via a newsletter—here are some examples of different businesses doing just that:
Optimize the link in your Instagram profile by directing users to your latest blog post or offering a free download in exchange for their email.
Click To Tweet
2. Create Regular, Consistent and Engaging Content
As we keep saying on this blog in relation to every content platform out there—you've got to keep showing up!
Instagram is no exception. If your content isn't appearing regularly and consistently, you effectively don't exist because no one will notice you.
In addition, Instagram's algorithm is set to favor active accounts that consistently post new content.
For one, when you're posting regularly, your followers will come to expect to see content from you, and more readily recognize it as your relationship with them builds.
That helps grow interaction and engagement, which helps your content to surface to a wider audience.
Use high-quality visuals and captions to help promote your blog on Instagram, increase engagement and build your audience.
Click To Tweet
In other words… posting regularly and consistently is vital. (How often exactly? Check out this post on just that topic, including ways to make it happen more easily).
But don't just post anything. Of course, it must be engaging so that it's noticed by your audience and they interact with it…
The good news is that your blog provides an ongoing supply of content you can repurpose into various engaging formats to post onto the platform, including several weeks or months after your original post was published.
Some ideas include:
Images for a carousel—for example, 6 to 10 presentation-style images users can swipe through that summarize the main content of your blog post…
A video—there are multiple ways to repurpose blog content into video content, including text motion videos, face-to-camera videos and live streams…
Quote images—extract a handful of quotes from your post, and create quote images that can then be posted.
More info on each of these can be found in this post on repurposing content for social media; and make sure you watch this quick video that gives you 12 different ways to make social media posts more engaging (or see the full guide):
Finally, all the information you need on how to create Instagram posts for business, including the different types of post available, can be found in this comprehensive guide.
3. Grow Your Instagram Audience
Crucial to promoting your blog on Instagram is of course growing your audience.
The bigger your audience, the greater your impact and the more effective your posts on Instagram are going to be.
If your audience is small at the moment, don't worry. Every other account on Instagram started the same way.
But stay the course with regular, consistent action, and it will grow and bring you increasing rewards for your efforts over time.
Here are five regular activities to focus on that will grow your followers and help you promote your blog:
As already covered in #2 above, post engaging content regularly and consistently. Even if it doesn't happen straight away, in time you'll start to notice that each time you post, you attract new followers. You just have to stick with it at the beginning.
Promote your Instagram account in emails to your list, such as a regular newsletter, asking people to follow you. If they already have a relationship with you through email, they're more likely to engage with your content on Instagram, which will help grow your visibility and attract other followers too. In addition, promote your account on your blog and via links on other content platforms.
Engage with your audience—when people comment, be sure to make them feel appreciated by liking and replying. This encourages a sense of community, builds relationships and helps encourage further comments in future.
Use Instagram ads—advertising on the platform by boosting your posts increases your reach while growing your audience in powerful ways. See #5 below for more info.
Use calls to action in your posts—ask people to follow you! Many people looking at your posts will happily follow you, they just won't think of doing so unless you tell them directly.
That's just five ways to grow your followers on Instagram—for seven more, check out this post.
4. Post Regular Instagram Stories
You can add stories to your Instagram profile, consisting of images, videos and text, that then disappear after 24 hours.
However, you can choose to keep a story by adding it to your Story Highlights, which then appear below your profile photo.
Posting Instagram stories regularly can help promote your blog by boosting engagement and increasing your visibility on the platform.
Use Instagram Stories to help promote your blog, such as using teaser content, sharing some behind-the-scenes content or even creating a short quiz.
Click To Tweet
For example, they are perfect for announcement-style posts such as the publication of a new blog post.
This can then be saved as a story highlight on your profile, and potentially replaced each time your blog publishes something new.
You can even add a 'Link' sticker to your story that when tapped can take the visitor straight to your new post.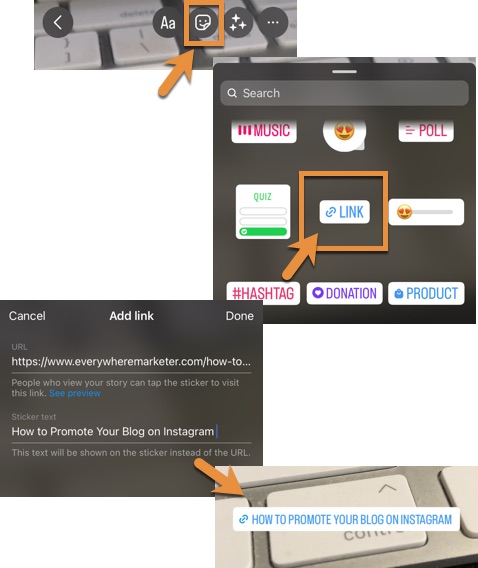 Some suggested ways to use Instagram stories to help promote your blog and drive traffic to it include the following:
Use a short snippet or quote from your blog as a 'teaser' with a call to action to visit the post for the full info…
Share some behind-the-scenes content about the creation process for your blog post, such as a photo or video of you working on it. This gives followers a sense of personal connection, builds familiarity with your brand and helps encourage engagement…
Using a quiz sticker in your story, create a short quiz based on your latest blog post's content.
5. Use Instagram Advertising
There's only so far you can promote your blog on Instagram organically.
Part of Instagram's power is its huge reach—and promoting your blog effectively on the platform will mean finding a way to tap into that in a cost-effective way.
We've already referred to using Instagram advertising to help grow your Instagram audience in #3 above.
While you may not see an immediate ROI on your campaign, it's more of an investment in your longer term success on the platform via increased engagement, credibility and authority, including attracting opportunities to work with other businesses.
Another way to promote your blog via Instagram ads is of course to run ads that direct traffic to your blog. Once there:
Use effective email capture mechanisms to encourage opt-ins for your email list…
Use remarketing ads to promote your products and services.
Here's a quick intro on how to advertise your business on Instagram, or check out the full guide here.
6. Track and Analyze Your Performance
Finally, it's important to keep track of your performance on Instagram to help determine what's working and what's not, both for your organic and paid activities on the platform.
Assuming you have a professional account (see #1 above), you can use Instagram insights to do this, available via your profile page on their mobile app.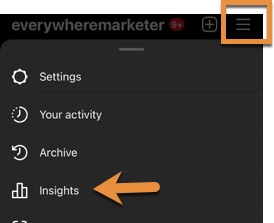 Insights metrics include:
General trends regarding your followers and how your content is performing with your audience, including stats on the accounts you've reached, engaged accounts, and total followers…
Recent highlights…
Content you've shared.
You can also view insights on individual posts by tapping the View insights link beneath the post…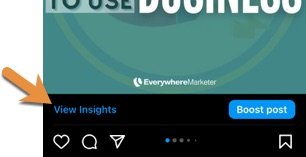 … or by swiping up on a story or Instagram Live video.
For paid ads on Instagram, more detailed performance tracking is available through Meta's Ads Manager.
Either way, effectively promoting your blog on Instagram means:
Checking your performance data regularly…
Experimenting with different approaches.
Over time, you'll get a feel for what seems to be resonating best, and gradually adjust your strategy over time to suit.
This is all only possible of course when you're posting regularly and consistently as outlined in #2 above.
To Conclude
As one of the biggest and most engaging social media platforms, using Instagram to promote your blog can be highly effective for reaching new readers and growing your audience.
By following the six key steps outlined above, you now know how to promote your blog on the platform, including exactly what to do to get started.
But remember, as with any platform, success doesn't happen overnight.
The key is to commit to regular and consistent activity, gradually refining and improving your approach, while attracting increasing numbers of followers into your audience that only grow your results over time.
To promote your blog on Instagram, repurpose your blog posts into engaging visuals and captions that capture your audience's attention and grows your visibility.
Click To Tweet