Marketers and business owners often wonder how often they should be posting to social networks, and Instagram is no exception.
We've previously looked at how often to post on Twitter, LinkedIn and Facebook… and now it's Instagram's turn.
So… just how often should a business post on Instagram for optimal results?
There's usually a delicate balance to be struck between posting so often that your followers feel inundated, and so little that followers feel they get little value…
Both extremes can cost you followers!
So what's the ideal?
What Does Instagram Itself Recommend?
In 2021, as part of Creator Week, the head of Instagram, Adam Mosseri, was asked about the best way to grow a profile on the platform.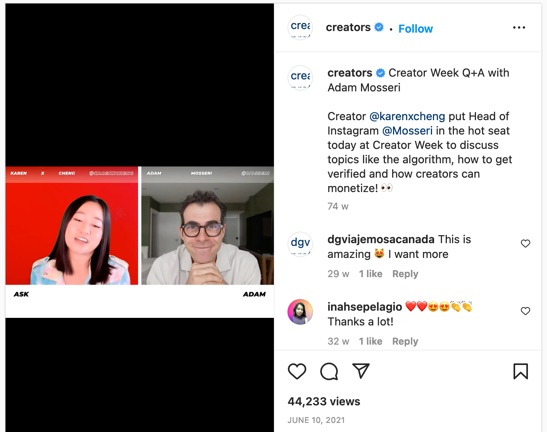 Part of his answer related to having a "healthy feed", which he defined as posting:
A couple feed posts a week…
A couple Stories a day.
However, he was keen to also stress there was "no silver bullet" or specific formula, and what worked six months ago may no longer work now due to ongoing changes to the algorithm and factors such as new creators on the platform, shifting interests, and so on.
There's no silver bullet or specific formula to growing a healthy profile on Instagram. Just keep testing different approaches and see what works for you.
Click To Tweet
Above all, he stressed the importance of constantly trying new approaches for your own audience to find out what worked and what didn't (even if it once used to!) — and that includes testing different approaches to posting frequency.
How Often Are Other Businesses Posting on Instagram?
It's helpful to have some idea of how often other businesses are posting on the platform, and there is some research available in this area.
HubSpot's survey of 500+ Instagram marketers found that:
Nearly half posted to the feed multiple times each week…
Around a quarter posted multiple times a day…
A similar proportion posted once per day.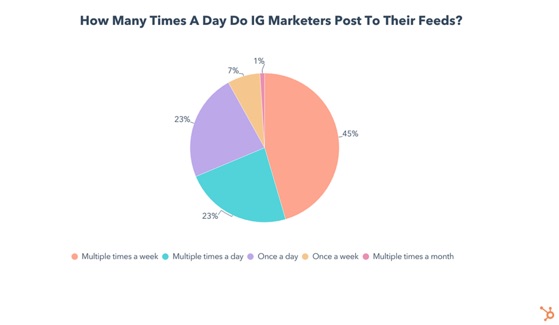 It was similar for Stories, with:
43% posting multiple times each week…
Around a quarter posting multiple times a day…
And a similar proportion posting once daily.
Other research from Hootsuite found businesses were posting an average of 1.56 posts per day to their feeds — in other words, between once and twice a day on average.
So… How Often Should Your Business Post on Instagram?
So what conclusions can we draw from this research, and Adam Mosseri's comments above, about how often your business should be posting?
In general, an ideal schedule might look like this:
Regularly posting Stories, once or twice a day if you're able…
Posting to your feed somewhere between a couple times a week and daily — but testing any changes to see how your own audience responds.
An ideal schedule for posting on Instagram might involve posting one or two Stories daily, and posting to your feed a couple times a week.
Click To Tweet
But before you decide on what your own posting schedule should be, bear the following principles in mind…
Post Regularly and Consistently
Regardless of the particular content or social media platform, you'll achieve far better results from regular and consistent action, than a sporadic scattergun approach.
So that means not starting off at a cadence you can't possibly sustain over the longer term.
It's important to be realistic about the resources you have available, and how often you can post sustainably without negatively impacting other areas of your business.
What Can You Systematize?
For a consistent posting schedule, it's helpful to systematize as much as you can so there's a clear process that's simply followed, whether manually, automatically, or preferably a mixture of both.
For example, if you're already posting videos to YouTube and/or TikTok or elsewhere, how can you adapt your existing process so that it incorporates Instagram too?
Publishing regularly and consistently matters as much on Instagram as elsewhere. So, what can you systematize, based on content you already publish regularly somewhere else?
Click To Tweet
The same applies if you're blogging. Presumably you're already publishing blog posts regularly, so can they be repurposed into one or more Instagram posts each time you publish?
Whether or not you're publishing regularly elsewhere, developing a publishing schedule via a content calendar is one of the best things you can do to get into a regular publishing rhythm.
Brainstorm multiple ideas in one sitting, schedule them out so you know exactly what you're publishing and when, and of course, stick to it!
It becomes so much easier when you're no longer desperately trying to come up with a workable idea, while a looming deadline is staring at you alongside no doubt numerous other priorities vying to grab your attention.
Using a content calendar to create a publishing schedule is one of the best things you can do to develop a regular publishing rhythm.
Click To Tweet
Finally, What Should Your Business Post?
Along with wondering how often to post on Instagram, another top question is what type of content to actually post.
After all, unless you know what to post, the chances of posting regularly and consistently, in order to attract followers and build a healthy feed on the platform, are relatively slim.
With that in mind, the following video on how to create an Instagram post for business gives you a ton of different ideas, or see the full guide here.
To Conclude
So now you know exactly how often your business should be posting on Instagram, as well as some ideas on what to post and how to do so regularly.
Even if you're not able to manage the "ideal" posting frequency straightaway, just start with whatever you're able to manage right now, and let it build from there and develop over time.