Ever felt that dread of a looming content deadline, knowing you need to publish something on your blog, but not having a clue where to start?
The closer you get to the deadline, the greater the sense of panic.
And the less clearly you can think about what to publish.
We've all been there.
But a well-structured blog calendar solves all of that. With your content planned well in advance, including the topic, publishing date and the person or people responsible, you know exactly who's publishing what and when.
Instead of publishing in panic, you can publish with purpose and precision, with a sense of control over the whole process.
A content calendar for your blog means that rather than publishing in a panic, you can publish with purpose and precision via a controllable process.
Click To Tweet
So what about actually creating your own blog calendar?
Where do you start? How do you structure it?
That's where using a blog calendar template comes in, taking all that initial set up out of your hands, and leaving you free to focus on planning your content.
This post showcases 12 quality blog calendar templates, freely provided for your use by different (and well-known) websites, each designed to help your content planning and management process. For most of them, no opt-in or registration is required.
Related content: 7 Top Tips for Creating a Content Calendar
Why You Need a Blog Calendar Template
Creating your own blog calendar helps streamline your content planning process. Using a blog calendar template, rather than starting from scratch, makes it far easier to create one!
Where do you begin when creating a content calendar for your blog? For a head start, use one of the many blog calendar templates available.
Click To Tweet
Here are five compelling reasons why blog calendars are all but indispensable…
1. Helps You to Stay Organized and Consistent
A blog calendar is effectively a dedicated organizer for knowing what to publish and when.
With all online content platforms, publishing consistently is key to growing your results, and your blog is no exception. The use of a blog calendar is invaluable in helping you do this.
By being consistent, you:
Build trust with your audience…
Expand your audience by building authority and rankings on Google and other search engines.
If you're unsure about how frequently you should publish to your blog, check out the following quick video, or click here for the full guide:
2. Improved Efficiency and Productivity
By planning content in advance, you remove the inevitable panic of last-minute brainstorming and hurried writing.
And it's a lot easier to plan lots of content at once, and arrange it on your calendar in an appropriate way, than approaching it piecemeal.
Knowing what you're going to publish well in advance gives you sufficient time for activities such as doing appropriate research, creating first drafts, refining it, collating supporting media and so on.
Or simply assigning or outsourcing it efficiently, leaving a generous time window for review, amendments, and so on.
It also means the content can potentially be created well ahead of schedule, giving you sufficient lead time to deal with disruptions while maintaining consistency.
3. Better Tracking of Topics and Themes
Use of a blog calendar allows you to:
Track the themes and subjects you're covering…
Mix topics appropriately to prevent repetition, while ensuring you're building in content to cater for and attract different segments of your audience.
4. Enhance Team Collaboration
When creating content within a team, a content calendar makes it very clear who is responsible for what.
This makes everyone accountable, improving the timeliness of content production, helping to ensure everyone stays on schedule, and facilitating collaboration between team members.
5. Predict and Prepare for Calendar Events
With a blog calendar, content can be planned around calendar events such as:
National holidays
Industry-specific events
This means you're better able to capitalize on reader interest during these times, generating increased engagement while building a stronger sense of community with your audience.
In addition of course, you can also plan around team members who are heading off on vacation, or who have other planned absences.
Lots of different well-known websites provide free blog calendar templates that help get you started with your own content calendar, like SEMRush, CoSchedule and HobSpot.
Click To Tweet
12 Blog Calendar Templates
There's little point in creating your own calendar from scratch, when you can use a pre-built blog calendar template.
We review 12 of the top ones here, many of which you can start to use immediately with no registration or opt-in required.
But remember, the design of these templates aren't set in stone. Once downloaded, most of them can be adapted as needed to suit your own purposes.
1. SEMRush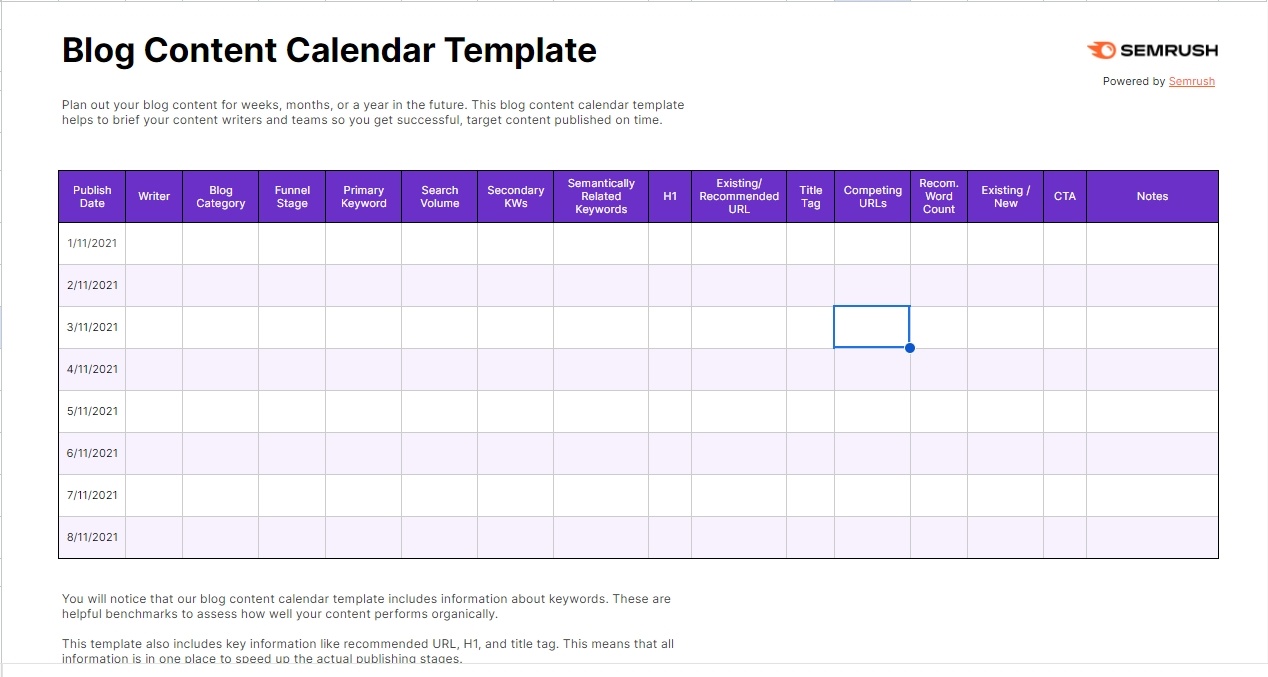 SEMRush provides a template for use in Google Sheets, and includes columns for the following:
Publication date
Writer
Category
Primary and secondary keywords, and semantically-related keywords (as you might expect from SEMRush!)
H1 (or headline) text
Expected word count
Related notes
Access SEMRush's blog calendar template here
2. CoSchedule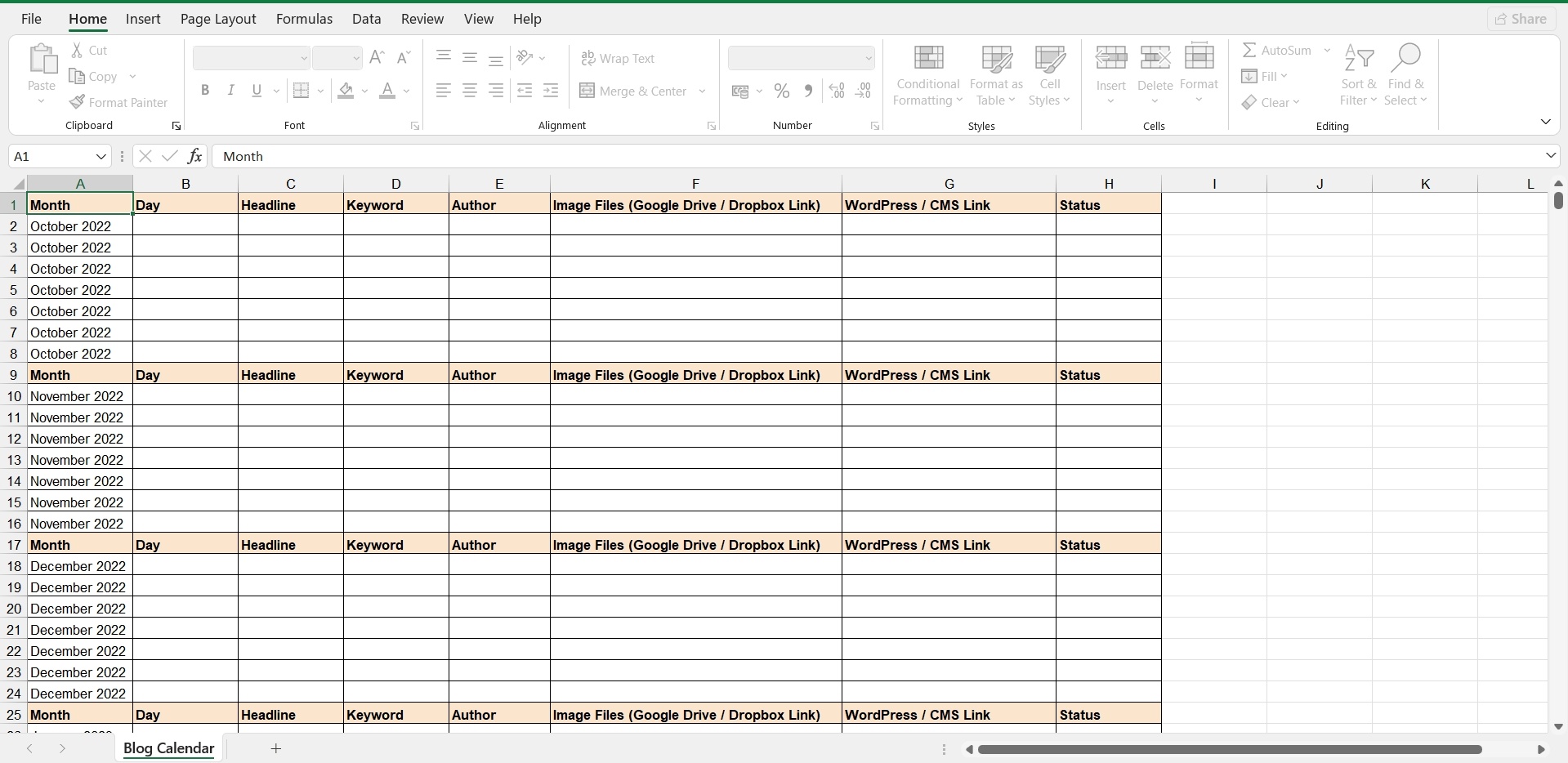 Here's another one, this time from CoSchedule and for use in Excel (note Excel spreadsheets are easily importable into other spreadsheet applications such as Google Sheets).
Data columns include:
Publication month
The proposed headline
Keyword
Author
Image files (e.g. to a Google Drive or Dropbox folder)
Link to the post, whether before or after publication
Current status
Access CoSchedule's blog calendar template here
3. Coda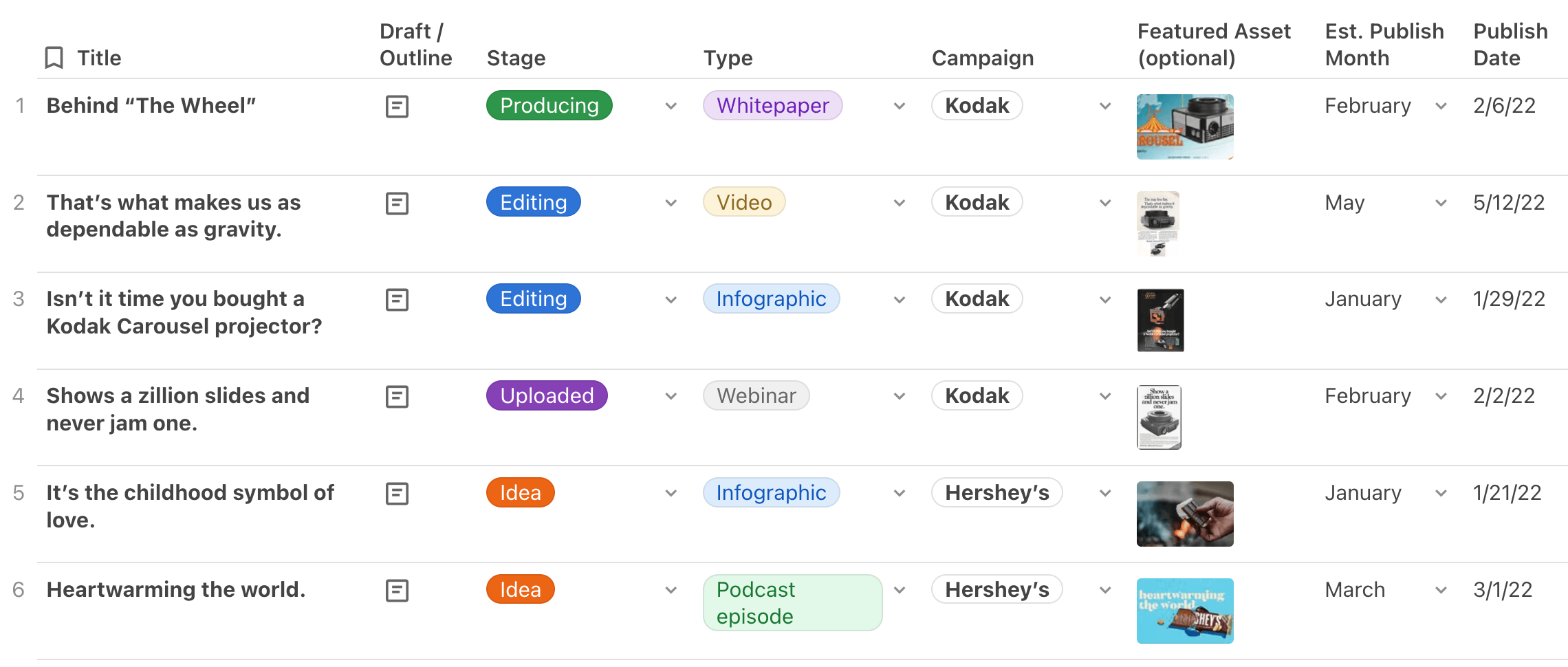 Coda provides a free blog calendar template for use within their 'collaborative workspace' software, which you can use for free, with more advanced features available if you choose to upgrade.
As you might expect, it's designed for team collaboration, and allows for various types of content on top of blog posts.
Columns you can fill in include the following:
Title
The stage the content is at (e.g. at the idea stage, in production, being edited, and so on)
The type of content
Featured image
Estimated month of publication
Publication date
Access Coda's blog calendar template here
4. SmartSheet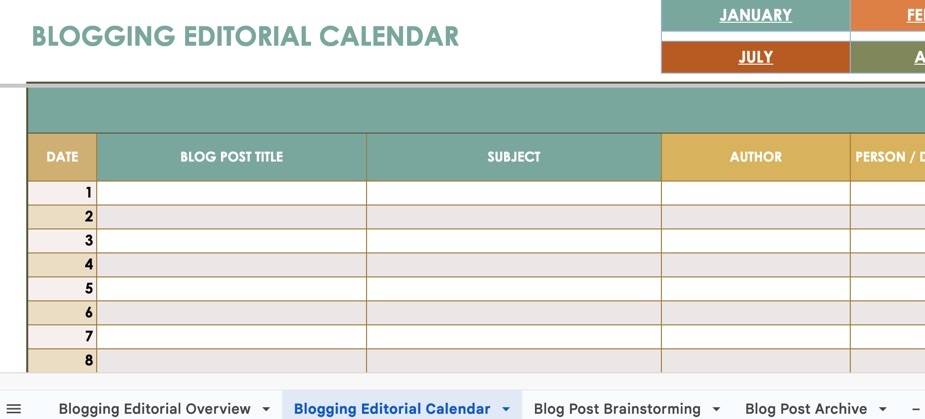 SmartSheet's blog calendar template, available in Google Sheets, is structured a little differently to most of the others listed here, with different worksheets for:
Blogging Editorial Overview—a month by month overview, each month in a separate block
Blogging Editorial Calendar—as shown above
Blog Post Brainstorming—to help idea generation
Blog Post Archive
The Blogging Editorial Calendar worksheet includes columns for:
Date
Blog post title
Subject
Author
Person or department responsible
Status
Call to action
Category
Metadata
Measurements of success
Comments
Access SmartSheet's blog calendar template here
5. Backlinko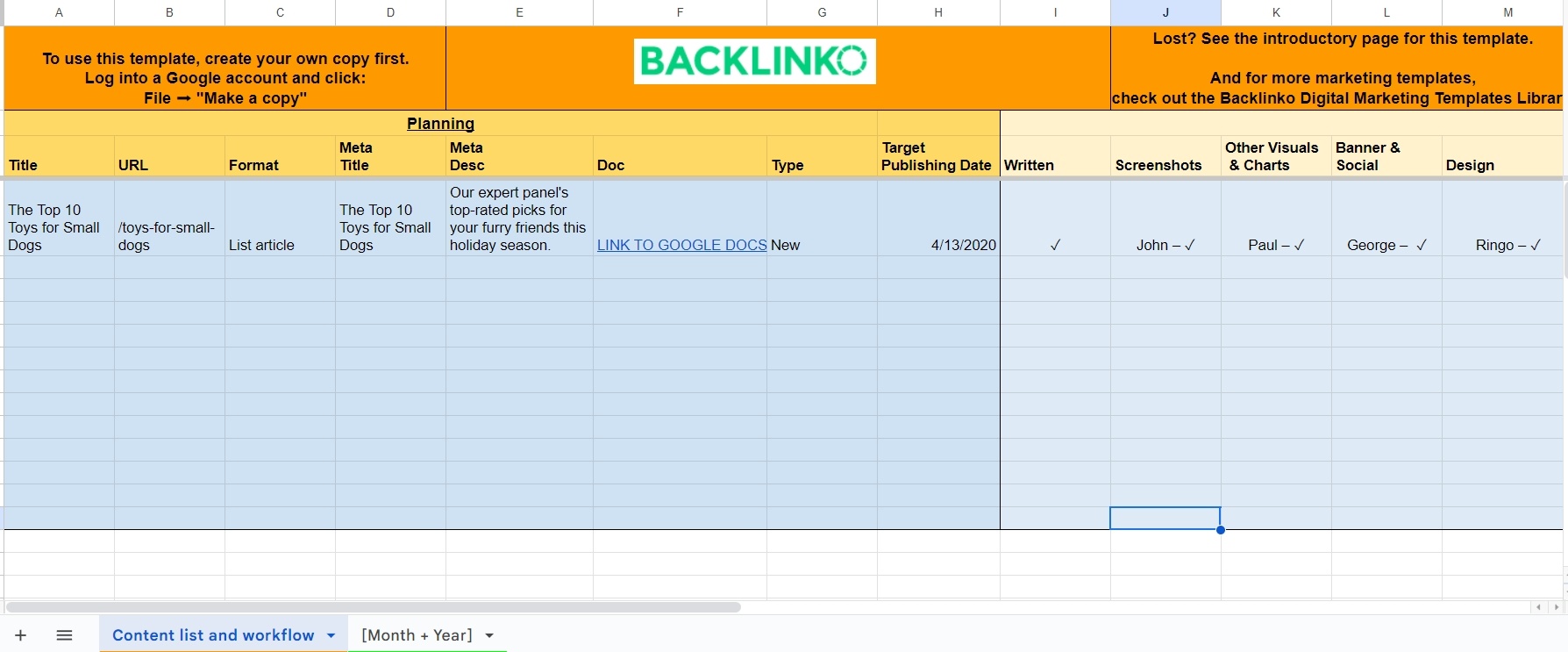 Backlinko's blog content calendar, again available in Google Sheets, provides the usual columns along with additional columns to help with workflow, indicating whether or not related tasks have been completed:
Title
URL
Format (e.g. 'List article')
Meta title
Meta description
Link to the Google Doc for the content
Type (e.g. 'New')
Target publishing date
Workflow columns:

Written
Screenshots
Other visuals and charts
Banner & social
Design
Coded
Email written
Email scheduled
Link to social drafts
Link to the post
Published date

Notes
There's also an additional example worksheet for showing the content schedule for a particular month and year.
Access Backlinko's blog calendar template here
6. ClickUp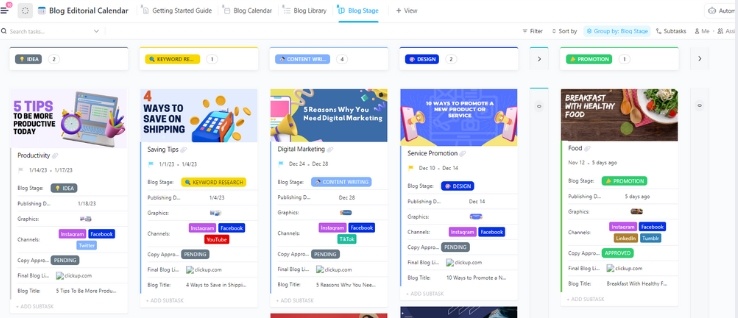 ClickUp provides a comprehensive Blog Editorial Calendar Template for use within their team productivity software. Their software's available for free, with additional features available after upgrading.
The task template comes with customizable fields and statuses, and can be opened in different views so that you can track your blog posts in different ways all in one place.
Automations can be created in the software to send out reminders of when blog posts are due.
Access ClickUp's blog calendar template by signing up for an account on their platform.
7. Trello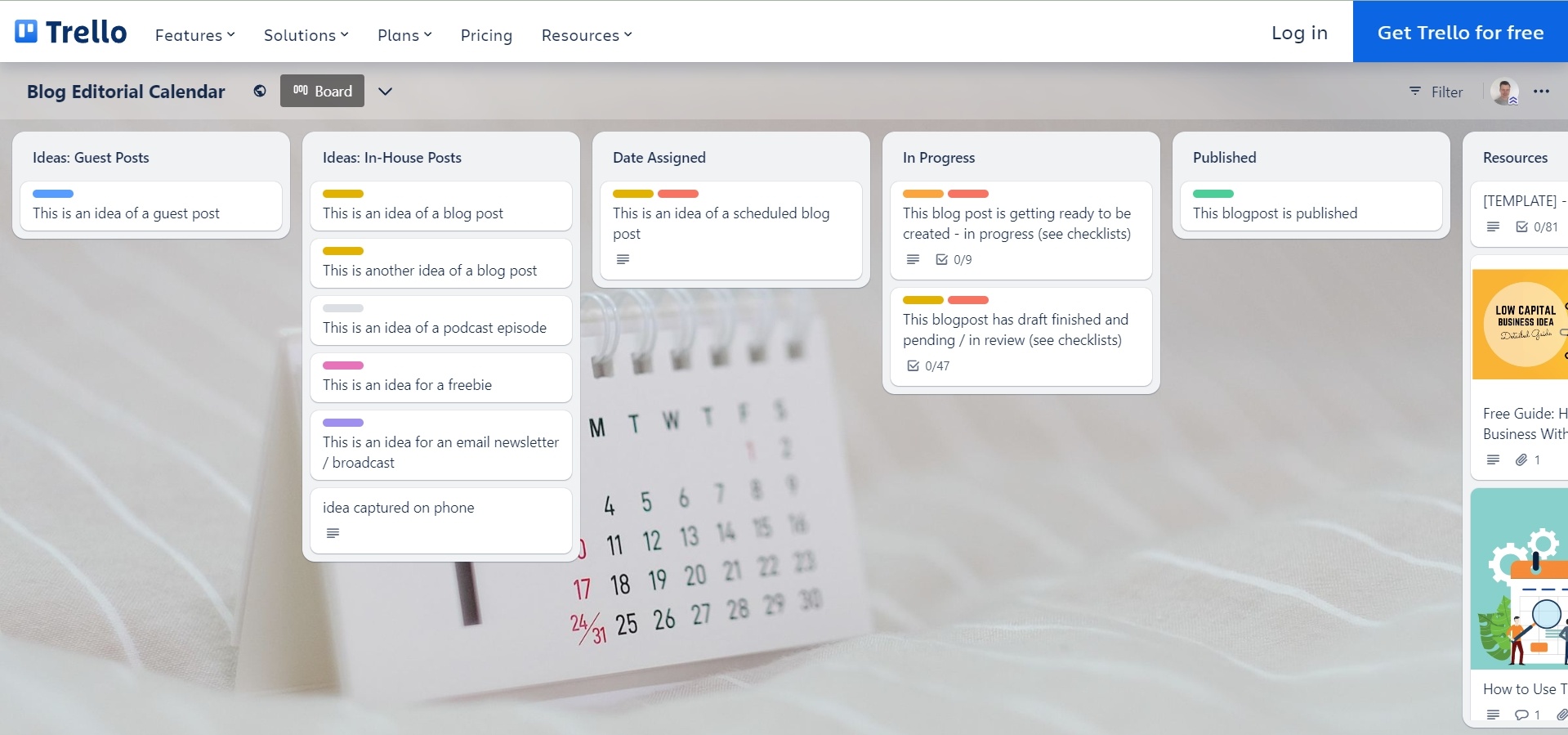 Trello's project management software, available for free based on certain usage limits, provides a blog calendar template for use within the software, based on the usual kanban board format.
A card can be created for each blog post, with example lists (or columns) for:
Ideas
Date Assigned (i.e. posts with a scheduled publication date)
In Progress
Published
A Premium account allows you to then view the cards in a Calendar or Timeline format.
All in all, Trello's template is likely more useful if you're already using the Premium version of the software for other purposes.
Otherwise, it may be more cost effective to use one of the other spreadsheet templates to get started with.
Access Trello's blog calendar template here
8. Content Marketing Institute

The Content Marketing Institute (CMI) provides a simple blog calendar template in Google Sheets with columns for:
Publish Date
Author
Headline
Status
Call to Action
Category
Notes
It has separate worksheets for blog posts that are scheduled and in progress, and another for ideation.
Access CMI's blog calendar template here
9. Monday.com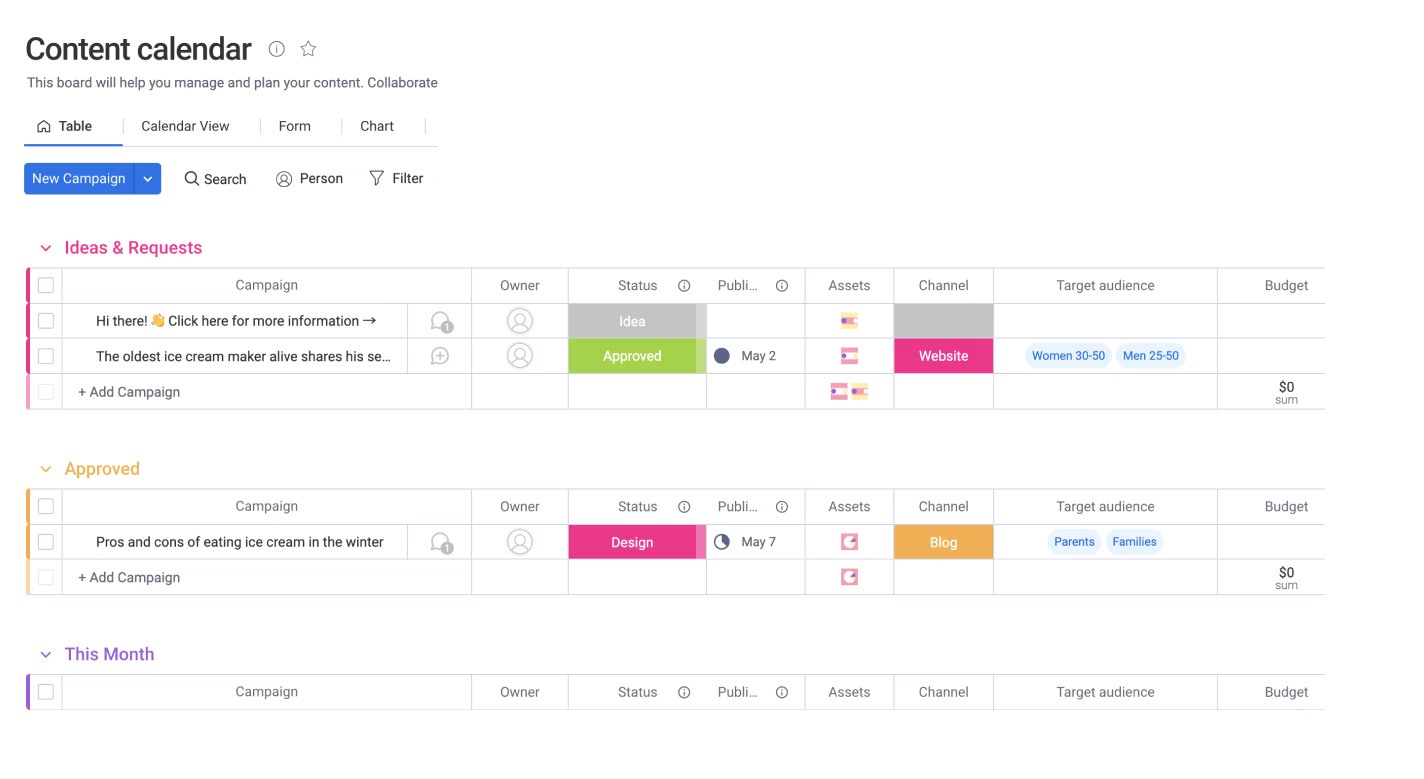 Monday provides a content calendar for use within their task management software, which is available for free for micro-teams and with limited functionality.
As you'd expect, it's more sophisticated than a standard spreadsheet, with:
Different views (such as kanban, calendar and timeline)
Automations (such as sending out reminders, or notifications on completion)
Integrations with software like Dropbox and Google Drive
The available columns can be customized as needed, but likely including things like the title, publication date, and the person responsible.
Access Monday.com's content calendar template by signing up on their website.
10. HubSpot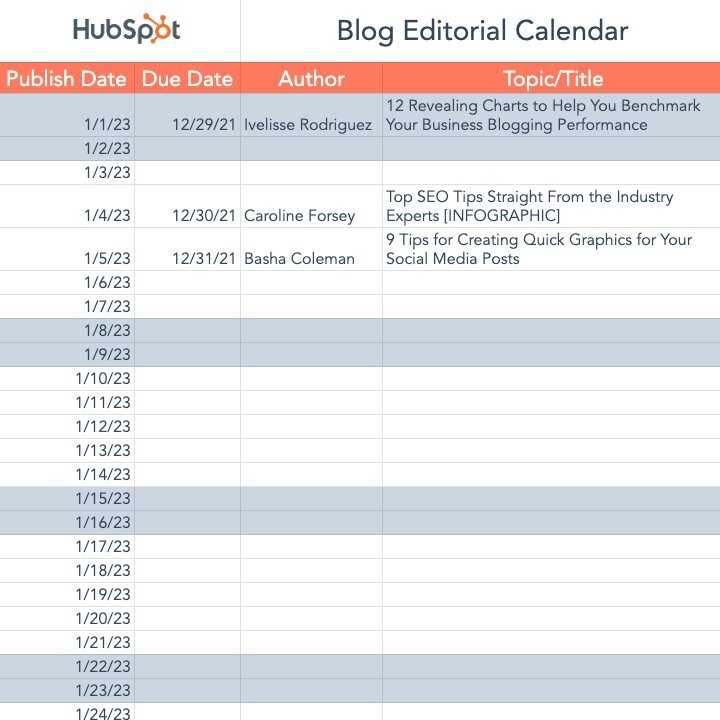 HubSpot provides free blog calendar templates, in exchange for contact information, including templates for Excel, Google Sheets, and a template for updating to Google Calendar.
Columns include:
Publish date
Due date
Author
Topic/title
Content/details
Keyword(s)
Target persona(s)
Offer/CTA
Access HubSpot's blog calendar template here
11. AirTable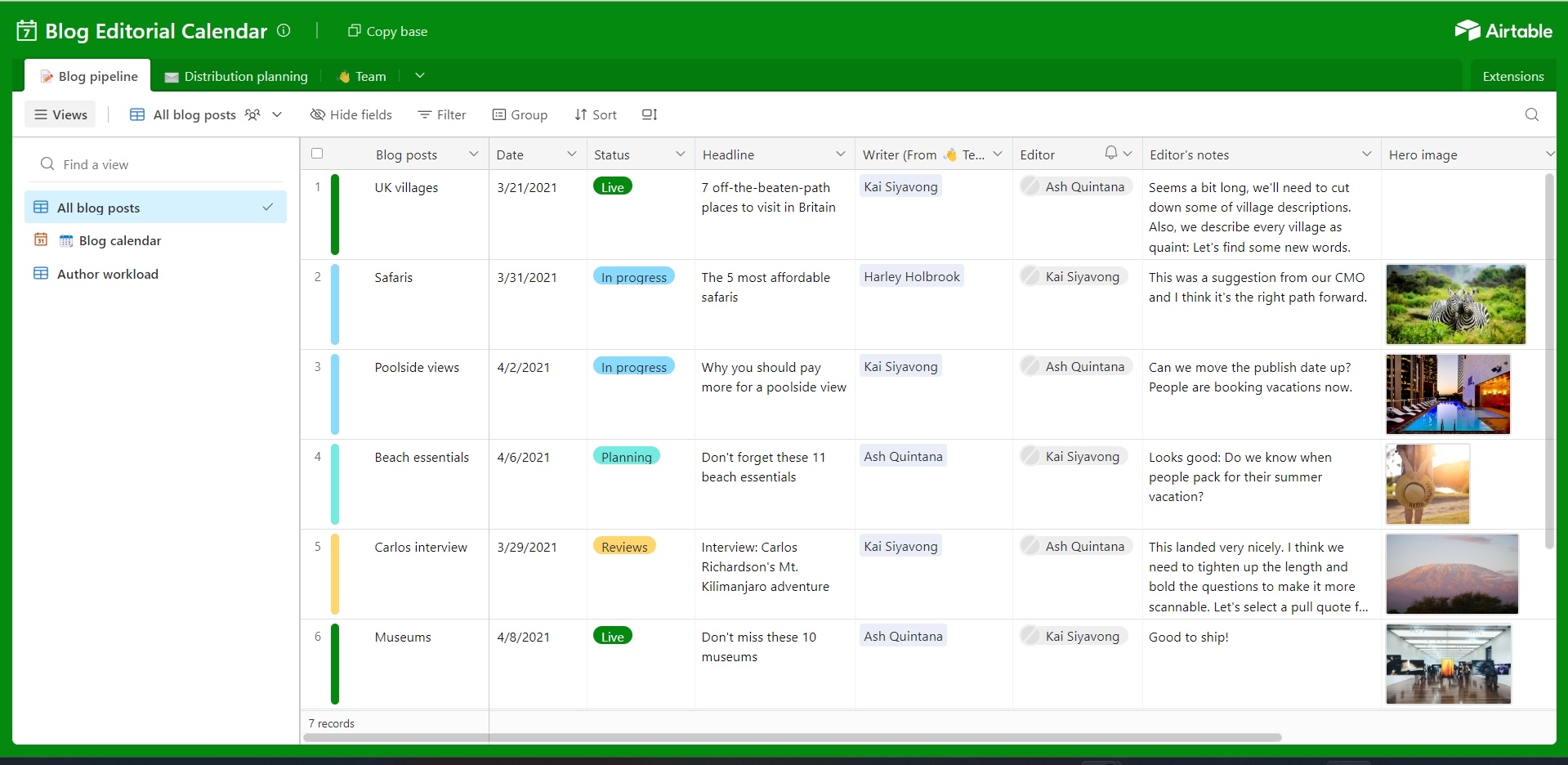 Airtable provides software that allows businesses to create apps that help them organize workflows and increase productivity, with no coding required.
One such usage of their software is for an editorial calendar, and they provide a free blog calendar template to get started with. Individuals and small teams can use the software for free, with certain usage restrictions and limited functionality.
Their blog calendar template includes columns such as:
Date
Status
Headline (or title)
Writer
Editor
Editorial notes
Hero (or feature) image
Access Airtable's template by signing up for an account on their website.
12. Notion

Notion have a free blog calendar template available for use within their software, enabling users to easily track each blog post, capturing details such as:
Post status
Target audience
Author
Reviewer
Intended publication date
Notion is available for free with basic functionality. Check out there blog calendar template here.
To Conclude
Using a content calendar for your blog, preferably based on a pre-defined blog calendar template to avoid creating your own from scratch, has numerous benefits, including helping you to plan ahead, publish consistently, and avoid last minute panic with an imminent deadline!
Pick one of these 12 blog calendar templates to get started with, and start planning out your content for the next few weeks or months.
A content calendar for your blog helps you stay organized and consistent, improves efficiency and productivity, enhances team collaboration, and even helps attract increased engagement.
Click To Tweet
What's next? Check out our related guides: