Ever wondered how to promote your blog on LinkedIn?
With over 900 million users, this platform can be a gold mine of opportunities to boost your blog's visibility and connect with a relevant audience.
In this post, we walk you through the essential steps to effectively promote your blog on LinkedIn, making it easier to grow your online visibility and get your content seen by people you want to reach.
But first…
Why Use LinkedIn to Promote Your Blog?
First, it's important to note that LinkedIn isn't suitable for every kind of blog.
It largely depends on who you're trying to reach.
Remember, LinkedIn's user base are generally professionals or otherwise business-oriented.
For blogs that appeal to professional or business-oriented users, LinkedIn can be a gold mine of opportunities to boost your blog's audience.
Click To Tweet
So if you have a blog that shares top parenting tips, your Grandmother's favorite recipes, how to grow your own food, or anything else that's more consumer- than business- or professional-oriented, you may be better focusing elsewhere.
With that said, here are 5 main reasons why you should consider LinkedIn to promote your blog:
To reach a targeted professional audience—if these are the type of people you want to reach, then LinkedIn can be ideal for reaching an audience genuinely interested in your blog's content…
To facilitate networking opportunities—this might not seem an obvious benefit at first. But by constantly showing up on the platform using your blog's content, you get in front of people who may want to connect with you, potentially leading to collaborations and valuable connections. Plus, your content helps build credibility when you're reaching out…
To establish thought leadership—whether sharing quality blog posts, or content repurposed from them, you start to build thought leadership and trust…
To increase online visibility—posting engaging content on LinkedIn gets greater exposure for your blog, with the algorithm rewarding posts that attract interaction—and of course you can also pay to achieve greater exposure than you might otherwise achieve organically...
To grow your brand—promoting your blog on LinkedIn contributes to growing your brand and helping to attract your tribe.
Why promote your blog on LinkedIn? For a relevant blog, you'll reach a targeted professional audience, grow your brand, build visibility, and establish thought leadership.
Click To Tweet
12 Steps to Promote Your Blog on LinkedIn
1. Optimize Your LinkedIn Profile and Company Page
Optimizing your personal profile and Company Page on LinkedIn helps maximize the benefits you get from the platform, such as for online visibility and to help attract networking opportunities.
Here's a summary of how to quickly improve each of them…
Your Personal Profile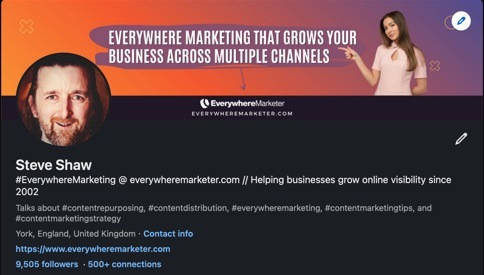 Your LinkedIn profile should be designed to project interests and values that will pique the interest of the kind of person you want to attract to your business, whether as a customer or someone with whom you might collaborate.
This includes adding elements that add credibility and authenticity, as well as passion for the value you provide.
By also promoting your blog in different ways via your profile, you also encourage people to start to consume your content, and get to know, trust and like you, an essential part of the process before someone decides to take the next step and purchase something from you, particularly in a B2B environment.
The key steps for doing that include:
Optimizing your profile picture—your photo is usually what people look at first, so be sure it's in line with the kind of image you want to project. Generally that includes ensuring it's a clear image and that your face fills most of the space so people can actually see you, rather than for example using a full body shot. Think about any aspects of your image that will resonate with your target audience, whether that's adornments, the environment you're in, or your facial expression…
Crafting the 'headline'—this is the section that shows just underneath your name. Use language that would appeal to who you're trying to attract to your blog. You want to make sure that one of the first things they read grabs their attention, and makes it clear that your profile is relevant to their interests, needs and desires…
Adding a link to your blog—add a link to your blog, directly from your profile. It's up to you what text you use—that might simply be the name of your blog if it 'speaks' in the right way to your target audience, but think also about using a call to action that references one of the main benefits your blog provides…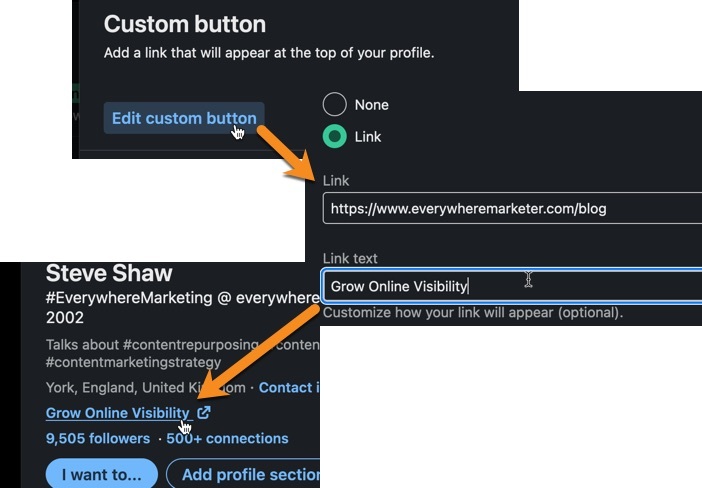 Informing readers of your blog via the About section—tell your story while referring to your blog and the unique value it provides. Remember to focus on the benefits someone would gain from your content, encouraging visitors to your profile to start consuming your content...
Adding featured links to your blog content—use the Featured section to pin your best blog posts. As long as you're using the right social meta tags, the image will be displayed automatically.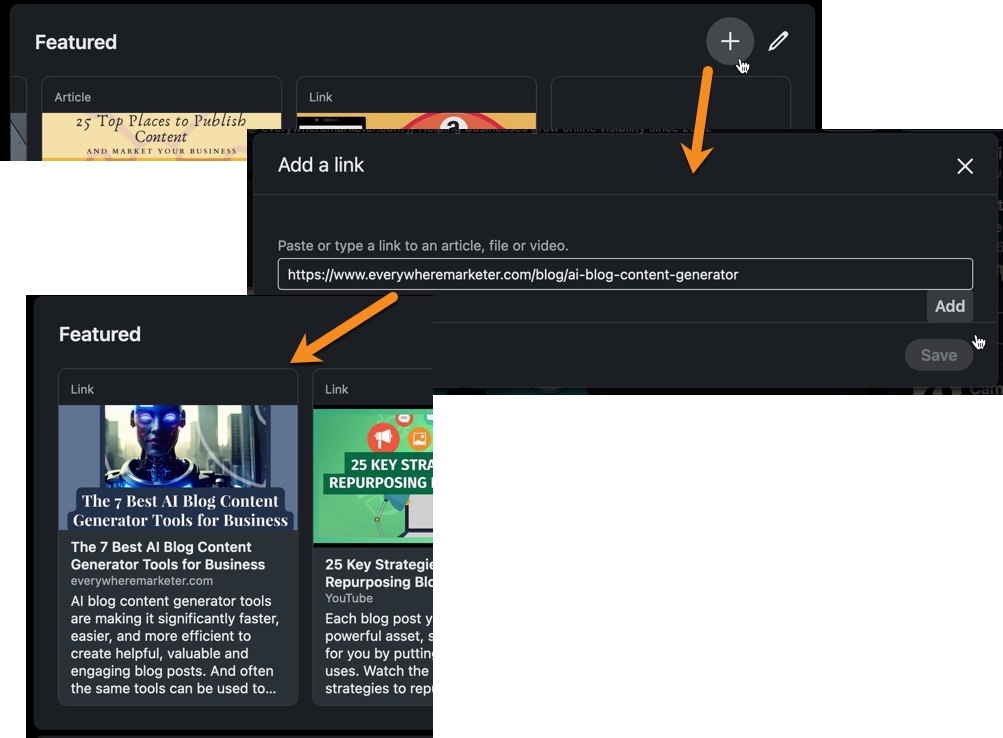 Your Company Page
Don't just use your Page on LinkedIn to promote your business directly, use it to promote the content offered on your blog so that people get to know, like and trust you first, including by potentially joining your email list so you can follow up with them, such as via a regular newsletter.
Your profile should be designed to generate interest in your target audience, and encourage them to check out your blog.
Whenever you're updating your Page, remember that how you see your Page as an admin is different from how normal LinkedIn users will see it.
Click the View as member button to see how it looks to others.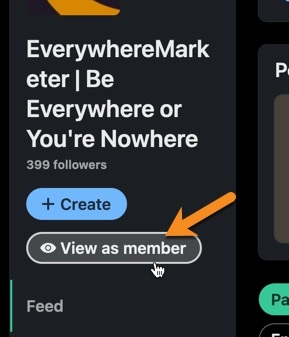 Here are some key steps for adjusting your Page to help promote your blog on LinkedIn:
Match your logo and cover image with your blog's branding—when people click through, they want to feel that they've arrived at the right place rather than feel confused because everything looks different…
Use text in your cover image to encourage visitors—highlight the benefits you offer to readers of your content…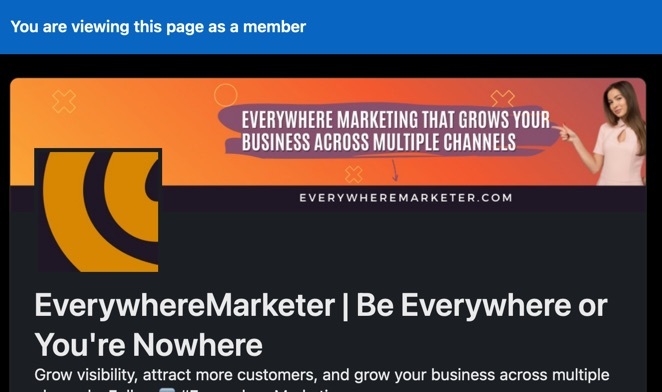 Add a benefit-laden description—again, you want to be extolling the benefits of your blog so that people are encouraged to visit…
Link to your blog—add a link to your blog to make it as easy as possible for people to visit…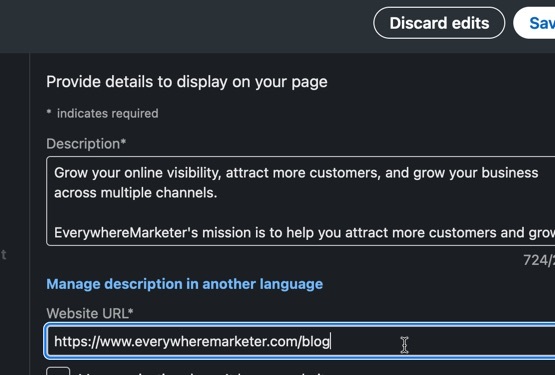 Share blog content regularly—truth be told, posts that share straight links to your blog don't get as much reach, because—surprise, surprise—LinkedIn prefers to keep their users on their platform, and not have them leave for somewhere else. So, while it's fine to share these kind of posts, they should be mixed with other types of post, including those where you're repurposing your blog's content into other forms. Here's a useful primer on how to do that to get you started… or watch the video for a quick intro:
2. Repurpose Your Blog as a LinkedIn Article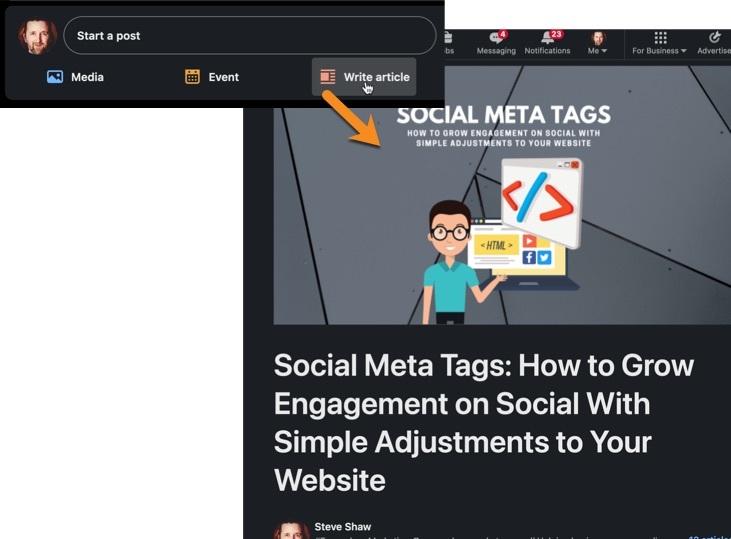 A great way to help promote your blog is to publish your posts on LinkedIn as articles.
These can show up in search engines too for added visibility in the SERPs.
Plus, you can link back to your blog, such as linking to related posts, or via a call to action at the end.
But don't just copy and paste your original blog article as-is.
You want to maintain the uniqueness of the original article so that you retain your blog's SEO advantages, maintaining or growing your rankings and organic search traffic.
So repurpose it by rewriting it into another piece of unique content. Ideally, hire someone who takes care of this for you.
An easy first step for promoting a relevant blog on LinkedIn is to repurpose (i.e. rewrite!) your blog posts on the platform as articles.
Click To Tweet
The same repurposed content can then be published elsewhere too such as on Medium.
Once published on LinkedIn, remember to help engage your audience and foster a loyal readership by:
Responding back to comments...
Thanking those who shared your content...
Seeking feedback.
3. Join Relevant LinkedIn Groups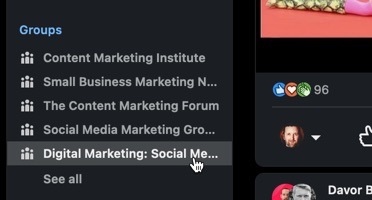 There are several groups on LinkedIn about different niches and topics.
Over 80% of LinkedIn users belong to at least one group, usually for the express purpose of consuming a particular type of content..
That means they can be a good route for reaching your target audience on the platform.
But not all groups have the same level of value. Look for groups that align with the topics your blog covers, and where its members actively engage, converse, and share, rather than just blasting out content.
And likewise, don't just share content, but actively engage in these groups too, by for example commenting on other posts, helping to amplify others' content and offering valuable insights based on your own knowledgebase and expertise.
For more info on using LinkedIn Groups effectively, check out this guide:
>> Using LinkedIn Groups for B2B Marketing: A How-To Guide
4. Use Paid Promotions
LinkedIn can be a powerful source of organic promotion for your blog, but consider using paid ads on LinkedIn too.
After all, research shows that over a third of buyers who see a business's ad on LinkedIn end up researching the company further for the purpose of making a purchase.
Paid promotion of your blog on LinkedIn can be approaching in different ways, including:
Using Sponsored Content to share links to blog posts with your target market...
Running a lead generation campaign on the platform, such as via LinkedIn's lead gen form ads (see example below) — once on your list, you can share your blog's content with them repeatedly, growing trust and credibility over time.
For effective advertising, keep testing different approaches and keep a careful eye on your analytics so you know what's working or not, and can drive up performance.
5. Collaborate with Influencers
The idea of connecting and collaborating with influencers may seem a bit intimidating, but the term influencer doesn't necessarily mean people with huge audiences.
It can also simply mean someone who has a larger audience than you, or perhaps an audience that somewhat overlaps with your own niche, and has a level of influence over them.
So look for people on LinkedIn who have some level of influence over people you want to reach and look for ways to connect and build a relationship with them.
Don't immediately jump to requesting a collaboration.
If they don't know you, they'll likely just ignore it.
Instead, start building a relationship by:
Engaging with their posts...
Sharing their content with your own community...
Looking for ways you can help amplify and promote them.
In time, as you build the know, like and trust factor with them, opportunities for potential collaboration will likely appear.
This might be as simple as interviewing them for your blog, or asking for a contribution for a round-up post (i.e. a post that provides insights on a particular topic from various industry experts).
Should they choose to share the relevant post (remember to invite them to do so), you suddenly gain visibility with their audience.
You can then continue building on the relationship for more powerful future collaboration opportunities.
6. Engage Through Live Events
Of course, video is one of the most engaging online media, and live video streaming even more so.
So use it to your advantage in helping to share the value of your blog and promote your content to a wider audience.
Simply choose an engaging topic based on your content and discuss it in real-time.
Let people know about your blog, such as by:
Highlighting the relevant post where people can go for more information...
Inviting people to join your list (perhaps by offering a relevant lead magnet) where you can help keep them informed.
Such sessions allow for active, real time engagement with your audience, where they're able to participate, listen, ask questions and connect with you directly. Using them allow you to:
Deepen connections with your LinkedIn network...
Strengthen your brand authority on the topic...
Encourage direct interaction and feedback on your content...
Drive traffic back to your blog and website...
Generate potential collaborations or partnerships.
7. Use Pictures and Videos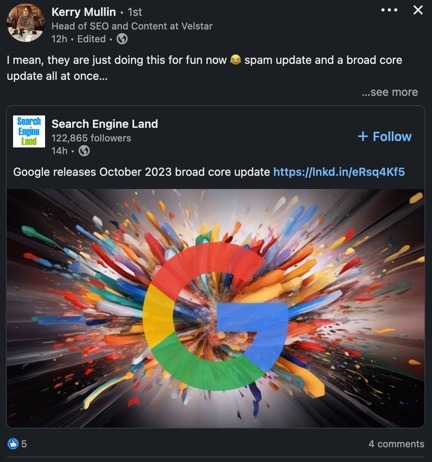 Visuals grab attention, encourage engagement, and leave a lasting impression.
So when sharing your blog on the platform, accompany it with a striking image that captures someone's attention and helps convey your message.
How?
The social meta tags used for a blog post determine the image that shows. Here's a guide on how to use them, or watch this quick video for an overview:
Just as we've done here with the example above, try creating a brief video that highlights the key messages of a blog post's topic.
This might be animated, or perhaps a talking head video where you're offering personal insights and stories that help encourage engagement.
The video can then be shared in different ways and in different formats on LinkedIn and elsewhere to help promote your blog.
In addition:
Incorporate CTAs—clear calls-to-action within videos or images can guide viewers towards desired outcomes, such as visiting your blog or signing up for a newsletter...
Experiment and adapt—try different visuals, video styles, or messaging to understand what resonates most with your audience, then refine your approach based on feedback and engagement metrics.
8. Ask Your Followers Questions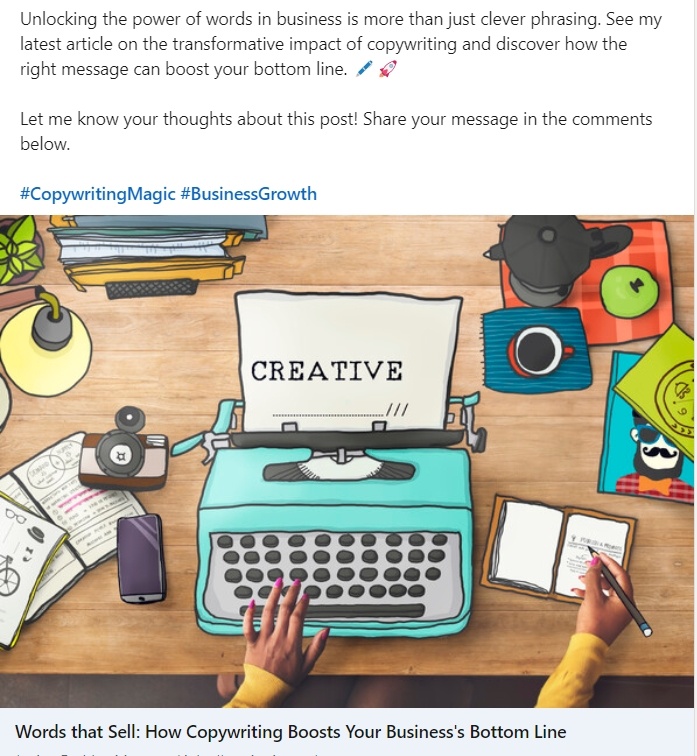 When sharing your blog on LinkedIn, add a question like 'What are your thoughts on this?' to boost comments and reactions. Given that the average engagement rate on LinkedIn is 3.16%, aiming for rates between 1% to 3.5% is beneficial. Remember, more engagement means more visibility. Responding to comments not only enhances interaction but also helps your followers, whether on a personal or company page, feel valued
9. Share Regularly... But Don't Overdo It
For both individuals and businesses it's ideal to post 2-5 times a week. This frequency ensures your content remains visible without overwhelming your followers. It also creates a sense of anticipation, making your audience look forward to your updates.
Here's a tip: When sharing, don't simply repost your original content. Mix it up to engage your audience in diverse ways:
Excerpts—share notable quotes or data from your post as standalone insights.
Visuals—use impactful images or infographics that sum up your blog's main points.
Videos—offer a quick video summary or chat about your post's topic.
This way, you can retain your audience on LinkedIn, as they don't need to leave the platform to access the full value of your content. Sharing different content types, including insights from others in your field, also keeps your feed fresh and multi-dimensional.
For a comprehensive guide on LinkedIn posting check our article about How Often Should You Post on LinkedIn?
10. Use Hashtags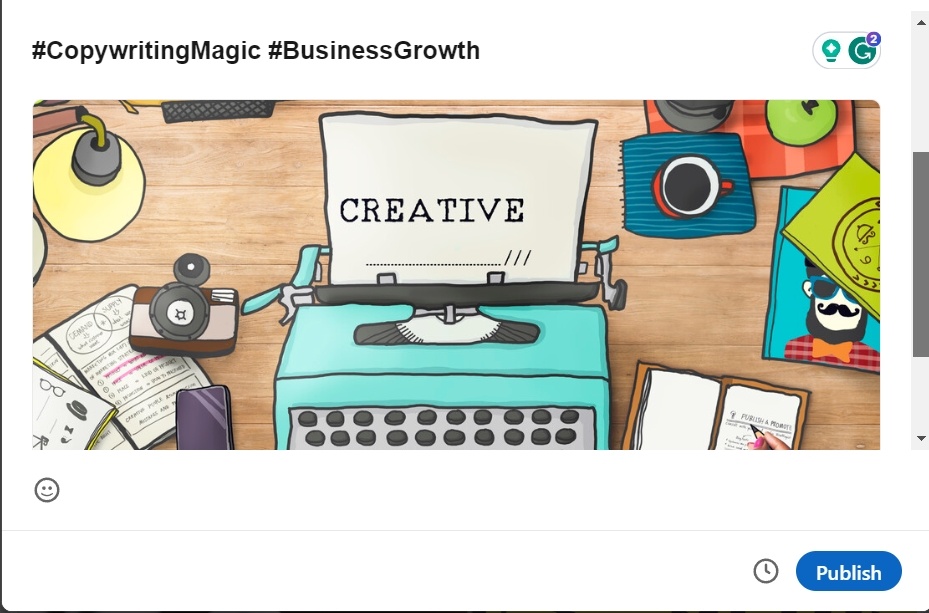 On LinkedIn, hashtags are like labels for content. They start with the '#' symbol, followed by words, and help users find specific topics easily.
When choosing hashtags, think about what your audience is likely searching for. Check out what's popular in your area or what big names in your field are using. Your hashtags should match what your post is about.
Though it might seem a good idea to use many hashtags, posts with 2-3 relevant ones often do best on LinkedIn. Using too many can make a post confusing and turn people off. So, aim for clarity and keep your message focused.
11. Share Feedback and Success Stories
When a reader or customer shares a positive message or insightful feedback, consider showcasing it (with their approval).
For instance, if someone remarks, "Your recent blog on sustainable living was an eye-opener!" or a business client says, "Your product drastically improved our workflow!" sharing these specific endorsements encourages trust.
12. Make Friends, Not Just Followers
Building relationships on platforms like LinkedIn isn't just about increasing numbers — it's about nurturing a genuine community. Engage actively by initiating meaningful conversations, offering valuable insights, and truly understanding your audience's needs.
For businesses, particularly smaller ones, active participation can position you as an expert in your field. Sharing content from others that aligns with your offerings adds value to your followers.
Always support insightful content from your network. This not only strengthens connections but also ensures an engaged audience ready to interact when you share.
Frequently Asked Questions (FAQs)
1. Why is LinkedIn Good for Blog Promotion?
LinkedIn targets professionals seeking valuable insights, making it ideal for business and professionally-focused blogs.
However, blogs that appeal more to consumer markets might find platforms like Instagram more fitting.
2. How Can I Share My Blog on LinkedIn Without Being Annoying?
Simple. Offer value.
For example, ads only tend to annoy when they're irrelevant to our interests.
The same goes when sharing your blog.
Look to add value and invite genuine engagement.
Mix it up by also sharing interactive posts, highlighting the work of others and engaging in their posts, and actively participate in discussions. This way, you offer value and nurture community relationships.
3. Should I Pay to Promote My Blog on LinkedIn?
Paid promotion can be powerful for promoting your blog on LinkedIn.
But first define exactly what it is you want to achieve, whether general awareness, direct traffic, or leads on your list.
Optimize your ads by analyzing metrics like engagement, click-throughs, and conversions, and aim to constantly improve how your ads perform.
To Conclude
This post has shown you exactly how to promote your blog on LinkedIn, including optimizing your profile and Page, using repurposing effectively, collaborating with influencers, engaging with your community, and much more.
By promoting your blog on LinkedIn, you build the visibility of your content and your brand with people in your marketplace, while also building trust and credibility.
To promote a blog on LinkedIn, optimize your profile and Page, repurpose the blog's content into different formats, engage, and consider paid ads.
Click To Tweet