So you're thinking about advertising your business on Instagram?
It is of course a huge platform, with the latest reports showing 1.44 billion active users every month, and continuing to grow.
As such, it's a popular platform for advertising too, attracting estimated revenues of $47.6 billion in 2021.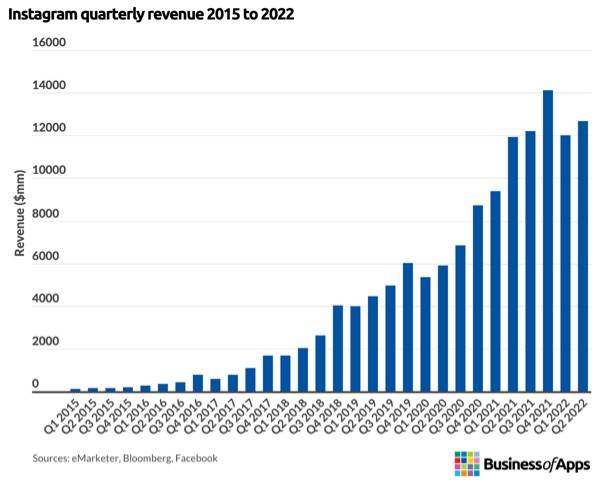 So how do you get started?
This post shows you exactly how to advertise your business on Instagram in three easy steps.
Thinking about advertising on Instagram? It's one of the biggest social platforms, with around 1.5 billion monthly active users, and continuing to grow.
Click To Tweet
1. Convert Instagram Account to a Business Account
First, check that your Instagram profile is a business account.
Business accounts are able to run ads, as well as to see data insights that can help you post more effectively.
To convert your account (if needed), do the following—note the images are from desktop Instagram, but you also do something similar via the Instagram app:
Click through to Settings from the top profile menu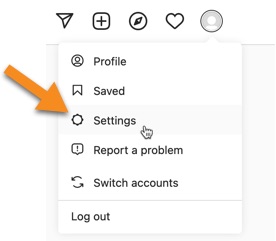 Towards the bottom of the menu on the left, click on Switch to Professional Account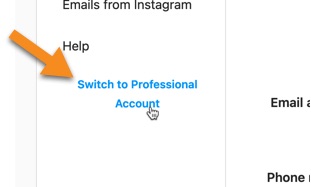 Select either Creator or Business on the next page
Select a category that best describes your business, which can be optionally displayed on your profile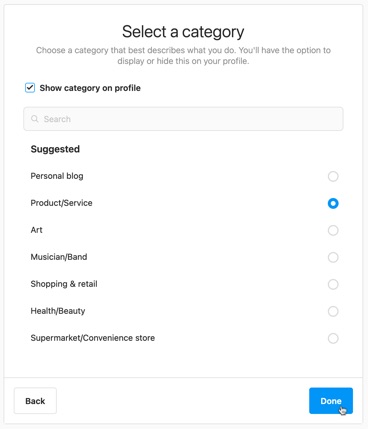 Sometimes, after clicking Done, you may see an error message along the lines of, Attempt to switch to a business account failed. If you see this, first check your profile (via a separate tab) and make sure it's set to Public rather than Private. If it's already Public, it can help to simply wait a few minutes and then try again—sometimes the issue is caused by a temporary network issue.
Once switched, you can optionally enter your contact info for display on your profile. Or if you don't want to set it at this time, just click the Don't Use My Contact Info button.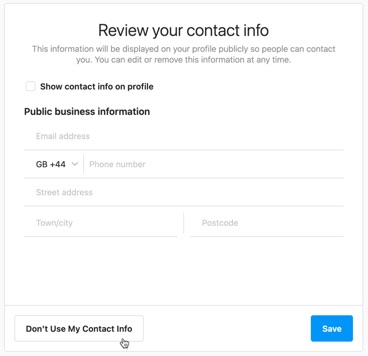 You should then see a confirmation message that your Instagram profile has been successfully converted.

Before advertising on Instagram, first convert your profile to a business account. That allows you to run ads, as well as providing valuable data insights.
Click To Tweet
2. Connect to Meta Business Manager
The next step involves connecting your Instagram account with Meta Business Manager.
The best way to do that is to add the profile to Meta's Business Manager.
(If you don't yet have a Business Manager account, click Create an account at business.facebook.com/overview and follow the instructions provided).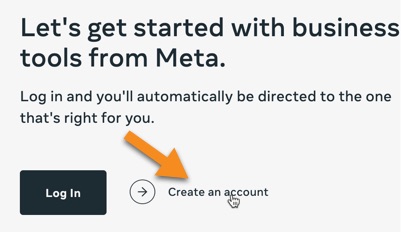 Once logged into Business Manager, click through to Business settings. You should be able to find this via Settings > Business Account info, and then Go to Business settings.

From there, click through to Instagram accounts.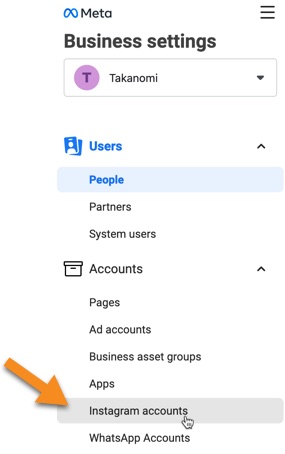 Click the Add button, and then click to connect your Instagram account.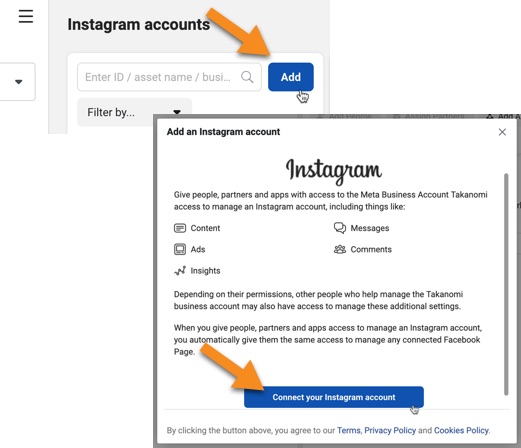 Once successfully connected, new ad campaigns will start running on Instagram as one of the available placements, or, as we'll discover shortly, you can run ads exclusively on Instagram if required.
You're now ready to start advertising your business on Instagram, as follows.
To advertise on Instagram, first connect your profile to Meta's Business Manager — log in, go to 'Business settings', and then 'Instagram accounts'.
Click To Tweet
3. Set Up Campaigns in Meta Ads Manager
From within Business Manager (also referred to as Business Suite), you'll likely see the Ads option on the menu.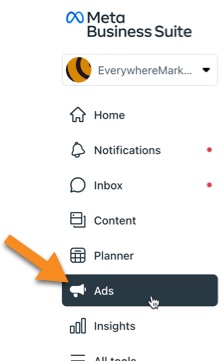 You can click the button to create an ad...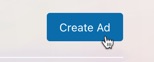 However, this is a simplified version of the full Meta Ads Manager, which is recommended to have full control over your ads and to be able to see all the available options.
So first, adjust the Business Manager menu, so you see the Ads Manager option.
Click the Edit button, check the Ads Manager option, and you'll then see it appear on the menu for easy access in future.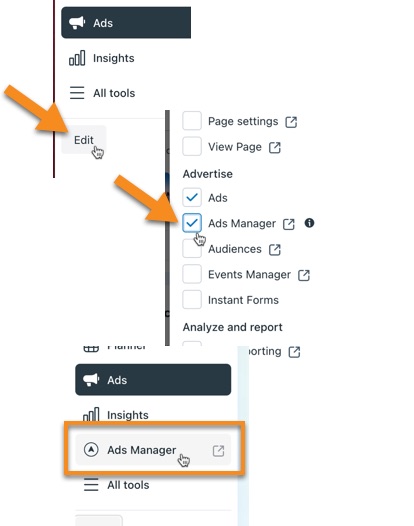 So click through to Ads Manager, and click the Create Campaign button.

As with most other online ad platforms, the first step is to select the main objective for your advertising. Choose from the following:
Awareness
Traffic
Engagement
Leads
App promotion
Sales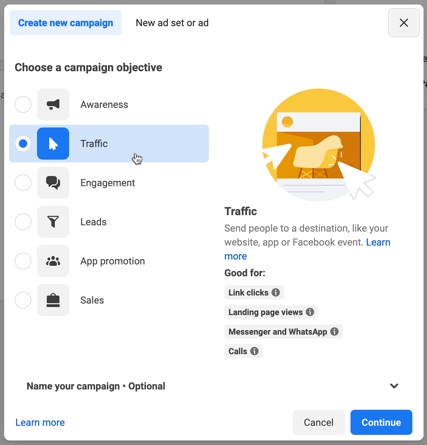 You can also name your campaign at this stage too if you want—just click the option towards the bottom of the popup.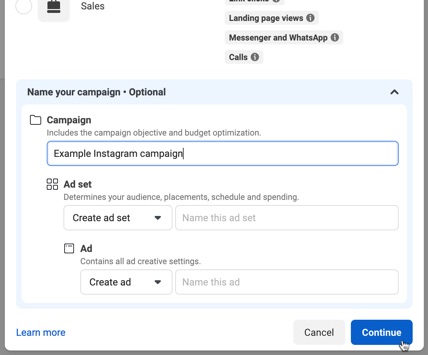 Click Continue.
The next page is where you set some campaign-level details, such as confirming the name of the campaign, setting an optional spending limit for the campaign, and declaring if your ads are related to any special categories.
Click Next to set up your ad set. This was all covered in detail in our previous post on how to create sponsored ads on Facebook, so consult that for further info on what it all means.
In terms of how to advertise your business specifically on Instagram, the important section is Placements.
By default, Meta will automatically decide where to place your ads for best performance, showing them across different properties including Facebook, Instagram and Messenger.
To show your ads just on Instagram, select the Manual placements option instead.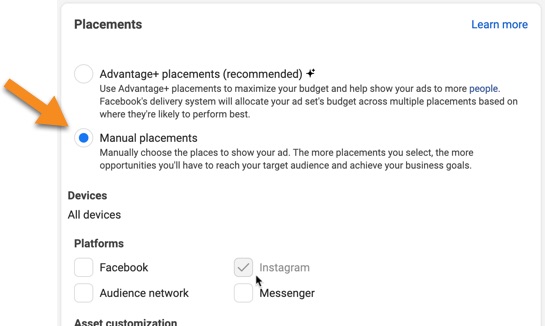 You'll then need to deselect the Facebook, Audience network and Messenger options, leaving just Instagram selected.
You can then fine tune where you want your ads to appear on Instagram as required.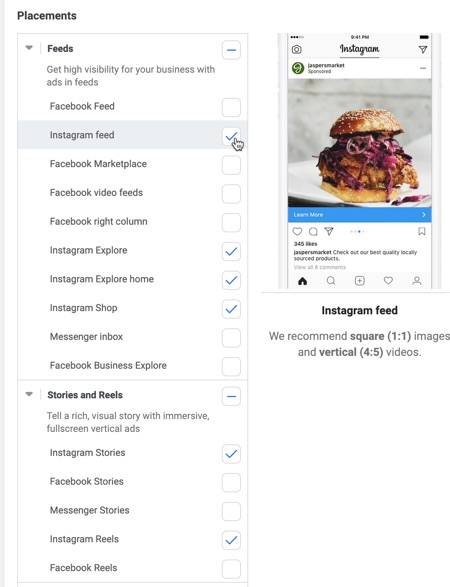 The options include:
The feed
Explore
Shop
Stories
Reels
Once all the information for your ad set has been completed (see our previous post), click Next to set up your ads, and then Publish when you are ready for them to go live.
Following Meta's review of your ads, they'll then start showing on Instagram.
Advertise on Instagram via the Meta Ads Manager. Create a campaign, choose an objective and ensure one of the placements is set to Instagram.
Click To Tweet
To Conclude
So now you know exactly how to advertise your business on Instagram, by simply following the three steps above.
For best results, remember to constantly test ads against each other, as well as other aspects of your campaign.
It's also advisable to manage expectations, and not to expect amazing results straight out the gate.
Instead, see your initial investment in Instagram ads as a chance to both learn the platform and to start collecting the necessary data to indicate what your market best responds to in order to adjust your ads in future.
Ultimately that's how winning ad campaigns, whether on Instagram or elsewhere, are created.