We've previously covered creating ads on Facebook, but what about the detailed targeting options that allow you to define your intended audience more precisely?
That's what this post covers, looking at what detailed targeting on Facebook is and how to use it, as well as their Advantage detailed targeting option.
What is Detailed Targeting on Facebook Ads?
As the term suggests, detailed targeting means you can target your audience in fine detail.
In other words, because of all the data Facebook holds about their users, you can finely tune the targeting of your Facebook ads so that they only show to people you want them to.
That can mean cheaper as well as higher performance advertising, because you're only showing your ads to people who fit your customer profile.
Detailed targeting includes the ability to narrow down your audience based on information relating to:
Demographics—for example, education, relationship status, work, an upcoming anniversary…
Interests—are they interested in yoga, travel, sci-fi, business or running, do they like a particular magazine, do they like coffee, are they parents with small (or maybe adult) children, etc.?...
Behaviors—the browser they use, if they're a small business owner, whether they have an anniversary coming up, are they a first time mobile device user, and so on…
As you can see, there's a fine level of granularity available with which to target your ideal customer!
Detailed targeting on Facebook Ads can mean cheaper as well as higher performance advertising. You're only showing your ads to people fitting your customer profile.
Click To Tweet
How Do You Access Detailed Targeting on Facebook?
Detailed targeting can be accessed both through Meta's Business Suite and through Ads Manager.
Meta Business Suite
When creating an ad in Meta's Business Suite, scroll down to the Audience option after choosing a goal or choosing a post to boost, depending on the type of ad you want to run.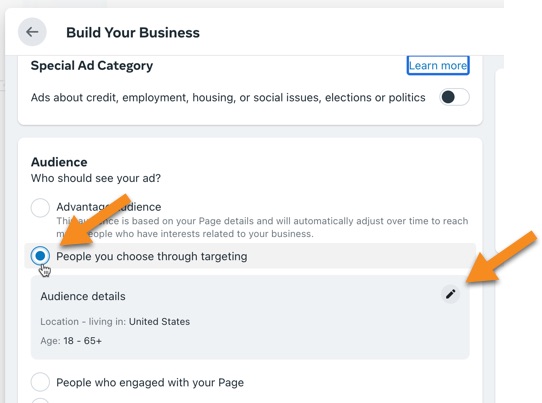 Select the People you choose through targeting option, and then click to edit the audience details.
Scroll down from there, and you'll see the Detailed targeting section.

Click Browse, and you can look through the options that are available under the Demographics, Interests and Behaviors tabs, or use the search option.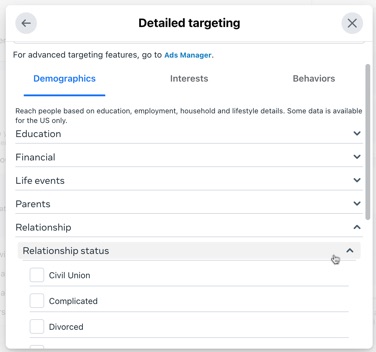 More advanced targeting is available via Meta's Ads Manager, which we'll look at next.
Using detailed targeting options on Facebook Ads means you can narrow down your audience based on demographics, interests and behaviors, specifically targeting your ideal customer!
Click To Tweet
Ads Manager
In Ads Manager, detailed targeting is available at the ad set level.
Scroll down the page and look for the Detailed targeting section within Audience.

You can choose to browse through the demographics, interests or behaviors, or start to type to the options available.

Also available in Ads Manager, but not in Business Suite, is the ability to exclude based on detailed targeting as well.
For example, you may want to target people who are married, but with no apparent interest in parenting.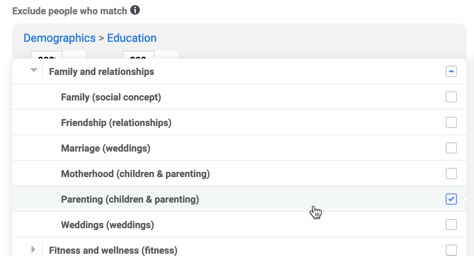 How Do You Use Detailed Targeting on Facebook?
To use detailed targeting effectively on Facebook, you need to have a clear picture of the exact type of person you are trying to reach and their key characteristics.
In other words, a customer avatar.
Some of these characteristics may be seemingly completely unrelated to what you're selling, so don't just look at the obvious choices when targeting your ideal customer.
For example, you may know through experience, or by analyzing insights you have from elsewhere, that your best customers tend to be well educated, married and enjoy video games, yet what you're selling relates to fitness — so seemingly unrelated.
---
Related: The Essential Guide to Using Facebook Ads for Your Small Business
---
Before you look to add detailed targeting to your own Facebook campaigns, it's a good idea to spend some time looking through all the options available.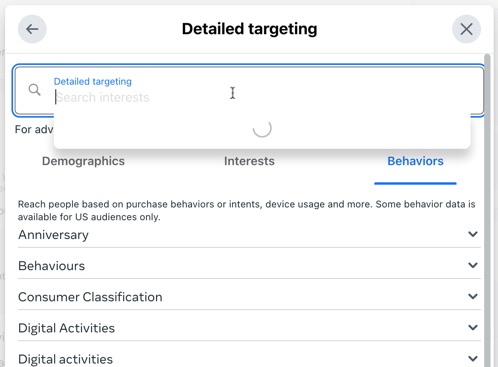 This can give you ideas about ways to target your audience that you may have never otherwise thought of.
Here's a short list of just some of what's available.
Before using detailed targeting on Facebook, develop a clear picture of the exact type of person you're trying to reach and their key characteristics.
Click To Tweet
Demographics
Education level, from those with some high school education to those with a doctorate degree
Household income level, anywhere from the top 25-50% of ZIP codes in the US, to those in the top 5%
People with an upcoming birthday
People who are in a new relationship, have just got engaged, or are newlyweds
Parents, from newbies to those with adult children
Various relationship statuses, from single to separated to married to widowed, and many more
The type of industry someone works in
Interests
Business and industry, from advertising to agriculture to banking to nursing, and so on
What people do for leisure, including games, live events, the type of music they enjoy, and reading material
Health and fitness interests, such as bodybuilding and yoga
Current events, animals they like, the type of travel they enjoy, and the type of vehicle that interests them
Shopping and fashion interests, from beauty categories to types of clothing to toys
Outdoor recreation to various sporting interests
Computer software and hardware interests, to consumer electronics
Behaviors
Upcoming anniversaries
Purchasing habits
Those with a new active business
Digital behaviors, such as the operating system used, Facebook admins and gamers
Various categories of expat
The mobile device used by brand and operating system
New mobile device users
Note that Ads Manager gives you more fine grained control over your targeting than Business Suite, though many people will find the Business Suite interface easier to use.
For example, if you want to include people matching certain characteristics, while excluding those who match others, use Ads Manager.
For Business Suite, open the Detailed targeting popup, and simply select the demographics, interests and behaviors you want to target.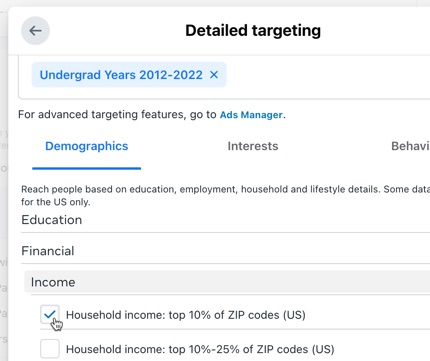 If you're using Ads Manager instead, it's a similar concept, so you can browse the different categories and select those you're interested in.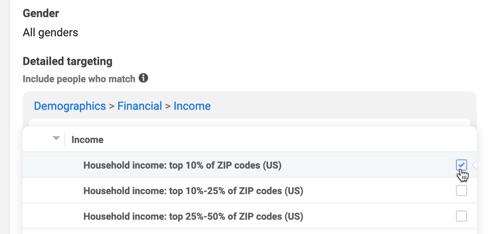 The same applies when excluding people: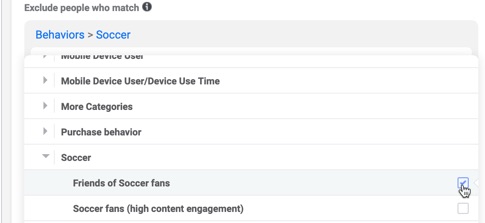 Should You Use Detailed Targeting Expansion?
What used to be known as detailed targeting expansion on Facebook is now known as Advantage detailed targeting.
So what's in a name change?
For one, depending on your settings, it might be turned on automatically, and you won't be able to turn it off.
This currently applies when your campaign is:
Using the conversions objective
Optimizing for conversions, app installs, message objectives, or value or app events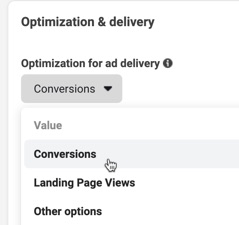 With other objectives, the opposite applies—you'll find the option turned off, and you won't be able to enable it.
How Does Advantage Detailed Targeting Work?
Effectively, when you select your own detailed targeting options, you give Facebook a starting point.
As the data for your campaign starts to accumulate, the system may see opportunities to reach people similar to those who have responded, but who don't fit into the specific detailed targeting options you've selected.
When Advantage detailed targeting is enabled, Facebook is then able to reach those people, potentially improving the overall performance of your campaign.
When using detailed targeting on Facebook Ads, use Ads Manager rather than Business Suite to get more fine grained control of who your ads reach.
Click To Tweet
To Conclude
This post has shown you exactly how to use detailed targeting on Facebook
As described above, it means you can improve the performance of your campaigns by specifically targeting people who fit your ideal customer avatar.
For best results, analyze your campaign data, as well as learn as much as you can about the characteristics of your best customers, so that you can test out changes to your detailed targeting options over time.