Reddit—sometimes referred to as "the front page of the internet"— serves millions of users who flit between a vast array of communities (subreddits), each based on specific interest areas.
Although its unique culture means that using the platform for organic marketing purposes can be challenging, but still rewarding when approached correctly, you can also take advantage of their powerful paid advertising opportunities:
CPCs are often far lower than the mainstream social media platforms…
As an online advertising option that's lower profile than say Google and Meta, many highly-specific subreddits are still free of advertisers, leaving it wide open for you…
Targeting capabilities include directing ads at specific interest areas as well as individual communities…
You can get started for very little, with a minimum of just $5 a day, less than other key platforms.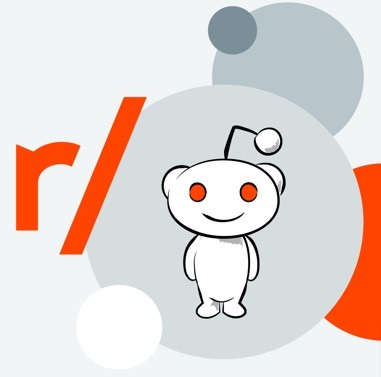 But it's also not quite as straightforward.
As already mentioned, Reddit has its own unique culture, meaning that campaigns that work well elsewhere likely won't work here.
In terms of online advertising channels, Reddit is a greatly overlooked opportunity. There's detailed targeting, low CPCs, highly-engaged users... and getting started costs just $5.
Click To Tweet
So how do you approach it?
In this comprehensive guide, you'll discover all you need to know, including:
Understanding Reddit's demographics...
Learning about the different advertising options available...
Discovering how to optimize the performance of your campaigns.
We'll also give you the 7 best practices you need to create a successful Reddit ad campaign, and finally, answer some FAQs to address some common misconceptions... and hopefully lay some of your fears to rest!…
So, let's dive in, and discover how to start advertising successfully on Reddit…
Who Uses Reddit?
First off, understanding the demographics and user behavior on Reddit is crucial to creating a successful advertising campaign.
As one of the largest online communities, consisting of tens of thousands of active subreddits, Reddit's user base is rich and diverse.
The platform attracts millions of unique visitors per month, offering advertisers the ability to put their products and services right in front of them.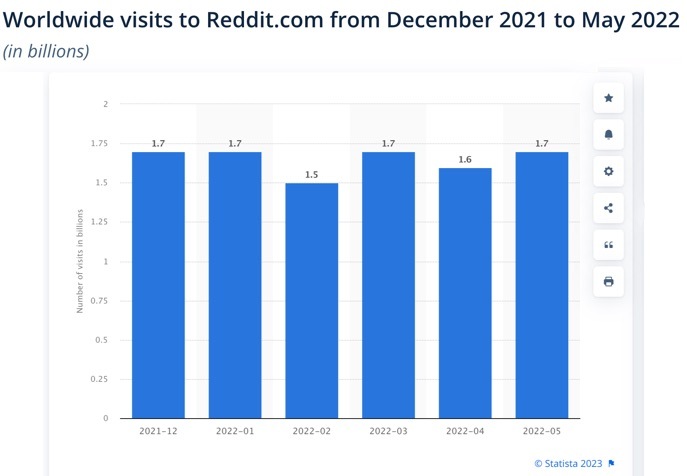 Their user base predominantly consists of young adults, most of whom are:
Between 18 and 34, with the rest mostly between that and 50…
Male, with around a third of users female…
In the United States (just over half are in the US, the rest from elsewhere)...
Well-educated—most have a college education or degree…
Technically literate.
Reddit users also tend to have high engagement rates, with time-per-session averaging at over 14 minutes.
In addition, the majority of users only post very rarely, if at all, with the majority just lurking and catching up on content from their favorite communities. Users tend to head straight to their specific subreddits of interest, reflecting their hobbies, professions and whatever they personally find engaging.
This is ideal for advertisers—users' main purpose is to find content of interest to engage with.
And the tens of thousands of ubreddits cover a vast array of topics, anything from news, science, and politics to niche interests like photography, skincare, and cryptocurrency.
For businesses wishing to advertise on Reddit, one of the keys is to:
Research and become familiar with subreddits that are relevant for their target audience...
Tailor campaigns that are designed to resonate with the subreddit subscribers.
What Types of Reddit Advertising Are Available?
There are various advertising options available on the platform, each with its own characteristics and means of capturing audience attention, and designed to help meet different objectives.
Here's a broad overview—as you can see, the advertising opportunities are more extensive than you may have first imagined!
Standard Ad Types
These essentially work as promoted posts.
1. Text Ads
Perhaps the simplest type of ad, shows your message via a basic text-based post.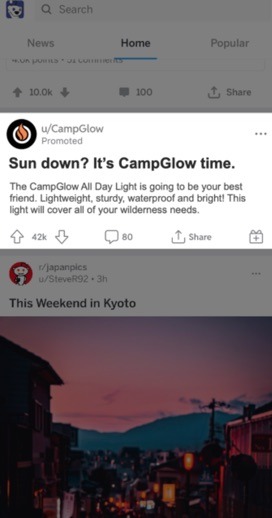 2. Image Ads
A more eye-catching, engaging option, show your ad with an image and a call to action button similar to what you might find with ads on Facebook or LinkedIn.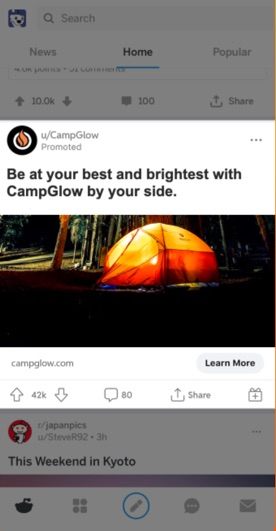 3. Video Ads
Or take things up a notch with an even more engaging video ad, again with a call to action button.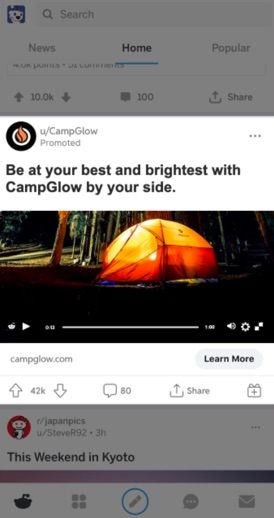 4. Carousel Ads
You're probably already familiar with carousels on Facebook, Instagram and elsewhere. These ads show multiple images that users can scroll through, and tend to again be highly engaging, perhaps because of simple curiosity.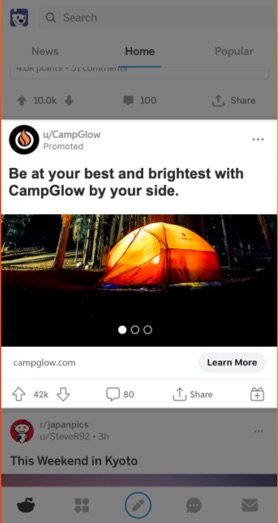 5. Conversation Placements
Advertise directly inside Reddit conversations.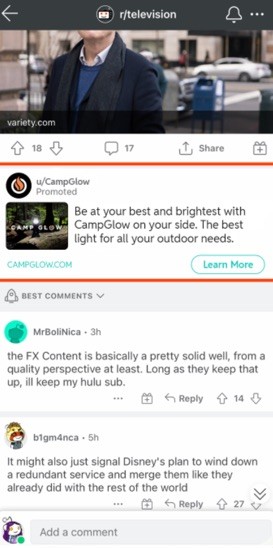 And For Those With Bigger Budgets…
These more enterprise-level options give your advertising maximum impact, but of course require a larger budget to take advantage of.
1. Reddit Takeover
As the name suggests, essentially take over the site with your ads showing everywhere.
2. Front Page Takeover
A more muted version while still achieving high visibility… take over Reddit's front page (itself, the 'front page of the internet'!) for 24 hours.
3. First View
On Reddit's Home & Popular tabs, be the first ad that users see.
4. Category Takeover
Takeover target categories with your ads for 24 hours or longer.
Reddit advertising is more sophisticated than you might imagine. There's a range of ad options and campaign objectives, detailed targeting, and custom audiences including retargeting.
Click To Tweet
How Do You Get Started with Reddit Advertising?
Create an Ad Manager Account
The first step is to sign up with a Reddit account if you don't already have one.
You can do this via their ads portal, or if you have an existing account, either log in (via the small link at the bottom) or select it to continue.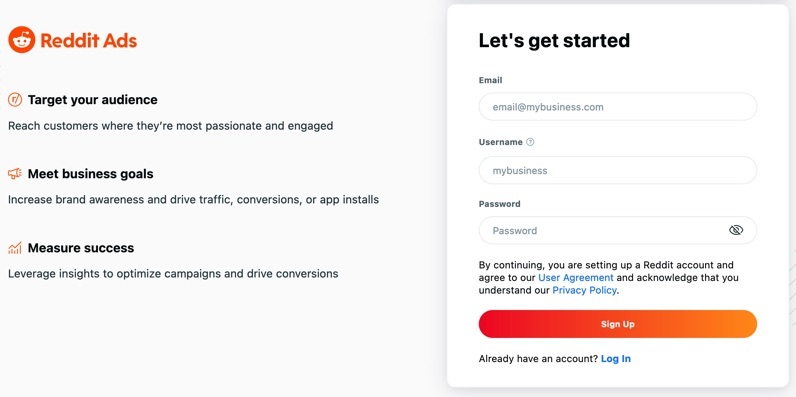 You'll then be prompted to set up your Ads Manager account by entering in some business information, so just follow the prompts provided.
Start Creating Your Campaign
Creating your first campaign is then as simple as clicking the Create campaign button at the top of the dashboard.

You can opt to quickly set up a campaign via the Simple Create option which, while simpler, only provides access to a more limited feature set, or choose the Advanced Create option.
In this guide, we'll follow the Advanced Create option, which is similar to setting up ads on Facebook for example, and is a better illustration of what the platform is capable of.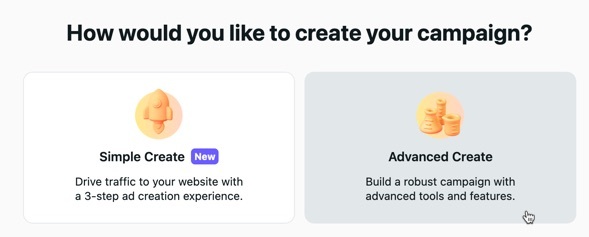 Select Your Objective
If you've set up ads elsewhere, creating a campaign on Reddit is likely to be a relatively familiar process
Name your campaign and then select your main objective. The available objectives include:
Brand awareness and reach—you pay on a CPM basis. The rest are CPC, other than Video views which is cost per view.
Traffic—where you want to send traffic to a URL.
Conversions—to convert traffic into leads for example.
Video views—increase the views for your video.
App installs—drive installs of your mobile app
Catalog sales—a relatively new option Reddit are testing, where the objective is to drive direct sales of products and services.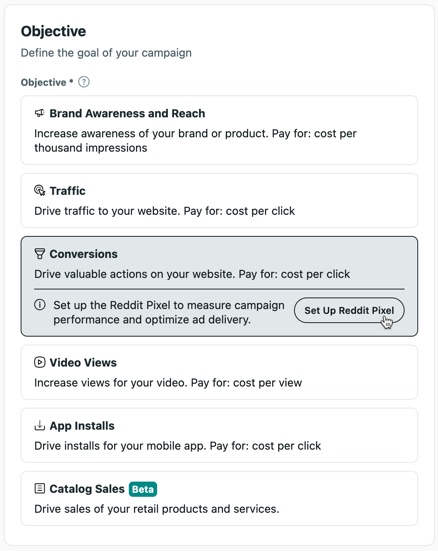 We'll run through the Conversions objective here, for which you'll need to install their pixel by following the instructions provided.
Installing the pixel is very similar to other ad platforms, and allows Reddit to:
Get a notification when a conversion occurs so that your ad metrics (more on these below) can be updated accordingly, helping you to optimize your ads…
Create retargeted audiences, so you can for example show ads to people who've visited a certain page or taken a certain action on your website.
Create an Ad Group
An ad group is a collection of ads that run under the same targeting, placement and bidding options, allowing you for example to test one ad against another for optimization purposes.
Set Your Targeting Options
Give your ad group a name and then select your targeting options. These are relatively sophisticated, and include options to target:
Reddit's audience
A retargeted audience, created via Reddit's pixel
A custom audience, for example by importing emails or mobile IDs
An audience of people who have previously engaged with your ads on Reddit but may not have, for example, clicked and visited your website.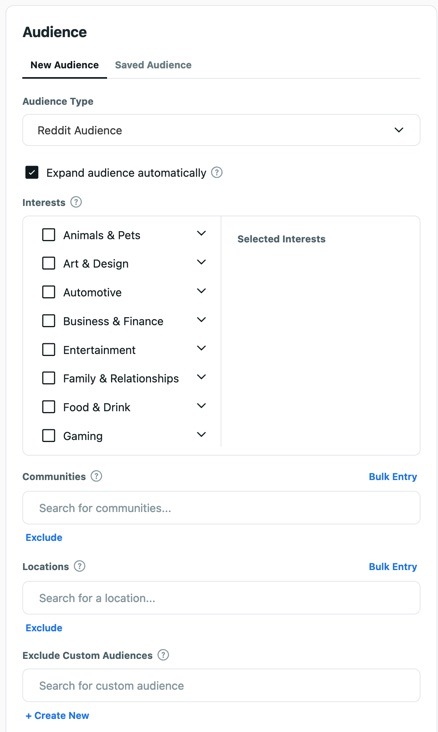 The other options are well worth exploring, but we'll focus on the Reddit Audience option here.
As you can see, you can target:
Broader interest areas—so your ads will be shown to people in subreddits that match the selected interests…
Individual communities a.k.a. subreddits—as the targeting is more exact, your results when choosing this option are likely to be higher (assuming you minimize the number of different communities selected for each ad set).
Layered on top of that, you can then choose to:
Target or exclude people in specific locations—at the time of writing this includes countries, as well as states and smaller localities in the US
Exclude custom audiences—for example, you might want to exclude people who have already converted
Target or exclude specific device types—it can be useful for example to create different ad groups for desktop and mobile devices, firstly because people tend to behave very differently on each and this can help optimize your campaign, and secondly, the ad format can differ between each.
Select Placements
Ads can be shown either in the Feed or within Conversations.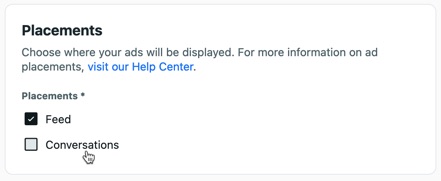 So what's the difference?
The Feed option means your ads are shown to users browsing:
The Home feed…
The Popular feed…
Individual community feeds
The Conversation option means your ad's shown at the very top of the comment feed for a relevant post, so just before the first comment.
This potentially gives you more reach because of people dropping into the thread from say a web search, rather than solely focused on those using Reddit's app.
However, note that the ad format can different between Feed and Conversation ads, so if you want to use both placement options it's preferable to create separate ad groups for each.
CPCs on Reddit can be as little as a quarter of that of Facebook. Successful ads are well targeted, authentic, engaging and provide value.
Click To Tweet
Set Your Bid Options
Again, this is very similar to other ad platforms, and is where you set:
Your budget, including whether you want a daily or lifetime budget…
Your bid strategy, either the default Maximize conversions automated bidding option or Manual bidding…
The maximum cost per click that you're willing to pay…
When you want your campaign to start, and potentially end…
If you wish, the days and times you want your ads to run.
Note the options available do of course depend on your campaign objective.
Create Your Ad
Your ad copy and creatives need to be engaging, get your message across concisely, and be relevant to the audience you're targeting.

Depending on your objective, it involves selecting the type of ad you want to run, and then providing the requested details such as:
A headline
An image or video
A thumbnail image
The URL you want to send traffic to
A call to action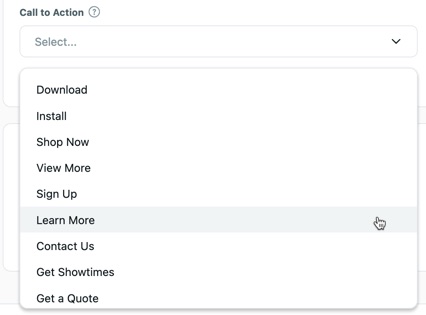 Preview your ad on the right of the page to make sure it appears exactly as you intend before continuing.
Launch Your Campaign
When happy with your ad, click the Review button, and review and launch your campaign.
Once launched, you can then add other ads to your ad group as follows…
Next Steps… Analyzing and Optimizing Your Reddit Ad Performance
Once you have a campaign running on the platform, it's crucial to analyze the data you get as a result in order to start optimizing it and improving its performance.
Don't expect to have a winning, successful campaign out the gate, or you'll be tempted to give up before you've really got started.
The willingness to invest in collecting enough data to create a campaign that can run successfully longer term is a key mindset shift to be able to succeed with advertising on Reddit, or indeed on other advertising platforms.
The first step is to set up an additional ad within the campaign you've just created, so that you can split test them and identify the most effective elements and refine your campaigns accordingly.
Here's a quick overview of conversion rate A/B testing, or click here for the full guide, which includes what to test, how to know when a test is conclusive, and some common mistakes people make:
Pay close attention to how your different ads are performing via the data Reddit provides you with. Key metrics or KPIs (key performance indicators) include:
Click-through rate (CTR)
Conversion rate
Cost per click (CPC)
Return on ad spend (ROAS)
You can also customize the metrics Reddit provides via the Metrics button at the top of the ads dashboard.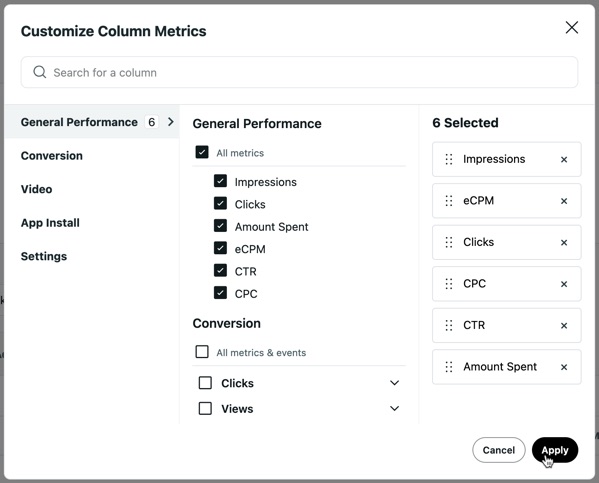 7 Best Practices for Advertising on Reddit
These seven best practices for advertising on Reddit will help maximize the effectiveness of your campaigns on the platform.
1. Be Authentic and Add Value
Become familiar with Reddit's culture by observing the type of posts that receive engagement and positive feedback from users.
In general, that means content that's genuine and authentic and that contributes real value to the relevant community.
So in terms of advertising, aim to create ads that offer useful information in return for contact information (in other words, a lead magnet) rather than simply push for an immediate sale.
2. Ensure Relevance and Resonance
To achieve maximum engagement for your ads, ensure they fit in with the culture, interests and expectations of the subreddits where they are shown.
In other words, the best results will usually come from targeting ads at individual subreddits, rather than general interest areas, and customizing the ad appropriately for each one.
3. Continuously Test and Optimize
At the beginning, your focus should just be on collecting ad performance data, rather than expecting an immediately successful campaign. By testing one approach against another, you improve the results of your campaign over time, and then continue to test to further optimize it.
In other words, you should be continuously testing different headlines, ad copy, images and targeting options to determine winning combinations and improve your ROI.
Reddit gives businesses an opportunity to engage with a diverse, highly-active and engaged user base, often with much lower CPCs and competition levels than elsewhere.
Click To Tweet
4. Respond to Comments
Reddit users often engage with ads via comments, both good and bad, and it's important to monitor and respond to these appropriately in a timely manner.
As with the ad itself, ensure your responses to comments are genuine and authentic. Respond directly with a thoughtful comment rather than providing a cookie-cutter style response, which helps build a positive experience for people interacting with your brand.
5. Avoid Being Overly Promotional
Overly promotional content is unlikely to work well on Reddit, with users on the platform notoriously resistant to that style of communication.
Instead, focus on ads that deliver value and aim to engage with users rather than blasting them with your sales message.
6. Understand and Adhere to Subreddit Rules
Each subreddit has its own rules and guidelines, so become familiar with them before launching your ads to avoid potential issues and to increase the effectiveness of your campaign.
7. Learn to Handle Negative Feedback and Criticism
However hard you try to fit in with Reddit's culture, to offer value, and to adhere to the rules and expectations of individual subreddits, some negative feedback and criticism is inevitable and it helps to expect this before you start.
Comments that are unconstructive or malicious are generally best just ignored or handled as tactfully as you can without getting drawn in—users can see them for what they are.
But some criticism will be constructive and can actually help increase the effectiveness of your ads. Address such comments professionally, taking their comments on board and thanking them for their feedback in a genuine and thoughtful way.
Reddit Advertising FAQs
1. Is Reddit Advertising Expensive?
No, in fact, while it operates on a similar bid system to elsewhere, because of the lower competition levels, ads on Reddit tend to be significantly cheaper.
Some reports indicate that CPCs for example can be as little as a quarter of the cost of Facebook.
But of course costs also depend on who you're targeting, your objective, and so on.
2. Aren't Reddit Users Hostile to Ads?
Users everywhere tend to be hostile to ads that have no relevance to them and are of little interest.
But if your ads on Reddit provide authentic, engaging content that add value and are well targeted, there's little reason that they'll be less well-received on Reddit than elsewhere.
As with other ad platforms, it's all about crafting the right offer, testing different approaches, and finding one that works in order to create a successful ad campaign.
3. Will Ads Only Reach a Niche Audience?
That's completely up to you!
Their targeting capabilities mean you can reach audiences in broad interest areas, as well as more specific niche interests via specific subreddits.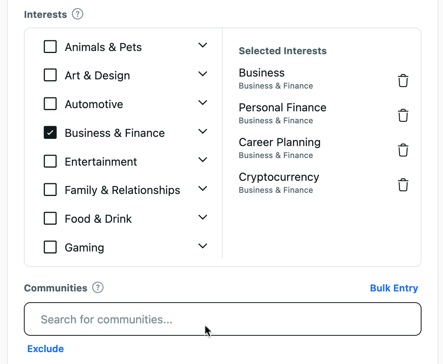 4. Isn't Reddit Only for Tech-Savvy Users?
A good proportion of their user base do tend to be relatively tech-savvy, but remember the platform serves millions of users with a wide range of interests and demographics, attracting people from all walks of life.
The best approach is generally to focus on interest areas and subreddits that relate to your customer avatar, rather than how tech-savvy the users might be. If you're specifically looking for non-technical users, there are subreddits that serve that demographic too.
5. Does Reddit Advertising Actually Deliver Results?
When approached in the right way, with the correct ad set up and targeting, and by testing different approaches and optimizing your campaigns over time, you can create successful ad campaigns on Reddit just as elsewhere.
So start with a limited budget, test different approaches, and aim to start scaling up your campaign once it starts delivering the results you are looking for.
6. Do Reddit Users Actually Click on Ads?
When they're relevant, valuable and well-targeted to their interests… yes!
Again, it's all about testing different approaches until you find one that works for your target audience and objectives.
To Conclude
Reddit is one of the lesser known online advertising platforms, often overlooked in favor of its bigger cousins Meta and Google.
But it's well worth taking a closer look as it provides businesses with an opportunity to engage with a diverse, highly-active and engaged user base, often at a much lower price point than elsewhere because of the lower levels of competition.
As we've seen it provides a wide range of advertising opportunities, and the set up is very similar to other platforms that you may be more familiar with.
By putting the tips and strategies outlined in this guide into action, you can start to explore the power of Reddit advertising and create a whole new, and potentially very profitable, lead and customer acquisition channel.