Finding the best email campaign service for your business can be a difficult challenge.
There is an increasing number of such services on the market, all offering powerful, often very similar features, and with differing pricing models (which then change as your list grows).
Is it any wonder choosing an email campaign service can be such a confusing process? In fact, many businesses end up switching providers multiple times before settling on one they're happy with.
This itself of course can be expensive and time consuming.
This post aims to make the selection process a little easier—and hopefully help you avoid expensive provider switches—by reviewing 5 of the best email campaign services available, including:
A summary of the different features each one provides...
The type of business that it might be best suited for….
A summary of their pricing info…
And even comments from actual users.
So let's start taking a look.
First up, AWeber...
"The Best Email Campaign Service When Getting Started with Email Marketing"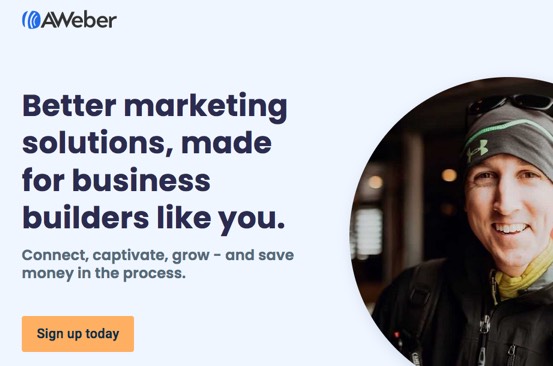 AWeber was one of the first autoresponder services on the market, and has been in operation since 1998.
At one point, it seemed most online marketers were using either AWeber or GetResponse (see below), though since then the market has become a lot more saturated. AWeber is however one of the more established providers.
While their initial focus was on broadcast emails and autoresponders—sending a predefined sequence of messages to a subscriber—they've since grown into a more comprehensive email campaign service with features ranging from list segmentation to ecommerce.
As such, the service has a lot to offer more well-established marketers, but it's particularly ideal for those brand new to email marketing, simply because:
It's so easy to use...
Their customer support is well regarded, and includes phone support which no other service listed here offers across all account levels.
Some of their most significant features include:
The ability to create images for your emails via Canva, which has been integrated inside AWeber, or pick an image from their library of 6,000+ stock images.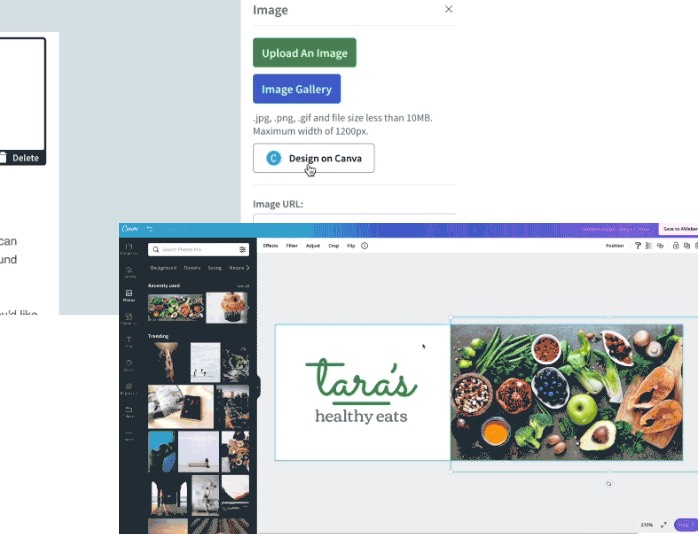 Automation functionality—create autoresponder campaigns that follow up with new leads automatically.
List segmentation so you can send emails to the most relevant audience for your message—segment your list using 'tags', location, custom data, or actions such as open, click, purchase and visiting activity.
Email and phone support, along with live chat support 24/7—their US-based support has won multiple awards, including Stevie Awards and NCSA All-Stars Awards.
A drag and drop email builder for creating professional-looking emails.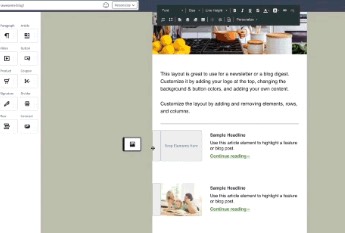 A sign up form builder that can request up to 25 bits of information alongside name and email address—to target specific groups of subscribers, you can tag prospects from a specific form, or tag them based on the answers they provide.
AWeber Ecommerce which includes an ecommerce drag-and-drop landing page builder with templates, sales tracking and the ability to sell products and services, either through AWeber or via one of the ecommerce integrations such as PayPal, Shopify or Stripe.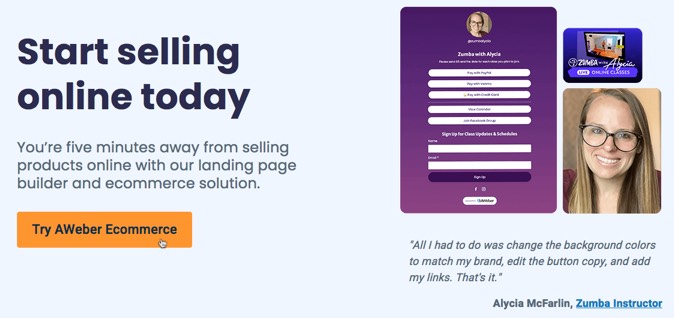 Email tracking and analytics so you can see which emails are driving traffic and generating revenue. They also have a stats app available for iOS or Android.
Split testing capabilities, enabling you to test what your audience best responds to and improve open and response rates over time.
Team management with the ability to add an unlimited number of users to your account.
Web push notifications with unlimited subscribers and send messages, alongside analytics.
AWeber also helps reduce the pain of switching providers, helping you do so for free, including moving your templates, tags, campaigns, sign up forms and landing pages.
What to Watch Out For…
The amount you pay (see below for pricing) is based on the number of subscribers in your account.
However, this also includes subscribers who have since unsubscribed. So you can end up paying for subscribers you can't even email to.
As your email list grows and you get closer to the next pricing tier, it's therefore advisable to remove the unsubscribes from your account to delay any price increase.
Pricing
AWeber has one of the simplest pricing models, based simply on the number of subscribers you have. It's also very affordable for small businesses, starting at just $19.99 per month for your first 500 subscribers.
You can save nearly a fifth by opting for their quarterly or annual plans, the annual plan working out at just $16.15 per month.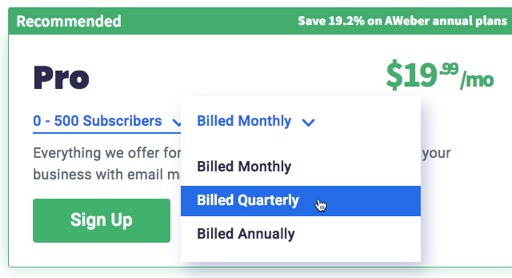 After your first 500 subscribers, pricing is still very reasonable:
501 - 2,500 subscribers @ $29.99 per month
2,501 - 5,000 subscribers @ $49.99 per month
5,001 - 10,000 subscribers @ $69.99 per month
10,001 - 25,000 subscribers @ $149.99 per month
Again, discounts are available by opting for a quarterly or annual billing plan.
It should be noted that AWeber does also have a free option—but for most businesses, it's likely a false economy.
With a free account:
You're only able to send emails to 3,000 people a month (so for 500 subscribers, just six emails to your list)
Your emails will retain AWeber branding
You lose split testing capabilities, along with analytics, tracking features and custom segmenting.
You pay higher transaction fees for their AWeber Ecommerce feature.
If you'd prefer to take a look at the system first via the free option, you can do so here.
Alternatively click here for more info about their Pro version.
Sample Review
"I use AWeber for all my email marketing needs and refer it to all my clients and students. I love their customer support, the ease of using their drag and drop campaign builder, the unlimited emails and their deliverability rates."
Click here for the latest information on AWeber's email campaign service.
"The Best Email Campaign Service for Ecommerce Small Businesses"
Like AWeber, GetResponse has been around for over twenty years, and was initially focused on broadcast emails and autoresponders.
Again, like AWeber, they have evolved into providing a broader email campaign service including ecommerce capabilities.
Alongside that, they also give you webinar-hosting capabilities, live chat and marketing funnels, which gives them the edge for small businesses focused on ecommerce.
GetResponse has won multiple awards for the service they provide, including multiple awards from the software review site G2.
Their main features include the following.
Email Marketing
Professional email templates with a drag-and-drop email creator—and ability to create your own template library.
A built-in image editor enabling image editing and cropping, filters, color adjustments and text.
Over 5,000 free stock photos and gifs from Giphy.
Automated list hygiene facility.
Optimized email sending times, based on when individual subscribers are most likely to engage, helping to increase open rates and improve deliverability.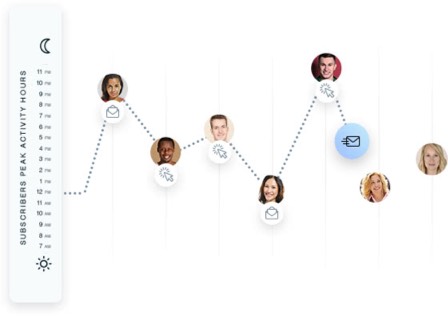 You can also send based on local-time delivery for international lists.
Split testing capabilities.
Landing Pages
Create unlimited landing pages, with over 200 landing page templates available.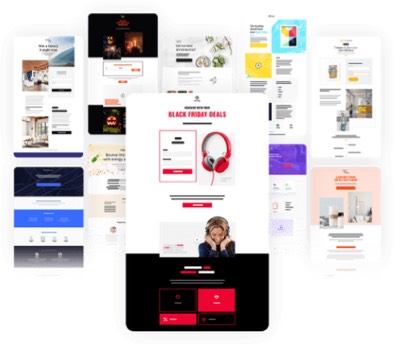 Drag-and-drop landing page builder, including mobile-friendly design.
Option to host landing pages on your own domain.
Split testing capability to increase performance.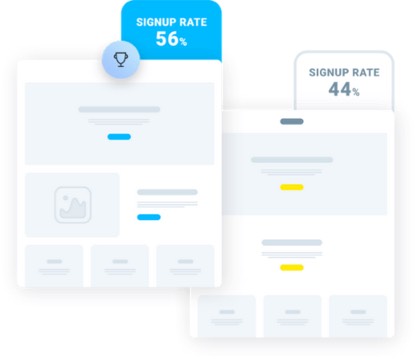 Webinars
Integrating webinar functionality into their email campaign service was a smart move by GetResponse, when you consider that:
Webinars are one of the most powerful list growth vehicles available.
Trying to integrate a third-party webinar service with a separate email campaign service can be painful and involve additional hassles.
What they offer is as good as or better than mainstream webinar providers. Capabilities include the following:
Host live or on-demand (evergreen) interactive webinars.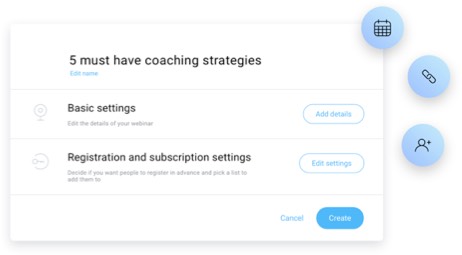 The use of interactive whiteboards, polls and tests.
Up to 1,000 attendees and up to two other hosts (depending on account level—see pricing info below)
Up to 20 hours of webinar recordings.
Customized webinar URLs.
Professional invitation templates automatically filled in with details of your webinar, alongside automated nurturing campaigns.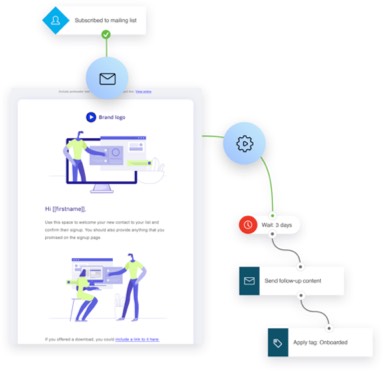 Livestreaming for Facebook and YouTube.
Call to action buttons to show during the webinar.
Host webinars from your mobile device using their free app (iOS or Android)
Marketing Automation
Visual marketing automation builder.

Prebuilt workflows or build your own automations
Communicate with your audience based on behavior, conditions or filters—for example, depending on whether they've clicked a link, purchased something, accessed a download, or been assigned a tag.
Add unlimited tags per contact
Build engagement scores per contact based on actions taken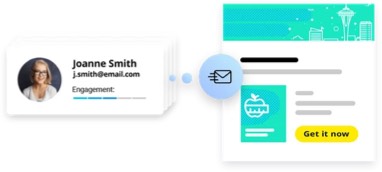 Automation templates such as for nurturing new subscribers or recovering lost sales.
Ecommerce integrations such as with PayPal, Shopify and Magento.
Send emails based on page visits or specific actions taken (you may also be interested in checking out our post on the best days to send emails, based on analysis of billions of emails).
What to Watch Out For…
It's hard to find much by way of criticism of GetResponse, but some issues mentioned on review sites include the following:
The ability to analyze data is perhaps not as advanced as other services.
Their compliance department may on occasion be a little harsh, locking down accounts and preventing data exports if an account is felt to be in breach of their terms.
Some users find it somewhat complex to use.
Although common with most email campaign services other than AWeber (see above), while they provided it once, you can't now access phone support unless you're on their upper-tier Max plan.
Pricing
GetResponse provide four different account levels:
Basic—for getting started with email marketing and growing your list, including one sales funnel.
Plus—for growing businesses, providing users with automation, webinars, more sales funnels and adding team members to your account.
Professional—for optimizing and building on results, providing you with unlimited automations and sales funnels, on-demand webinars, higher-capacity live webinars, web push notifications and more team members.
Max—providing dedicated support, multiple accounts and users, team and role management, account migration support and more.
A Max account is custom priced depending on requirements, but for the other levels:
You can get a free 30 day trial with no credit card required.
Following your free trial period, pricing is based on list size.
While the currency and pricing may be shown differently depending on your geolocation, monthly pricing in USD is as follows:
Basic accounts—$15 for up to 1,000 subscribers, $25 for 2,500, $45 for 5,000, $65 for 10,000, $145 for 25,000, $250 for 50,000 and $450 for 100,000.
Plus accounts—$49 for up to 1,000 subscribers, $59 for 2,500, $79 for 5,000, $95 for 10,000, $179 for 25,000, $299 for 50,000 and $499 for 100,000.
Professional accounts—$99 for up to 1,000 subscribers, $119 for 2,500, $139 for 5,000, $165 for 10,000, $255 for 25,000, $370 for 50,000 and $580 for 100,000.
You can also pay annually or even every two years. For annual billing, you get a 18% discount; for two-yearly billing, a 30% discount.
Sample Review
"GetResponse offers simple, easy-to-use tools for creating, scheduling, and sending emails. In addition, they offer other essential marketing tools, such as landing pages. This means you can do almost everything you need to market your business online from one place, rather than having to try to integrate a ton of different tools. It's a one-stop shop of sorts."
Click here for the latest information on using GetResponse.
"The Best Email Campaign Service for Intermediate to Advanced Email Marketers"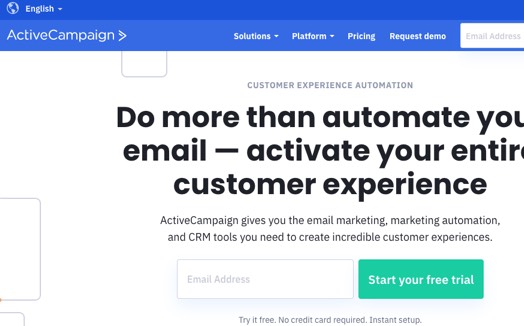 ActiveCampaign is a relative newcomer, although as a company it's been around since 2003.
It originated as on-premise software, and only started to transition into a cloud-based solution from 2013.
It's only really in the last 5 years or so that the company has grown significantly, now serving over 150,000 customers from its base in Chicago (with offices in both Sydney, Australia and Ireland).
In comparison to other email campaign services, ActiveCampaign offers another very strong solution, excelling in its reporting and automations.
It tends to be a little more sophisticated than perhaps beginner marketers might be looking for, and is generally more suited to those seeking a more advanced solution.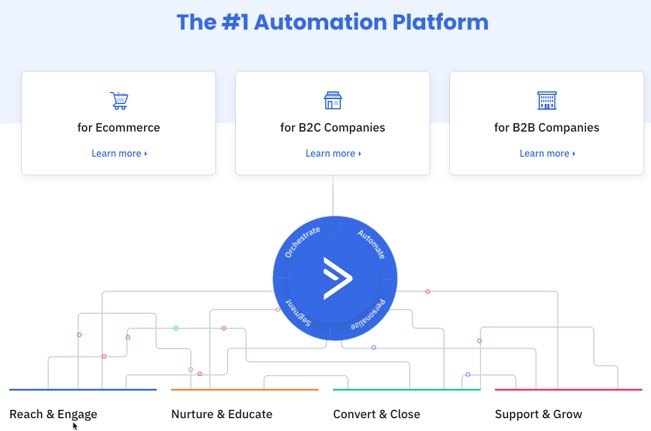 Their main features include the following.
Email Marketing
The usual broadcast and autoresponder functionality.
Send emails based on user actions such as purchases, email clicks, visits to certain pages and engagement.
Segmentation of your audience for more effective targeting, with the ability to segment based on multiple factors,
A drag-and-drop email designer.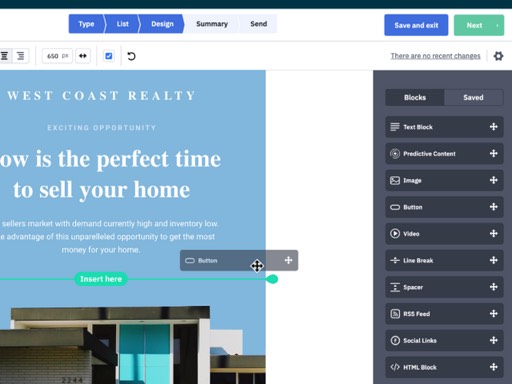 Conditional, dynamic content and personalization so that emails can be customized based on the contact's history and data.
Split test your emails.
Integration with hundreds of other apps such as WooCommerce, Facebook, Zapier and Unbounce.
125+ professional and responsive email templates.
Google Analytics integration.
Revision history of your emails.
Custom subscription forms and landing pages.
Marketing Automation
In addition to email marketing automations, ActiveCampaign offers:
A drag-and-drop automation builder, giving you the ability to see all your automations via single view.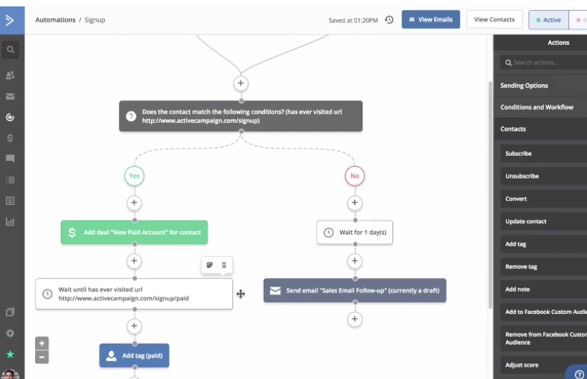 Automated text messages, Facebook Ads, lead nurturing, lead scoring and other parts of the customer lifecycle.
Site and goal tracking.
Advanced reporting for analyzing automation results, including custom reporting functionality.
Contact Relationship Management (CRM)
Lead scoring, win probability and automated segmentation.
Automated task assignment and sales routing.
A Chrome extension means you can manage contacts from other email providers like Gmail or Outlook.
A dedicated app for iOS for contact and task management
In addition, if you want to switch from another provider, ActiveCampaign offers to migrate your email templates, automations, subscription forms and contacts for free.
What to Watch Out For…
As with other providers other than AWeber, phone support is very limited and only available to Enterprise users.
Comments from other users have indicated that searching for contacts can be slow, and troubleshooting automations can be frustrating.
Pricing
As with GetResponse, pricing is based on the number of contacts you have in your account, and the account level you are using.
There are four account levels as follows:
Lite—includes marketing automation, email marketing, unlimited email sending, subscription forms, segmentation, site and event tracking, lead import and API access.
Plus—includes landing pages and templates, SMS marketing, conditional content, advanced performance reporting, sales automation, lead scoring and ecommerce integrations.
Professional—includes website personalization, predictive sending, predictive content, marketing attribution, split automations, attribution reporting, and conversion reporting.
Enterprise—includes custom reporting, custom mailserver domain, free design services, social data enrichment, contact enrichment, unlimited users, dedicated rep and phone support.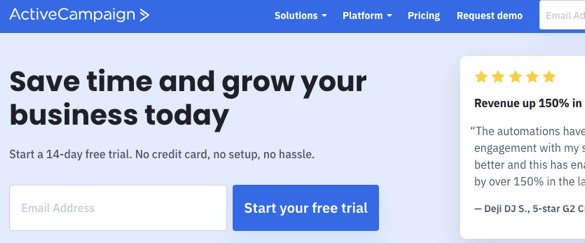 You can start with ActiveCampaign via a free trial for 14 days, after which monthly pricing in USD for each tier is as follows, based on the number of contacts in your account:
Lite—$15 for up to 500 contacts, $29 for 1,000, $55 for 2,500, $99 for 5,000, $155 for 10,000, $259 for 25,000, $345 for 50,000, $425 for 75,000 and $505 for 100,000, after which custom pricing applies.
Plus—$70 for up to 1,000 contacts, $125 for 2,500, $169 for 5,000, $249 for 10,000 and $399 for 25,000, after which custom pricing applies.
Professional—$159 for up to 2,500 contacts, $239 for 5,000, $349 for 10,000 and $599 for 25,000, after which custom pricing applies.
Enterprise—$279 for up to 2,500 contacts, $449 for 5,000 and $499 for 10,000, after which custom pricing applies.
Discounts are available when opting to pay yearly. For example, for 10,000 contacts in Lite, you'll pay the equivalent of $125 per month as compared to $155 when paying monthly.
Sample Review
"The user experience is great and easy to train staff. It's very affordable when you scale up. CRM competitors charge lots of money once you hit a relatively low threshold of contacts. I also love having a CRM and eDM function all in one place!"
Click here for the latest information on using ActiveCampaign.
"The Best Email Campaign Service for Budget-Conscious Businesses Seeking Simplicity of Use"
Moosend is another robust email campaign service, and offers a certain level of simplicity and ease of use that can make other solutions a little frustrating at times for less technical users.
It's also seen as a more affordable option for smaller and newer businesses, with its free plan for those with under 1000 subscribers, and pricing (see below) starting at just USD$10 per month.
You can see it as a light version of more sophisticated solutions.
Founded in 2011, the service was acquired by Sitecore in 2021, a company that offers enterprise-level CMS software.
Some of their main features include:
A drag-and-drop email editor.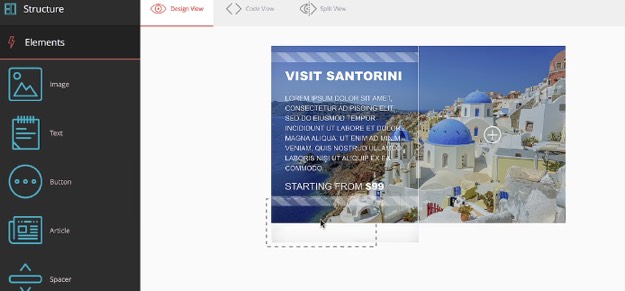 Dozens of templates for newsletters, landing pages and subscription forms.
Audience segmentation, such as via age, gender, location, purchase times, actions, email clicks and more.
Email personalization and dynamic, conditional email content.
Product recommendations dependent on subscriber weather conditions.
Email countdown timers.
Analytics including open rates, click-through rates, forwards, unsubscribes and heatmaps.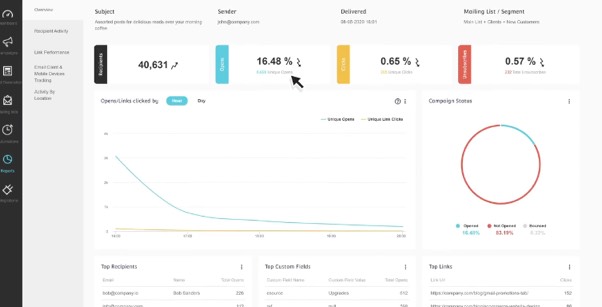 Split testing support.
Automation workflows with triggers, conditional steps and actions.
30 marketing automation templates.
Ecommerce AI functionality such as product recommendations based on what others are buying, what they bought last, and when they may need to buy again.
Drag-and-drop landing page editor including integration with Facebook and Google Analytics pixels, anti-bot protection, page versioning and free SSL.
Dynamic subscription forms including modal popups, inline forms, floating bars and floating boxes.
What to Watch Out For…
SiteCore's acquisition of Moosend means there is some uncertainty about how the service will develop or change in future.
Some reviewers have had issues with automations not working as they should, such as automated sequences being sent at the wrong time, but it's unclear if these are isolated issues.
Pricing
If you have under 1,000 subscribers, Moosend's Free Forever plan is ideal for getting started, providing you with unlimited emails, sign up and subscription forms, along with reporting and analytics.
For more than 1,000 subscribers, they have a couple of paid levels available, Pro and Enterprise, with the latter coming with custom pricing.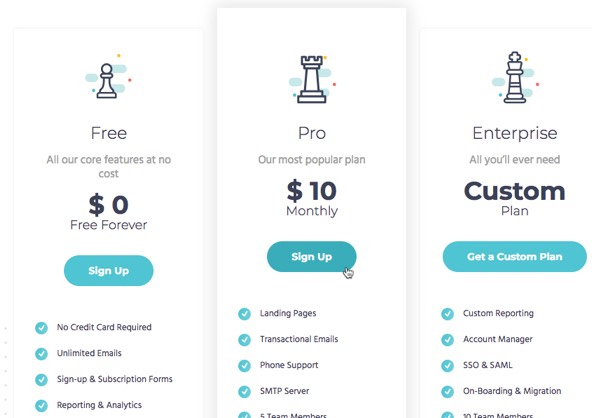 Their Pro plan starts at just $10 per month for up to 1,000 subscribers. Thereafter, it's:
$20 per month for up to 3,000 subscribers.
$30 per month for 5,000.
$40 per month for 5,500 (which seems a little strange!)...
$55 per month for 10,000.
$125 per month for 25,000.
$205 per month for 50,000.
$260 per month for 75,000.
$390 per month for 100,000.
$585 per month for 150,000.
$760 per month for up to 200,000.
You'll need custom pricing for anything for 200,000 subscribers.
Occasional users can also use MooSend with credits, with a dollar buying you the ability to send 1,000 emails, and giving you access to everything in their Pro plan.
Sample Review
"This is hands-down, the best email campaign services provider. The software is simple when you want that, but then also provides automation and technical features that experienced marketers and evolved marketing infrastructures demand. And, it's been fantastic for two of my startups, as they have a very generous and full-featured free tier. Importantly, their API is robust and well-documented -- and straightforward to use! As such, anyone with fundamental programming experience should be able to hook it up easily with your app."
Click here for the latest information on using MooSend.
"The Best Email Campaign Service for Solopreneurs"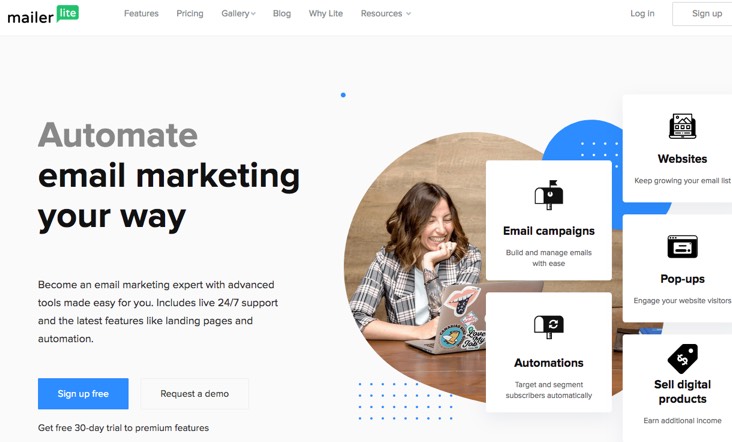 MailerLite was launched in 2010, taking three years to hit a million in revenue. By 2019, it was reported as the 5th fastest growing SaaS business worldwide.
The company is based in Lithuania, with half its 100+ staff working in countries around the world.
While providing a relatively sophisticated tool, it does so in a 'light' way to ensure ease of use and avoiding unnecessarily complex interfaces.
Some of their main features include:
A drag-and-drop newsletter editor, with a selection of over 50 templates, a file manager and built-in photo editing.
Ecommerce campaigns.
A website builder.
Landing pages, popups and embedded subscription forms, including the ability to publish landing pages to your own domain.
Audience segmentation, personalized emails and time zone-based delivery.
Split testing capabilities.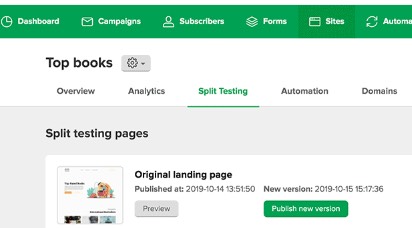 Campaign reports, surveys and click maps.
Automated resends for subscribers who didn't open an email the first time.
User permission management for different members of your team.
24/7 live chat support.
What to Watch Out For…
Although common to most on this list, bear in mind there is no phone support. But their website promises a wait time of no more than 5 minutes for their live chat support.
Accounts need to be reviewed before you can start using the system. While this mostly only takes a day or so, reviews of the service indicate there's usually no explanation for accounts that are not approved.
Pricing
Like AWeber, MailerLite has a simple pricing model based on the number of subscribers you have.
For up to 1,000 subscribers (and up to 12,000 emails sent a month), you can use their free plan, although you won't have access to certain features you get with Premium, such as live chat support, their custom HTML editor, custom domains for landing pages, and some tracking capabilities.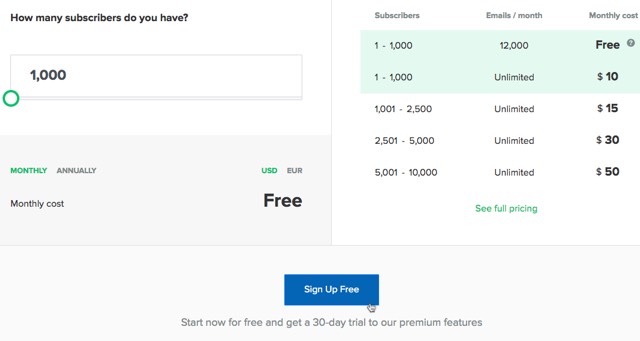 For Premium, you can sign up for a 30 day trial, after which pricing (USD) is as follows:
$10 per month for up to 1,000 subscribers
$15 per month for 2,500
$30 per month for 5,000
$50 per month for 10,000
They also have a few add-ons available with additional monthly costs:
SitesPro for access to site building features for unlimited websites and landing pages at an additional $10 per month.
MailerPro for access to priority email and live chat support, including help from a dedicated support rep for such things as importing subscribers and creating email templates—an additional $100 per month.
A dedicated IP address to help improve deliverability at an additional $50 per month.
Sample Review
"MailerLite is so easy to use. As an independent author, I'd much rather spend my time writing than struggling with technical things. MailerLite's easy to use platform makes it a breeze to create beautiful, effective emails to send to my fans. The drag and drop feature makes it so simple to quickly create emails for my newsletter. The plans are affordable, especially for a new author still building their fan base. And deliverability is top notch."
Click here for the latest information on using MailerLite.
To Conclude
Given all the choices available, many of which offer a similar set of features, determining the best email campaign service for your own business can be challenging to say the least.
But with this review of 5 of the best email campaign services available, hopefully that just got a little easier. It's likely at least one of those services reviewed above will prove the ideal choice for your business, depending on what you're looking for.
And if you're really not sure, they also each offer some form of a free trial so you can simply test one or more of them out before you make any form of commitment.
Finally, take two secs to grab your free copy of this list of the best email campaign services so you have it to refer back to: