When marketers mention pay per click lead generation, most people immediately think of Google Ads.
Someone clicks on an ad, visits your landing page, enters their details and drops into your sales funnel.
It works well, but it's not the only game in town. Other lead generation PPC solutions can prove more effective and deliver a higher ROI.
And for the "everywhere marketer", why restrict yourself to one channel? Once it's delivering a positive ROI on one, start setting up and exploring another.
After all, your customers are everywhere. Doing anything else is leaving money on the table.
This multi-channel guide to PPC lead generation explores 5 of the main solutions available for generating leads via pay per click, namely Google, Facebook, Instagram, LinkedIn and Twitter...
How Does PPC Lead Generation Work?
The typical model used for lead generation from pay per click advertising looks something like this.
You place your ad, a prospect clicks on it and ends up on your landing page. They enter their details into a form on the page and as a result ends up in your sales funnel.
In practice, this often means their details are added to your email campaign service, as a result of which they start to get automated messages, and perhaps some manual follow up too by a sales team.
But this isn't always the case.
As we'll see, some PPC lead gen solutions provide in-built forms that mean:
The prospect doesn't even have to leave the platform they're on to leave their details
You don't have to worry about a landing page.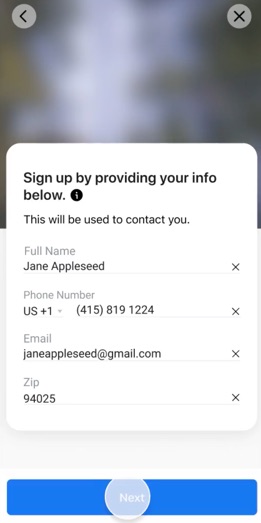 Or instead of (or in addition to) a form, there may be a telephone number that's either incorporated into the ad or displayed on your landing page.
How Much Should You Pay Per Lead?
Ultimately, the amount you pay to acquire a lead versus what that lead is worth to your business determines whether or not your lead generation PPC campaign delivers a positive ROI.
Lead value depends on:
How successful you are at turning leads into customers
The value of what you sell them both now and in the future
What those customers tend to be worth to your business on average.
Depending on your available cashflow, you may also need to convert leads into revenue relatively quickly in order to sustain your campaign, but the true lifetime value of that converted lead may be a lot higher as they return to make additional purchases.
The amount you pay per lead versus what that lead is worth to your business determines whether your lead generation campaign delivers a positive ROI. #ppc
Click To Tweet
It's also important to track which advertising source leads have come from so you can measure their relative value.
Otherwise, you can make important decisions based upon invalid assumptions.
For example, the LCV of a customer who came through a Facebook lead gen campaign may be half the value of someone who came through a LinkedIn campaign, but you won't know unless you track where each lead has come from and what they spend once arrived.
If you don't have this data and instead need to depend on generalized LCV averages, you might decide your LinkedIn campaign is "too expensive" and stop it, whereas with more accurate data you'd know it was actually delivering a positive ROI.
To sum up, the amount you're willing to pay per lead depends on a number of factors including:
What that lead is likely to be worth to you, in terms of both immediate and longer-term purchases
How quickly you need to see a positive return. Are you willing to go negative for a while before you see enough revenue from that lead to cover the acquisition cost and enable you to start turning a profit on that relationship?
How Can You Improve Your ROI?
Your ROI—return on investment—is the difference between the cost per lead (CPL) and the average value of those leads to your business.
Manipulating either of these—your CPL or the average value a lead represents—impacts your ROI.
A CPL that's less than the average value of each lead to your business means a positive ROI, a profitable campaign and one that you can successfully scale—which can mean a rapidly growing, highly successful business.
Increasing your ROI involves one or both of the following:
Lowering your CPL
Increasing the value of each lead
Let's look at each of these in turn.
A cost per lead (CPL) that's less than the average value of each lead to your business means a positive ROI and a potentially scalable campaign. #digitalmarketingtips
Click To Tweet
Lowering Your CPL
For PPC advertising, your lead acquisition cost is based on a couple of factors:
The amount paid per click
The conversion rate for those visitors once they arrive on your website.
Here's a simple example to illustrate the impact your conversion rate has on visitors once they arrive on your website.
Let's say you're paying $2 per click, and convert 10% of your visitors into leads. That means:
It takes 10 clicks on average to get a lead
Your lead acquisition cost is $20.
What happens if you improve the conversion rate to 20%?
One in five (rather than one in ten) visitors now converts into a lead, meaning your lead acquisition cost has halved to $10.
Factors that affect your conversion rate include the following:
Who your ad is shown to—if your ad is shown in the first place to people who are more likely to become leads, it follows that a higher percentage of people who click on the ad will sign up once arriving on your website, thereby increasing your conversion rate
The quality of your landing page—there are multiple different factors on your landing page that impact on the percentage of visitors who become leads. Split testing is essential to determine what visitors best respond to.
As well as the conversion rate, as mentioned above the amount you pay per click also impacts your CPL.
If you're paying $1.50 per click rather than $2, and 20% of people who click become leads, your CPL is now $7.50 rather than $10.
On several platforms, the cost per click can be influenced by making the ad as relevant as possible to the audience who sees it.
For Google Ads shown on search for example, increasing the relevancy of an ad to a particular keyword (which will show up as an increased click-through rate) not only decreases the amount you pay per click, but can also mean it shows closer to the top of the page.
That means you get more clicks for lower cost, and a lower CPL overall.
Both who sees your ad and the quality of your landing page affects the conversion rate you achieve on a lead acquisition ad campaign. #leadgeneration
Click To Tweet
Increasing Lead Value
Increasing the average value of leads to your business involves both of the following:
Improving lead conversions (converting leads into customers)
Increasing customer value—in other words, increasing what you're selling to those customers so they're spending more with you.
Let's look at each of these as follows.
Improving Lead Conversions
Getting a new lead is of course just the start.
You then need to convert that lead into a customer.
While there's not the space to go into this in any depth, this generally means having an effective sales funnel for that lead to drop into, where they are guided along a journey into becoming a customer.
That might be relatively immediate or you might have a longer sales cycle.
In general, sales conversions depend on:
Building a relationship with the lead so they know, like and trust you
Educating them sufficiently about the value you provide
Providing the prospect with an effective call to action, such as one that incorporates a sense of urgency
In practice, this means:
Continuously communicating with the prospect through different channels
Sending them different offers and opportunities to buy from you
Increasing Customer Value
If the customer is worth more to you, you can spend more to acquire that customer (via lead generation) in the first place.
Increasing the value of your customers includes the following.
Raising Your Prices
While businesses are generally fearful of raising their prices, doing so can have a markedly positive impact on revenue while often only having a negligible impact on sales conversion rates.
This also gives you the advantage that you can then invest more into your products and services, provide more value, become the leader in your category, and enabling you to potentially increase prices further.
In contrast, 'race to the bottom' discounting is one of the fastest ways to go out of business.
Selling More Products and Services
The most value from customers comes from the 'backend', after they have made an initial purchase.
Once someone has purchased from you, presuming they had a positive experience, they are far more likely to purchase from you again.
For that reason, it's far easier to get existing customers to buy from you than cold leads who've not yet bought anything.
Yet most businesses focus the majority of their marketing efforts on the latter, and forget about what they can do to maximize the value of their existing customers.
Think about the following:
What other products and services can you sell them?
Once someone has bought from you and become a customer, how can you then continue to communicate with them to increase the chances of them buying from you again in future?
If you currently only sell buy-once products or services, how can you introduce a recurring billing element, so that a customer's card is regularly charged? Think membership sites, subscription services, software as a service, service contracts, automatic product replacement (such as Amazon's 'Subscribe & Save'), and so on.

---
So improving the ROI from your lead generation PPC campaign comes down to:
Improving your targeting—the best ad platforms like Facebook will help take care of this automatically, refining who the ad is shown to based on the characteristics of those responding to it
Improving your landing page—this means ensuring it's well designed in the first place, including effective copy, and continuously testing it to try to beat your existing control
Reducing the cost per click—usually by improving the relevancy of your ad to the people it's shown to. This is a mix of improving your targeting (as above) and improving the ad itself
Improving the number of leads converted into customers—through a more effective sales funnel
Increasing the value of your customers—by increasing the amount you are paid for your products and services, and selling more products and services to existing customers.
Increasing the value of leads to your business means you can spend more to acquire them in the first place. #ppc
Click To Tweet
5 Top Lead Generation PPC Advertising Solutions
Let's have a look at how the top PPC ad platforms help with lead generation.
1. Google Ads
Advertise on Google, either on search or on their display network, via keyword-targeted campaigns.
So if you're selling new kitchens for example, you can bid on appropriate keywords and have people click on the ad to come to a landing page where they might fill in their contact information, or call a number presented in the ad.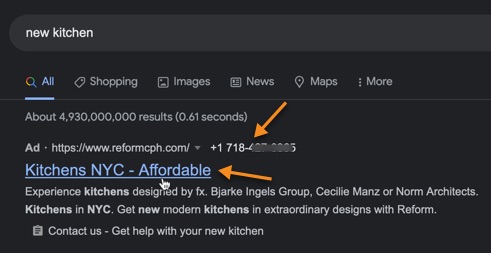 The telephone number shown on an ad is provided by Google so they can track calls and charge the advertiser, and routed through to the phone number provided by the advertiser.
Similarly, if advertising on Google's display network, ads would be displayed on sites related to the keywords for your campaign.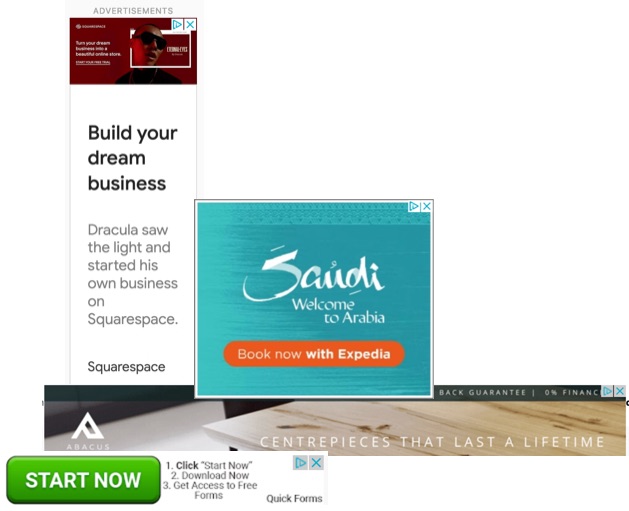 2. Facebook Ads
One of the ad types Facebook provides is called a lead ad. This allows prospects to provide their contact information, as well as answer custom questions, without ever leaving Facebook's platform.
Here's an example of the type of form you might see: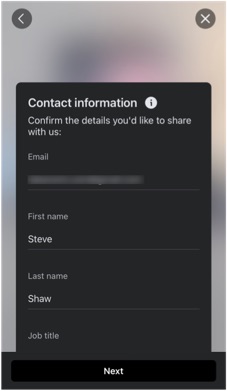 Typically shown on mobile devices, this format reduces friction and potential distractions, while pre-filling the form with the user's information. Because of this, conversion rates are often significantly higher than would otherwise be achieved with a landing page.
To create one, select Lead generation as your campaign objective in their Ads Manager…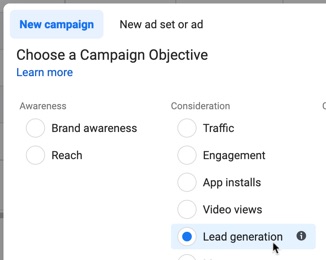 And select the Instant forms lead method.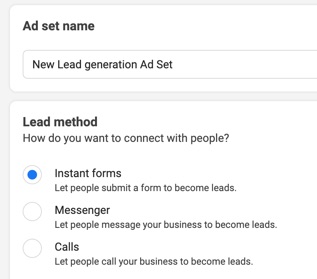 On creating your ad, click the Create form button to set up the form to show to prospects, such as:
Choosing the form type (whether you're looking for More volume or Higher intent)
Adding custom questions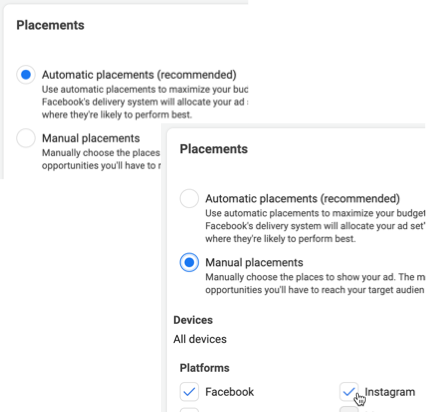 Note the other types of lead generation ad you can run too:
Messenger—people messaging your business become leads
Calls—advertise a phone number for people to call and become leads
Other ads are available for other campaign objectives, with call to action buttons leading to more traditional landing pages that, for lead generation ads, can request the user's details:

In their Ad Manager, you would then be able to see how much you were paying per click, and how much for each 'result', i.e. lead coming through the ad.
3. Instagram Ads
Lead ads, as shown above for Facebook, can also run on Instagram, though with some restrictions.
To create one, follow the same process above in Meta's Ads Manager, but for it to run on Instagram ensure that either the Automatic placement option is chosen, or that, if using Manual placements, you've selected Instagram.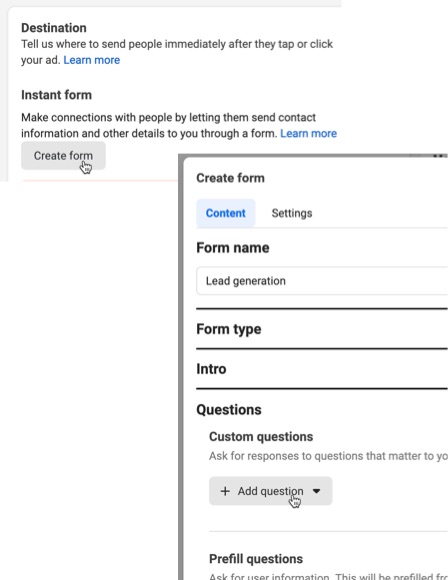 However, be careful how you set up the lead generation form, as picking the Date of birth option as a question will stop it from running on Instagram.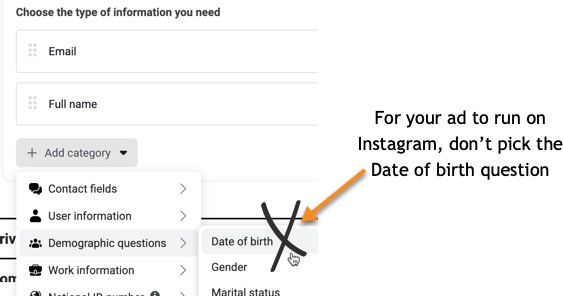 Also note that if you select the Store Locator or Appointment Request questions, your ad will still run but these won't be shown.
Lead ads on Instagram are only shown within Instagram's mobile app, they're not shown on desktop.
Facebook's can be shown on both, but advertisers generally see higher returns on mobile.
Finally, you can run more traditional ads on Instagram for lead generation, with the call to action (CTA) button leading to a landing page on your website where you request the visitor's details.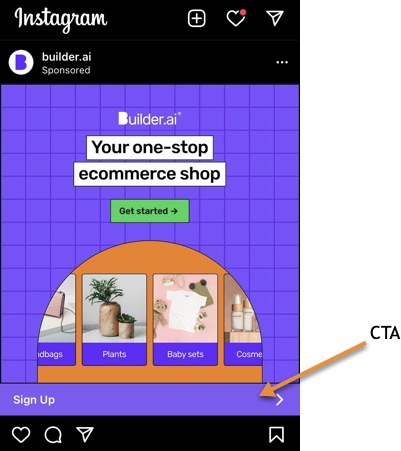 4. LinkedIn Ads
LinkedIn also provides a solution similar to Meta's lead ads, known as Lead Gen Forms.
Again, they're prefilled with the user's data, making signing up more seamless and increasing conversion rates significantly.
On clicking the call to action button on your ad, the user is shown the lead gen form, and can then sign up with a single click.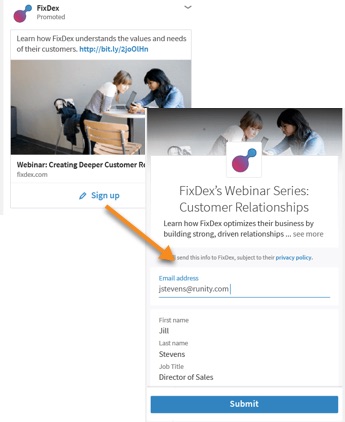 To create one, from within their Campaign Manager, click Lead Gen Forms from the Account Assets dropdown.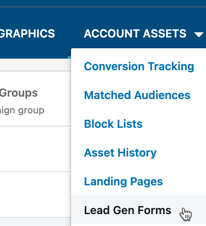 Click to create a form.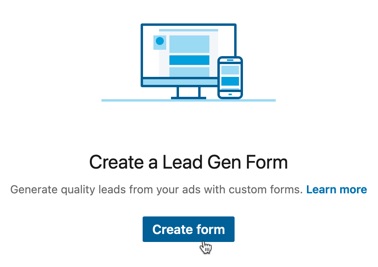 Then set up your form to collect the information you need.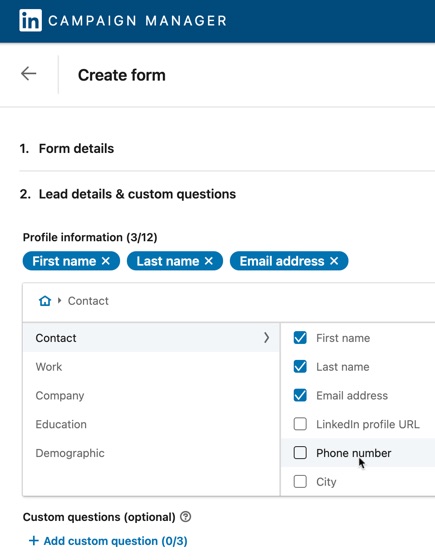 You can set up the form so that leads are given the opportunity to go to a page on your website as soon as they sign up, enabling you to put them straight into your sales funnel.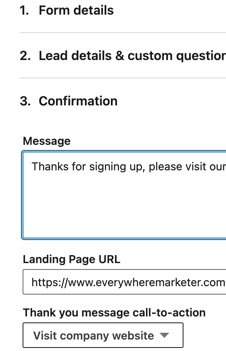 The Lead Gen Form can then be added to a campaign. Pick the Lead generation objective.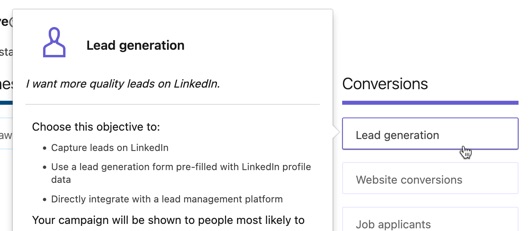 When setting up your ad, you can then select the Lead Gen Form you created: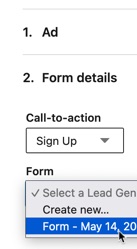 You can integrate with various email campaign services like MailChimp and HobSpot, as well as Zapier for connection with a stream of others, enabling you to automatically add the leads you collect to your CRM.
If you'd prefer to send people to a landing page on your website rather than use LinkedIn's Lead Gen Forms, you can of course choose to use their normal ad format instead such as this example.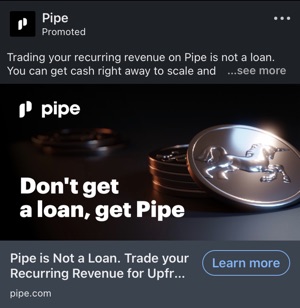 5. Twitter Ads
Twitter used to provide what they called Lead Generation Cards for advertisers, but these were withdrawn a few years later.
In fact, they no longer have a specific objective for lead generation when creating a new campaign, but that doesn't mean you can't use the platform to generate leads.
Instead, pick the Website traffic option so you can send visitors to an appropriate landing page.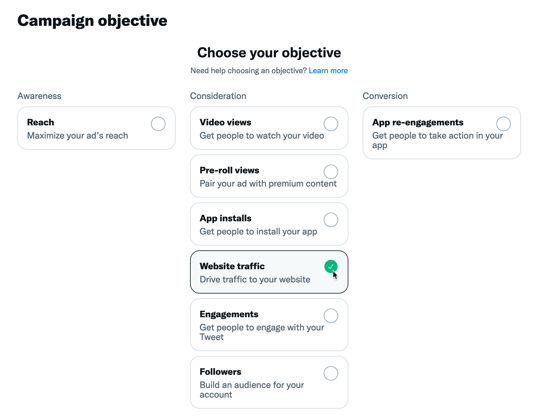 Leave the goal set as Site visits.

To track the performance of your ads, you'll then need to create a new Site visit event.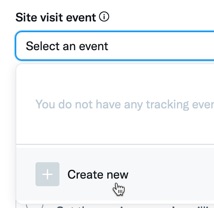 Follow the instructions provided to download, install and verify their Universal Website Tag…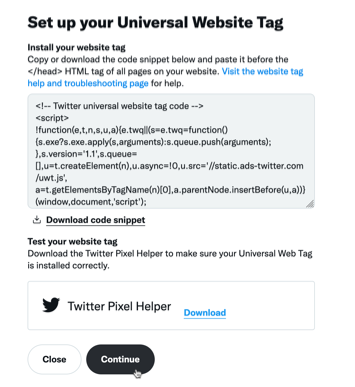 And then create the event based on the thank you or confirmation page new leads see after signing up.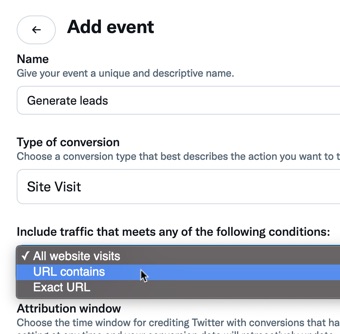 In creating your campaign, you can then select the event you've just set up: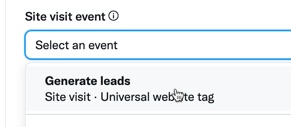 Then continue to set up your campaign including targeting information, deciding on placements and adding appropriate creatives.
We've covered this in full before—see our previous post on how to use Twitter ads for the full lowdown.
To Conclude
You now have a full guide on how to create effective lead generation PPC campaigns across multiple platforms, including Google, Facebook, Instagram, LinkedIn and Twitter, along with info on improving your ROI so your campaigns are cost-effective and can scale.
However, don't approach them all at once. Pick one and master that before moving onto the next, as appropriate for your target market. Remember, your customers are everywhere and it pays to be in front of them on all the channels they frequent.