Does it seem like everyone else understands hashtags, but for you they're maybe still a bit of a mystery?
Or do you want to know how hashtags work on a particular platform? (There are actually some significant differences between them that are important to be aware of).
In fact, you'll find out there's more to hashtags than you might have thought.
To get you up to speed, you'll also find links below to separate guides for Facebook, Instagram, Twitter and LinkedIn.
What Are Hashtags?
First things first.
In case you're completely unfamiliar, hashtags are essentially keywords preceded by the hash or pound symbol, #.
If there are multiple words together, spaces are removed, and it's often written in camel case, with the first letter of each word capitalized.

Hashtags essentially group content together that relates to a particular topic.
Why Should You Use Hashtags?
In brief, hashtags aid content amplification and discoverability.
In other words, by using hashtags in your social media posts, you boost their visibility and help amplify your reach.
When you use a hashtag in a post, it becomes a link people can then click to find other related content using the same hashtag.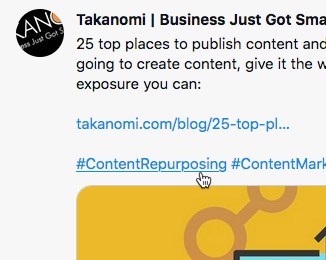 You can use popular hashtags that many other users are using—or create your own as a way to group content together.
Doing the latter allows followers to view all content that you've created on a particular topic, while also enabling them to join the conversation by using the same hashtag.
For example, you may have an upcoming event, and want to create a hashtag for content you'll post to help promote it.
At the event itself, you can then invite your audience to post content relating to the event using the same hashtag. That creates buzz and a community feel while attracting other interested parties to your business.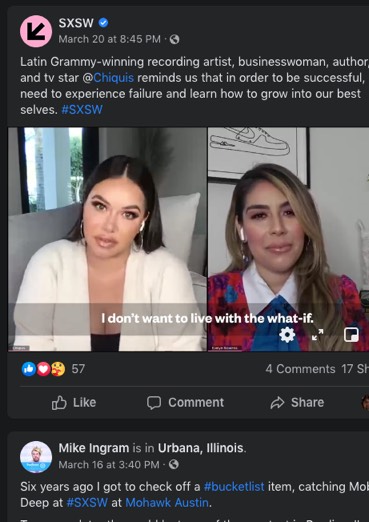 Afterwards, you can continue to use the hashtag to follow up with attendees and spread further publicity.
Finding Hashtags to Use
All Hashtag have a number of free hashtag-related tools available, including these two:
Hashtag Generator—seems predominantly geared towards Instagram, but can help with other networks too.
Top Hashtags—displays the top 100 hashtags for today, the past week, last month or all time.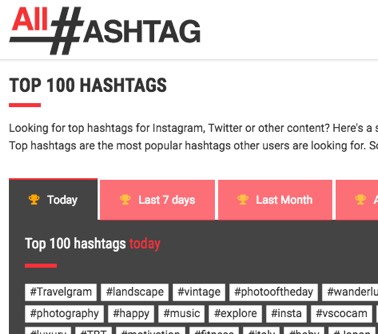 For Instagram, try using DisplayPurposes. Type in a main topic hashtag at the top, and it will return multiple related hashtags that can then be copied and pasted into Instagram, with banned and spammy hashtags filtered out.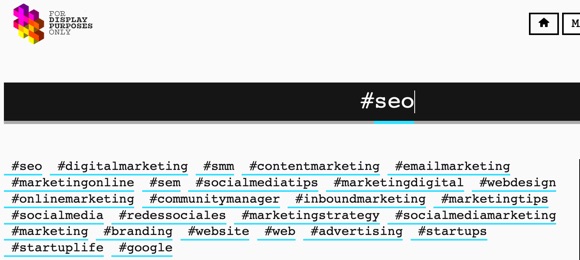 Trending Hashtags
What are trending hashtags?
These are hashtags that are currently seeing a lot of use on a particular social platform.
In other words, these are the most popular hashtags in use at a particular point in time.
They tend to change day by day and even hour by hour.
They also tend to indicate there is a lot of interest in the topic in question, so using such a hashtag within your own posts can increase your engagement levels.
However, if you choose to take advantage and use one, you should be careful to ensure that:
You definitely understand what the hashtag relates to.
The content you're posting actually relates to the hashtag (or you could find it backfires on you).
Daily Hashtags
Scanning through this list can even be a good source of inspiration for ideas on what to post to social media.
For ease of reference, these are listed in alphabetical order.
Monday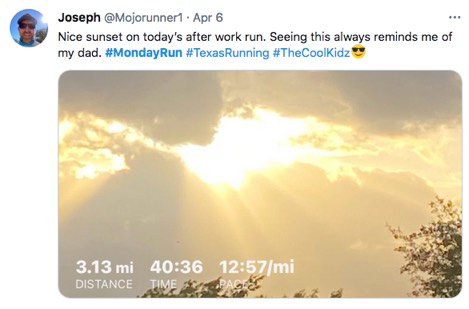 #MancrushMonday (can be abbreviated to #MCM)
#ManicMonday
#ManicureMonday
#MarketingMonday
#MaxoutMonday
#MeatlessMonday
#MeowMonday
#MindfulMonday
#MondayBlues
#MondayFunday
#MondayMemories
#MondayMotivation
#MondayOutfit
#MondayRun
#MotivationMonday
#MusicMonday
Tuesday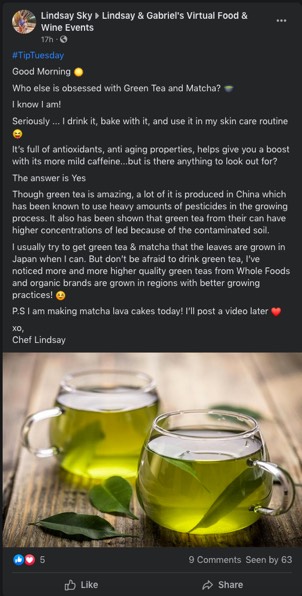 #GoodNewsTues
#TakeMeBackTuesday
#TastingTuesday
#TastyTuesday
#TechTuesday
#TipTuesday
#TopicTuesday
#TransformationTuesday
#TravelTuesday
#TuesdayShoesday
#TuesdayTasting
#TuesdayTunes
Wednesday
#Humpday
#WackyWednesday
#WayBackWednesday
#WednesdayWisdom
#WellnessWednesday
#Winesday
#WineWednesday
#WinItWednesday
#WisdomWednesday
#WomancrushWednesday (can be abbreviated to #WCW)
#WomenWednesday
#WonderfulWednesday
#WoofWednesday
#WorkoutWednesday
Thursday
#TGIT (short for Thank God It's Thursday)
#ThankfulThursday
#ThirstyThursday
#ThoughtfulThursday
#ThrowbackThursday (can be abbreviated to #TBT)
#Thursdate
#ThursdayThoughts
Friday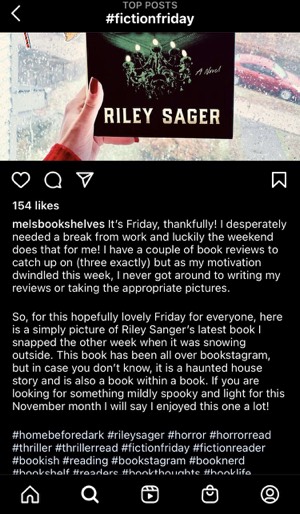 #FactFriday
#FashionFriday
#FearlessFriday
#FeatureFriday
#FictionFriday
#FitnessFriday
#FlashBackFriday
#FollowFriday (can be abbreviated to #FF)
#FoodieFriday
#FreebieFriday
#FridayFact
#FridayFun
#FridayNight
#FridayReads
#FridayVibes
#Friyay
#TGIF (short for Thank God It's Friday)
Saturday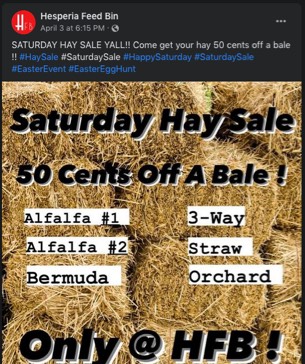 #Caturday
#SalesSaturday
#SaturdayNight
#SaturdayNightFever
#SaturdaySale
#SaturdayShoutOut (can be abbreviated to #SS)
#SaturdaySpecial
#SaturdayStyle
#SaturdaySwag
#SaturdaySweat
#SelfieSaturday
#ShoutoutSaturday
Sunday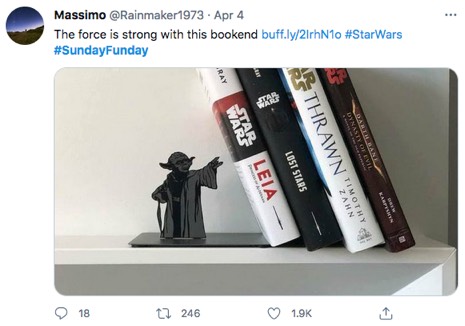 #ScienceSunday
#SelfieSunday
#SpotlightSunday
#StartupSunday
#SundayBrunch
#SundayFunday
#SundayReads
#SundaySweat
General Weekend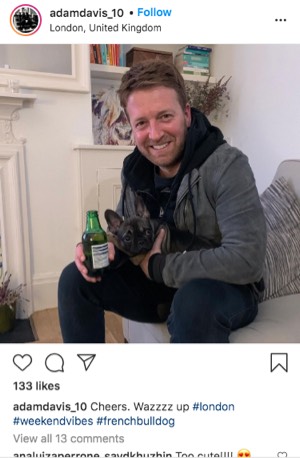 Hashtag Do's and Don'ts
Here are some basic do's and don'ts to bear in mind when using hashtags.
Hashtag Dos
Do be careful with spelling or you'll reverse any benefit of using hashtags
Do be careful before using a hashtag that it means what you think it does
Do use camel case if you want to differentiate between words.
Hashtag Don'ts
Don't use spaces or punctuation within a hashtag—you can only use letters, numbers and underscores.
Don't use all capitals or it can feel like shouting while also looking amateurish.
Hashtag Guides for Individual Platforms
Because hashtags work a little differently on each of the main social media platforms, I've created separate short guides for each one that you can use for reference.
Click through to the relevant guide as follows:
To Conclude
This guide has covered what hashtags are, how they work, why you should use them, and how to use them, including separate guidelines for the main social platforms.
Put them into action in your own social posts, and you'll start seeing increased engagement with your posts. In the guide for Facebook for example, you'll see one study that shows they increase engagement by over 60%!
Finally, take two secs to grab the free cheatsheet on how hashtags work on different platforms so you have it to refer back to: