Repurposing your existing content into different media and new channels is one of the easiest ways to multiply your traffic and grow the reach of your business.
Find out how to do so in the right way, including:
Five key reasons to repurpose existing content…
Three common "myths" about content repurposing that can discourage people from pursuing this valuable strategy…
Repurposing content for maximum traffic multiplication.
Repurposing existing content into different media and new channels is one of the easiest ways to multiply traffic and grow the reach of your business. #repurposecontent
Click To Tweet
So, first of all…
Why Should You Repurpose Existing Content?
Reach New Audiences
Let's say you currently only publish content on your blog, and aren't yet regularly and systematically repurposing that for YouTube.
That means your content can be found by people searching on Google, through links from other websites and blogs, and through places where that content is shared or promoted, such as on social media.
But it also means your content is simply not available for people on YouTube, who are actively watching and searching for content just like yours!
And YouTube is the second most popular website in the world.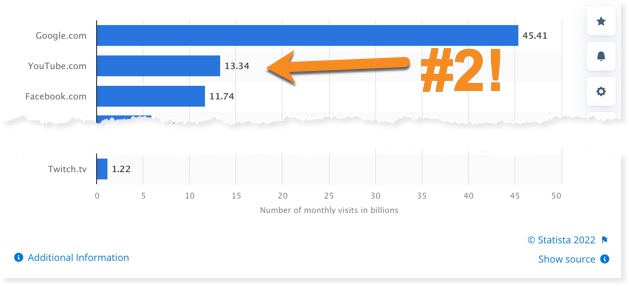 So by starting to regularly add your content onto YouTube, you start to reach people who otherwise would never have come across you.
Of course, it's not just YouTube.
It works similarly for other major content platforms like Medium, Quora, SlideShare, and so on. They're all crammed full of millions of people who otherwise may not otherwise see your content.
And let's say you already publish to YouTube as your primary content channel, but don't simultaneously publish that content on a blog alongside a few paragraphs of text (such as a transcript).
In that case, you're missing out on people who would otherwise find you on Google, for example, people wanting to read rather than watch.
Either way, by repurposing existing content into new media and for new channels, you're able to reach brand new, and often significantly sized, audiences of people who would otherwise never know about you.
Major content platforms like Medium and YouTube are crammed full of millions of people who, without an effective content repurposing strategy, won't know you exist. #contentstrategy
Click To Tweet
Build New Audiences
In reaching new audiences through additional content channels, it figures that you'll start to build your own audiences on those channels who want more of your content.
Related: How to Repurpose Content for Social Media
In general this is when people who do things like 'follow' you or similar, such as subscribing to your YouTube channel.
The more content you publish on these channels, the more your own audience will grow over time.
In doing so this accelerates:
The impact your content will have on those channels.
The growth of your audience.
This happens simply because more people will see the content (having e.g. followed or otherwise subscribed to it), and the more potential there is for your content to be shared with others.
Multiply Results
As the number of channels you publish content on starts to multiply, your results from your content will of course start to multiply too. After all, you're reaching more people.
It's often far harder for example to grow an audience for your content on your own blog, than to tap into pre-existing audiences that exist on sites like Medium and YouTube.
In fact, it's not unusual for engagement for content repurposed for Medium for example to soon outstrip that of your own blog.
And as stated above, by regularly and systematically repurposing content for these content platforms, your audiences grow, multiplying and accelerating your results over time.
Multi-Touch Marketing
Research shows that the more 'touches' you have with a prospect, the more your relationship with them grows, and the more likely they are to become a customer or to re-purchase from you.
By repurposing existing content into different media and different channels, you increase your ability to have those multiple touch points with them.
The more 'touches' you have with a prospect, the more likely they are to buy. Repurposing content into other channels helps provide those touch points. #contentrepurposing
Click To Tweet
This may be as simple as having options on your blog that allow visitors to subscribe to a newsletter that you publish regularly and that contains repurposed content from your blog and other content channels.
Increase Search Visibility
Compare Business A that solely publishes content on a blog, and Business B that publishes content on a blog which is then systematically repurposed into video form and rewritten for publication on Medium.
For a keyword search, Business A may have just one listing in the SERPs for their blog post.
In contrast, Business B may enjoy three separate listings for the same keyword search, with their blog post, their Medium story and their video all listed separately.
And that's not to mention:
Additional visibility on YouTube's own search engine.
The ability to embed that video back into the blog post and thereby keep visitors on the page for longer, growing its search visibility by increasing its ranking position.
Common Repurposing Myths
1. "You Can Be Penalized For Duplicate Content"
Wrong! There's a lot of misunderstanding around duplicate content. There's only ever a "penalty" on people who fill their websites with the same content across multiple pages, but with different keywords swapped in to try and hoodwink Google.
That's blackhat SEO, is rightly frowned upon, and is very different to what we're talking about here.
Let's say you've repurposed a blog post by republishing it again on Medium.
Google won't show the same content twice for a search query, so will pick the one they believe most authoritative (usually where it was first published, but not always), and show that one.
So the other one won't have much benefit on search. But that's not the same as a penalty.
However, for maximum benefit on the search engines—in other words, to get both pieces of content to show up on search for different queries—it's best to rewrite the original before posting it elsewhere.
This is a lot less work than creating the original, it's easily outsourced, and it multiplies your visibility on search far more easily than creating brand new, original content from scratch..
2. "Audiences Won't Want to See the Same Content Elsewhere"
Wrong! For starters, most people are so saturated with content from different sources, even if they do see it again, however great your content was the first time, they're unlikely to remember it (sorry!).
And even if they do remember seeing it before, they're unlikely to remember it in much detail. Most will appreciate the refresher!
But in reality, there is literally so much content in circulation that the proportion of your audience who see the 'same' content in a different form elsewhere is going to be very low.
3. "You Should Only Repurpose Your Best Content"
Wrong! This one gets banded around a lot. But when you think about it logically, it doesn't actually make any sense.
First, how do you define what is "best"?
Ideally, this would be based on actual performance or results, rather than what you personally like the best.
But even that's problematic. For one, it's only based on one specific medium, and doesn't predict how the content may perform elsewhere.
A common content repurposing myth: "Only repurpose your best content". But that means random acts of repurposing without the consistency needed for an effective strategy. #contentamplification
Click To Tweet
For example, a top performing blog post may prove to be mediocre as say a video or slideshow. The relative performance of content items is also rarely static, but rises and falls over time.
Second, while it's only to be expected that some pieces of content outperform others (with a minority usually far outperforming all the others), that doesn't mean those at the low end don't benefit you.
Third, a large part of the benefits of repurposing come from building audiences. It's hard to grow an audience unless you show up regularly, just as you do on your main, primary content channel.
Repurposing Content for Maximum Traffic Multiplication
Stop Performing "Random Acts of Repurposing"
One of my mentors, Dan Kennedy, talks about the vast majority of businesses performing "random acts of marketing" rather than marketing that's been properly thought out as part of a broader strategy and is actioned consistently.
The same goes for content repurposing.
Most approach it randomly with no consistency.
The problem is this. To be successful with a particular content channel, you have to be consistent.
If your primary content channel is a blog, everyone knows that to be successful, you need to be consistent and show up regularly with new posts.
The same goes for say a YouTube channel or a podcast.
So if you're repurposing existing content to another channel—for example, repurposing blog posts as YouTube videos—you've got to treat each secondary channel in the same way, as if it were your primary channel too!
You're simply not going to be successful if you only show up sporadically, in a half-hearted, non-committed way. That's not how you build an audience.
So that means for repurposing to have any value, you have to repurpose content on a consistent basis…
How to Repurpose Content Consistently
To repurpose content consistently, you've got to systematize it.
In other words, you need a system in your business that means every time you publish on Channel A, you repurpose that content for Channel B (and as you get good at this, also for channels C, D and E, right?)
Ideally, this also means effectively delegating these tasks to the relevant people in your organization so they know exactly what to do and when.
For doing this here at EverywhereMarketer, we use the Trafficonomy software that's designed to help with just that.
It meant that as soon as this post was published:
Various tasks for content repurposing were immediately delegated and assigned appropriately.
Other content repurposing tasks were scheduled for the future, some weeks or even months down the line.
Other follow-on tasks not related to content repurposing (e.g. content promotion) were also delegated or scheduled as appropriate.
The same thing happens each time we publish. The tasks are all managed via a centralized dashboard—each team member has their own login, and are automatically notified when there's a new task assigned to them to do.
To put it bluntly, it means "stuff gets done". After all, a scheduled task is a task that gets taken care of.
That's how you repurpose content consistently so it starts to deliver meaningful results.
Learn to Take Advantage of Positive Feedback Loops
As you become more adept at content repurposing, you start to notice opportunities where the repurposed content can be used for advantage in the original content.
A prime example is where you've repurposed a blog post into a video in some way.
As well as posting on YouTube, that same video can be embedded back into the original post, and/or into related content on your blog where the information adds value.
It can also be used to enhance other repurposed content in the same way, such as embedding the video in a related Medium or Quora post, or LinkedIn article.
To Conclude
As we've seen, repurposing existing content in the right way to multiply traffic involves a regular and systematic approach, rather than "random acts of repurposing".
After all, it's far easier and quicker to get another listing for a relevant keyword on Google by repurposing some existing content than by creating brand new, original content from scratch.
And in doing so, you attract and build brand new audiences across different channels who are otherwise likely to have simply never heard of you.