With all types of marketing, accurate analysis of the data helps you to narrow down on what's working and what isn't, and thereby develop an increasingly successful campaign over time.
Social media marketing is no different, but there's a lot of confusion about the various tools and software that can help.
If you're trying to find the best way to track social media analytics, this post is designed to help, with a look at 10 of the main options available.
10 Top Tools to Track Social Media Analytics
Google Analytics is probably one you're familiar with.
It allows you to analyze where your traffic's coming from, and how that traffic translates into conversions and other metrics on your website.
That goes for social media too. Set up in the right way, it means you can get access to metrics such as:
Conversions from social media posts
The amount of traffic received from different social networks
What types of content on your social media accounts are working best
The demographics of the traffic you are attracting
The ROI of your social media campaigns
The standard version of Google Analytics, suitable for nearly all small- to medium-sized businesses, is also completely free to use, with Google Analytics 360 available for larger enterprises.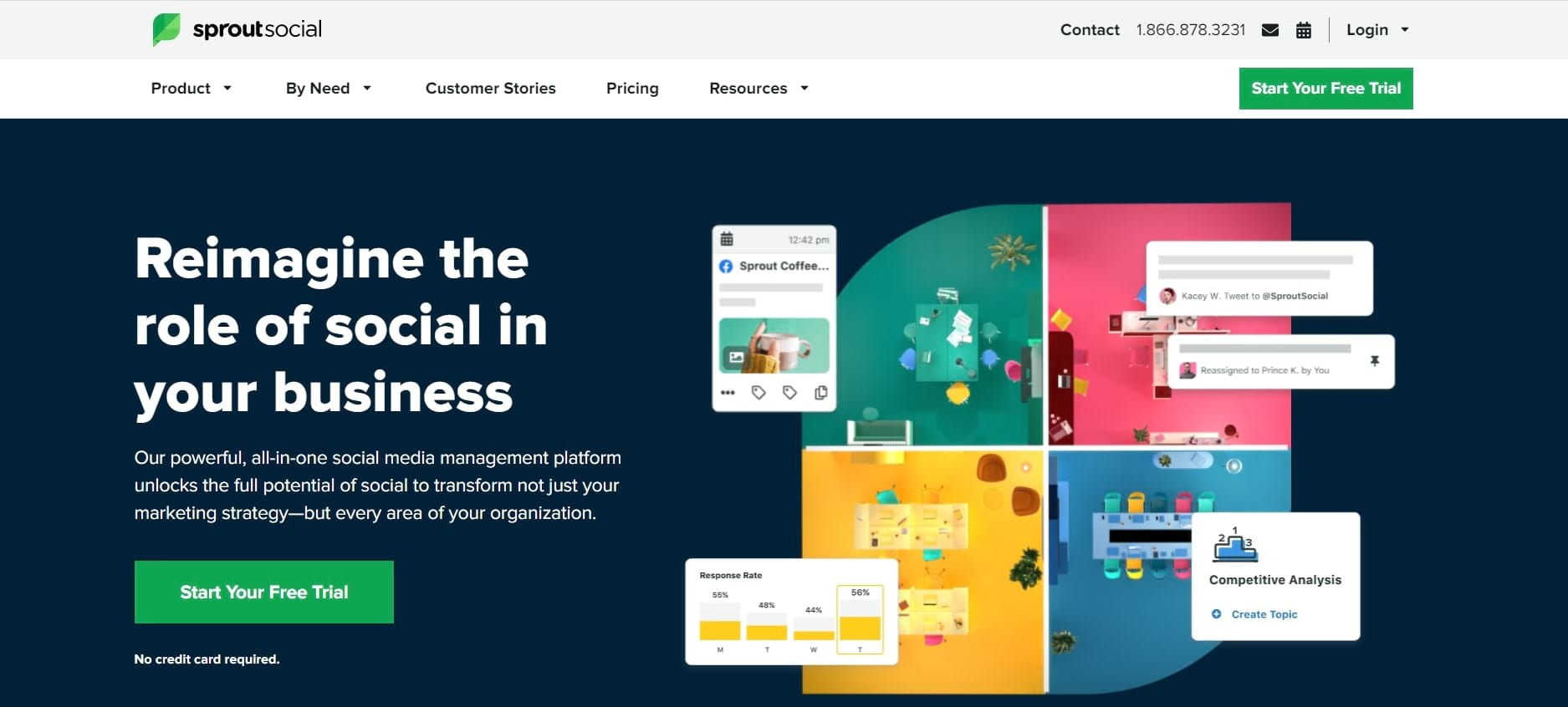 Sprout Social is a well-known and popular social media management tool that many users believe is the best way to track social media analytics.
The platform has a user-friendly, intuitive and aesthetically-pleasing dashboard, with onboarding sessions available to help new users to get up to speed with the various features.
Reports are another popular feature that makes it easy for users to analyse data so they can make informed and impactful decisions.
Analytical features include:
Social analytics
Social engagement
Goal setting/tracking
Post performance
Follower analysis
Competitor analysis
Conversion tracking
Influencer tracking
Sprout Social is available in 3 different plans, with their Standard plan starting at $99 per user/month. This plan offers management and analysis of 5 social profiles, with additional profiles available as an add-on cost without needing to upgrade to a higher tier plan.
Their higher tiers include:
The Professional plan at $149 per user/month
The Advanced plan at $249 per user/month
Both of these offer 10 social profiles, again with the option to pay for additional profiles as needed.
A 30-day free trial is also available for all plans.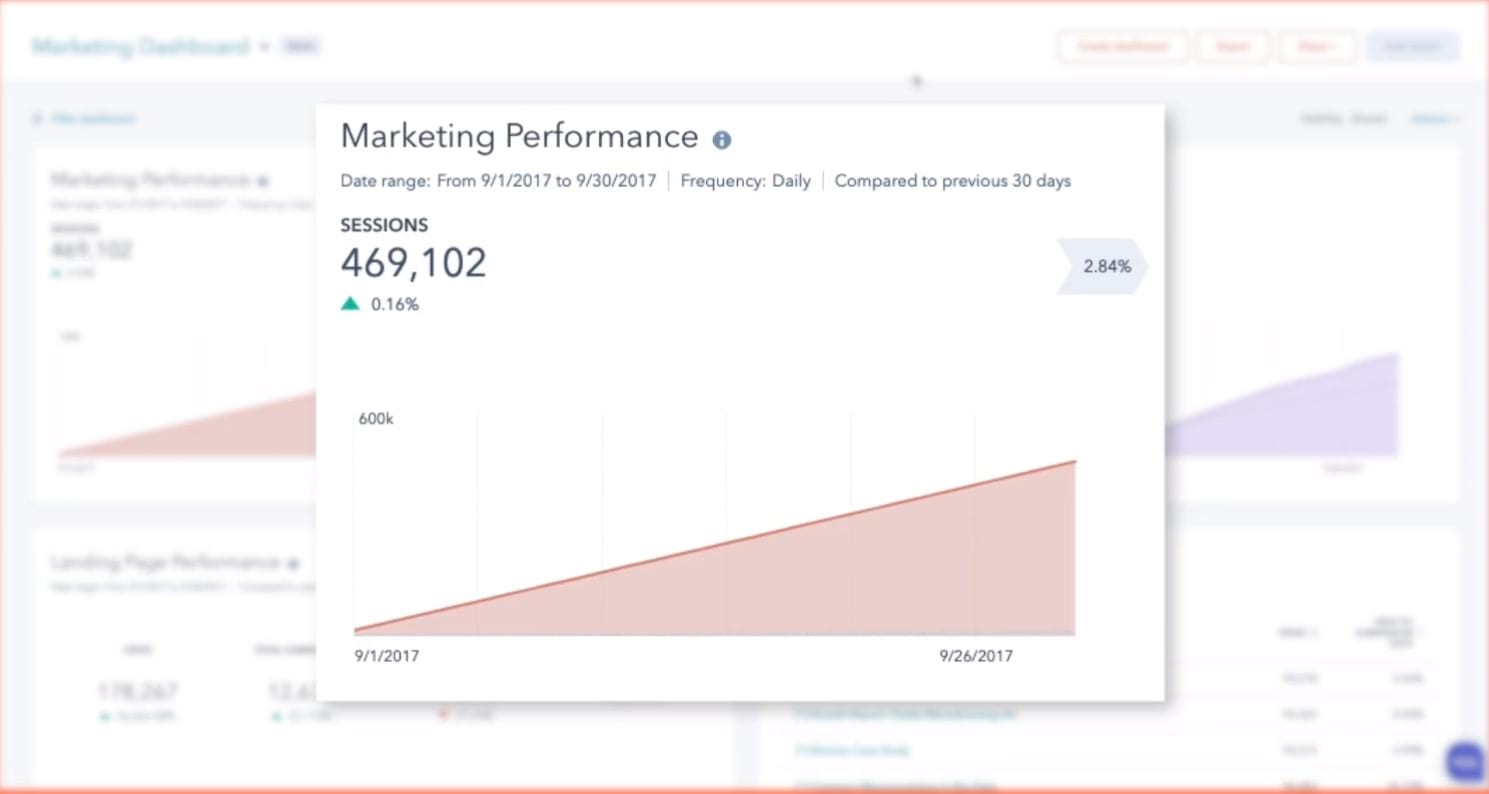 Hubspot is of course one of the biggest names in the business, with their software packed full of features of value to online marketers.
Their Marketing Hub is a comprehensive platform that makes it easy to create and manage marketing campaigns, including on social. It includes numerous analytical tools that help you gauge the effectiveness of your campaigns.
Although providing a relatively sophisticated set of features, HubSpot's Marketing Hub is still widely regarded as intuitive and easy to use.
Their analytical features include:
Activity dashboard
Campaign analytics
ROI tracking
Click tracking
Conversion tracking
Goal setting/tracking
Analytical reports
Alerts/notifications
In terms of pricing, Hubspot does offer a free version of their Marketing Hub, but the analytical tools they provide with the free version are very limited. For social media analytics, their solution is pricier than most.
Their Starter plan at $50/month does not include social media tools, which only becomes available with the Professional plan at the far higher cost of $890/month, or $3,200/month for Enterprise.
A 10% discount is available with the Starter and Professional plans if choosing to pay annually.
While the costs mean HubSpot Marketing Hub is likely to be a less affordable option than other tools on this list for a lot of smaller businesses, for businesses with the right budget it will likely prove a invaluable tool.
Keyhole was created with a specific focus on social media.
It offers one of the best ways to track social media analytics, used by marketers at organizations such as Mashable, WWF and Netflix.
The platform provides a variety of tools to help manage social media campaigns and analyze their performance, including in relation to influencer marketing.
It has an easy-to-use dashboard providing access to reporting facilities, and reports can be shared with others in a straightforward way.
The platform's analytical features include:
Competitor analysis
Pose performance
Follower analysis
Influencer identification
Social manager
Social reporting
Sentiment analysis
Two payment plans are available, Standard and Enterprise.
The Standard plan starts from $99/month if billed monthly, with increased costs if you need to add more trackers, posts and profiles.
The Enterprise plan offers additional features, with pricing available by contacting the site.
They offer a free trial, along with a 20% discount for those choosing to pay annually.
Brandwatch is aimed more at medium- to larger-sized organizations and is packed with features to help marketers analyze large scale social media campaigns.
As well as helping businesses to monitor their own online campaigns, it also provides powerful social media listening tools that help customers understand what their target audience is saying about them and their competitors.
Their analytical features include:
Report customization and exporting
Competitor analysis
Follower analysis
Post performance
Paid campaign tracking
Social measurement
Influencer identification
Sentiment analysis
No pricing information is available on their website, with businesses requested to contact them directly for details, but as a rough estimate, pricing plans appear to start from around $800/month.
While, as with Hubspot Marketing Hub above, the pricing likely puts it out of reach of many smaller businesses, it's a popular analytics solution for many larger organisations.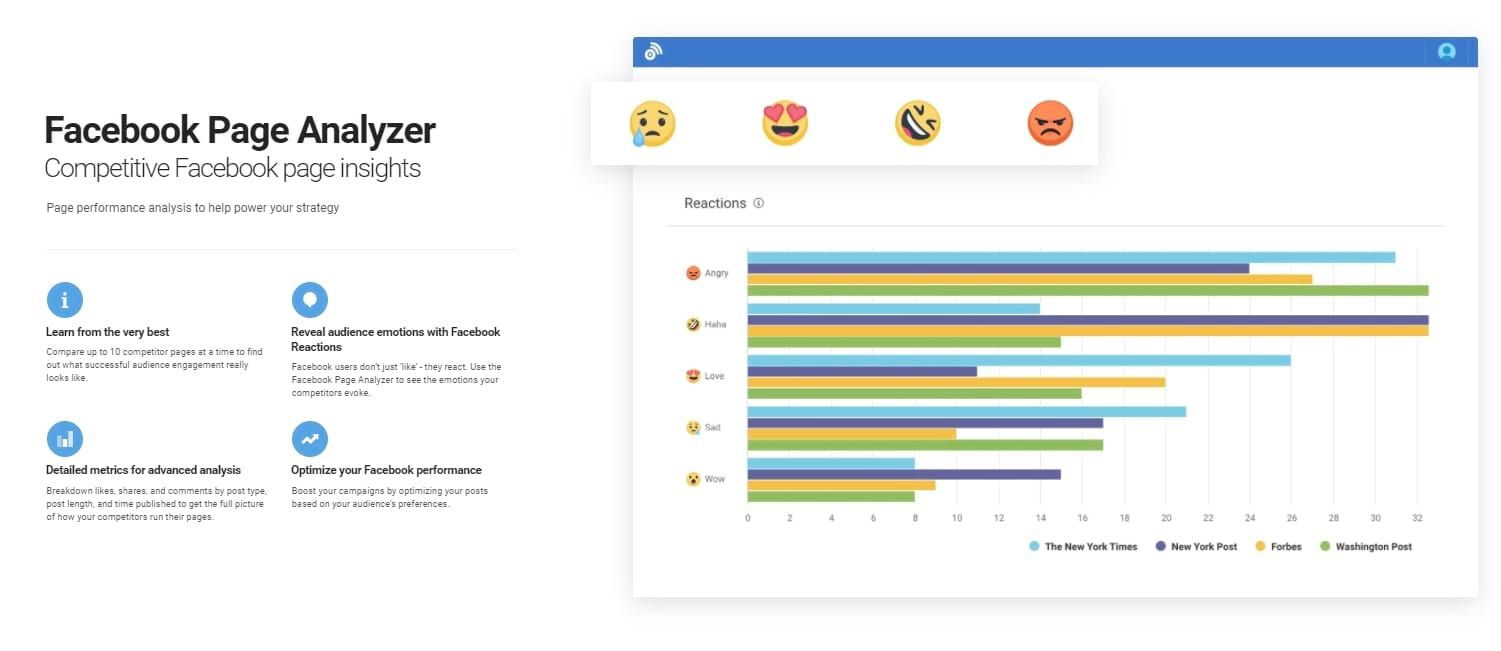 BuzzSumo is a well-used, popular option for content marketers, helping them to create the type of content that attracts maximum traffic.
It's a different type of tool to the others on this list, helping marketers by:
Analyzing online content to see what's trending and popular.
Providing insights on how their your own content is performing.
BuzzSumo's analytical features include:
Competitor analysis
Post performance
Social measurement
Influencer identification
Social reporting
The platform offers a free plan, permitting 10 free searches a month alongside relatively limited features.
Paid plans are available from $99/month for the Pro plan, with higher tiers Plus at $179/month and Large at $299/month.
A free trial is available for their paid plans, with discounts of 20% when paying annually.
Talkwalker is a powerful social media listening and analytical tool, similar in nature to Brandwatch (see #5 above) in that it helps businesses to learn more about what people are saying online about themselves and their competitors.
The software can analyze conversations across numerous social networks, alongside social media analytical tools. While some might struggle with the learning curve, the user interface is relatively intuitive and onboarding is available.
Their analytical features include:
Competitor analysis
Follower analysis
Post performance
Paid campaign tracking
Social measurement
Influencer identification
Sentiment analysis
Social reporting
As with some of the other tools, Talkwalker is really only suitable for larger businesses, with pricing for their Listening platform alone starting at $9,000/year for up to 10,000 results per month.
For access to their Analytics and Research platforms, you need to contact Talkwalker directly for pricing information. You can also request a free demo of Talkwalker via the website.

Most marketers operating in social media will have come across Hootsuite, a comprehensive social media management platform with an array of features ranging from analytics to campaign management, and considered by many to be perhaps the best way to track social media analytics.
The intuitive dashboard makes it easy for users to get real-time, actionable insights that help inform effective decision making. Users also get access to a wide range of resources, including marketing training and coaching, with expert certificates available for those who qualify.
Hootsuite's analytical features include:
Social analytics
Campaign optimization
Competitor analysis
Follower analysis
Post performance
Social measurement
Influencer identification
Sentiment analysis
The platform has three plans available as follows:
Professional: starts at $19/month paid annually, permitting 10 social profiles and 1 user
Team: starts at $99/month paid annually, with 20 social profiles and 3 users
Business: starts at $599/month paid annually, with 35 social profiles and 5 users.
A 30 free trial is available.
Buffer is another popular and well-known social media management platform that offers analytics capabilities alongside campaign management features.
Buffer is more streamlined than some other platforms, with a less sophisticated feature set that makes it easier to use and more suitable for smaller businesses than some of the more enterprise-focused tools.
The platform's analytical features include:
Social analytics
Campaign optimization
Social engagement
Their free plan permits 3 social channels, 10 scheduled posts, and 1 user, with paid plans providing increased capacity and a wider set of features:
Pro: $15/month with 8 social channels, 100 scheduled posts and 1 user
Premium: from $65/month, with 2,000 scheduled posts and 2 users
Business: from $99/month, with 25 social channels and 6 users
A 20% discount is available for annual plans, along with a free trial of their paid plans.

Quintly has a specific focus on social media analytics, used by companies such as Adobe, Samsung and Warner Bros.
The easy-to-use platform is compatible with all of the popular social media platforms. It provides detailed information on campaign performance, and you can create the metrics you want to keep an eye on via the metrics builder.
Their analytical features include:
Competitor analysis
Follower analysis
Post performance
Paid campaign tracking
Quintly offers custom plans starting at $300/month, with a free trial available for every plan.
To Conclude
As you can see, there's a wide variety of choice available in terms of social media analytics tools, with this list providing you with some of the most popular options.
*But is there a definitive best way to track social media analytics? *
Probably not—it really depends on what you're looking to achieve, your budget, and factors such as the number of users who need to have access to the tool.
Some are created for single marketers and small business owners, with others focusing on larger businesses and the enterprise market.
The good news however is that most provide users with a free trial, so you can test different tools out before deciding on the one that's best for you.
Note: pricing information was correct at the time of publication, but subject to change—consult the individual websites for the most up to date information.
Finally, take two secs to grab your free copy of this list of top social media analytics tools so you have it to refer back to: