If you're looking to improve your SEO and attract more traffic from search, it helps to know exactly where you stand right now.
One of the best ways to do that is by obtaining an online SEO analysis report about your website.
Such a report can highlight your strengths and weaknesses, enabling you to address the weak spots and boost your rankings.
After all, we all know the value of getting as high up the SERPs as possible: nearly a third of Google users click the very first organic result (Sistrix).
And few go past the first page. According to Moz, the first page of search results account for nearly three quarters of all clicks.
You can also use such reports of course to take a look at the competition, and see what they're doing that you could also take advantage of.
So how do you go about getting an SEO analysis report?
While there are countless tools on offer, it's best to pick one that suits your specific requirements.
Some of the factors you might be looking for including the following:
Custom reporting for your specific uses/requirements and the ability to export these reports to your device
A variety of primary reporting options, including position tracking, backlink monitoring, analytics, and a feature to track competitors' data
Approval of third-party integrations, allowing scaling with new software in the future
Bonus features such as white label reporting, client integration, automation, and unimpeded export access - convenient for marketers
Whether you're doing SEO on behalf of a client, or a business handling your own SEO, this guide reviews the top 5 such tools available.
5 Top Tools: Online SEO Analysis Report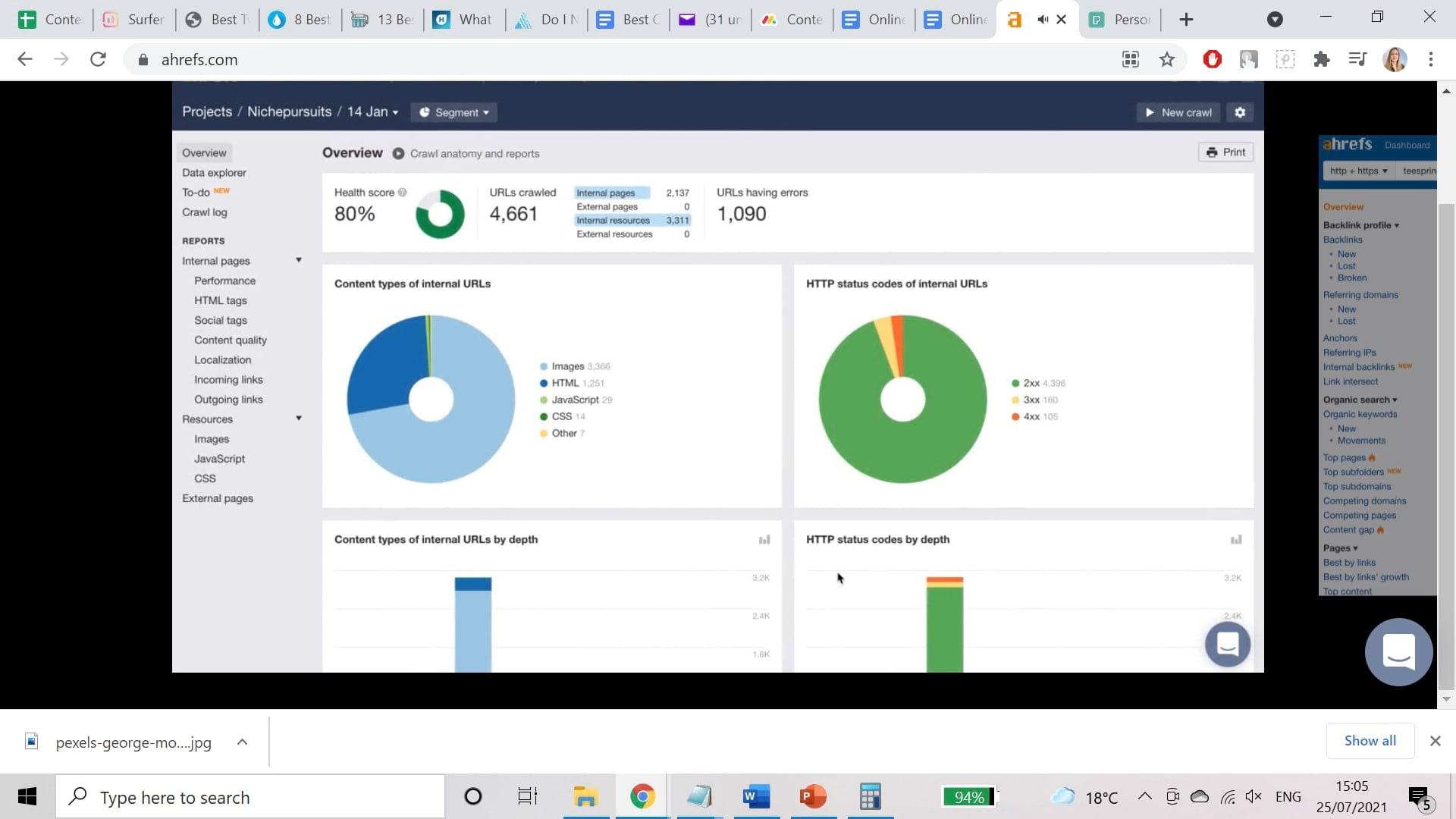 Price: Lite: $7, $99/month; Standard: $179/month; Advanced: $399/month; Agency: $999/month
Ahrefs is one of the most well-known online SEO resources that examines websites and offers ranking, link, and keyword profiles to help you make smarter choices for your content.
One of the main features of Ahrefs is the Site Explorer. This feature allows you to examine specific pages on your website and analyze their performance. You can also use the Content Explorer feature to search keywords and topics to bring up high-performing pages.
Additionally, Keywords Explorer allows you to search for keywords and get information on their click-through rates and monthly search volume.
For each keyword that you look up, Ahrefs brings up a "parent topic". This broader keyword typically has a higher search volume but has the same potential to rank and the same target audience. This helps increase the SEO value of your keywords.
Ahrefs' Site Audit feature is essential for anyone looking to pinpoint the technical issues their web pages may be facing. This feature examines significant themes or categories on your website and brings up errors at the page level.
Ahrefs Pros
Easy-to-use interface
Wide range of invaluable features
Lots of training materials & access to the private Facebook community
Ahrefs Cons
No free trial
Pricing is higher
Lite option is fairly restrictive
Ahrefs Verdict
Ahrefs is a beneficial tool, especially to marketers working with a client base.
This tool is the pack leader for link-building, but first-time users might be confused by the large amount of data presented.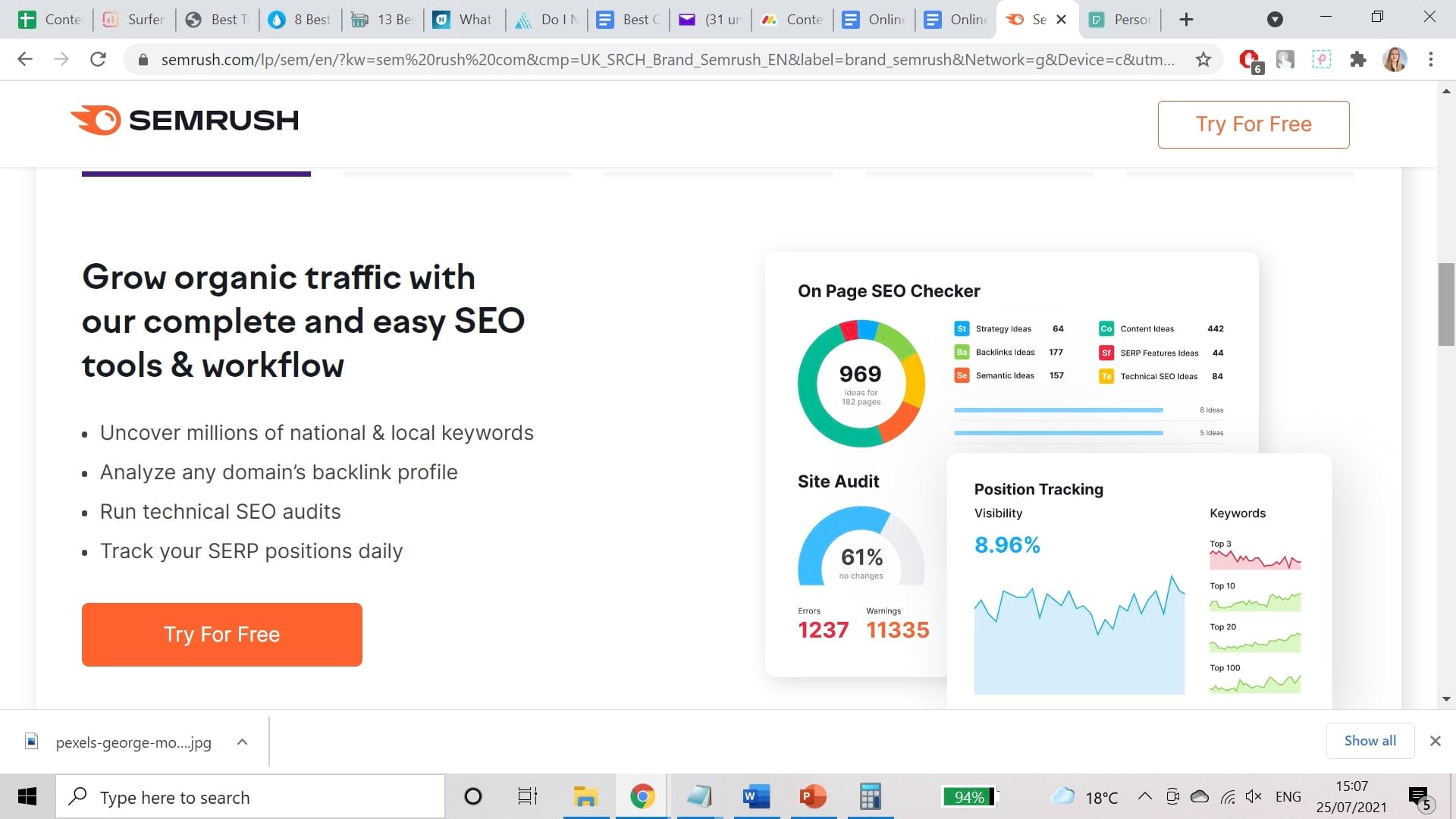 Price: Pro: $119.95/month; Guru: $229.95/month; Business: $449.95/month
SEMRush is a comprehensive dashboard that combines many essential resources for analyzing the performance of specific web pages and domains as a single unit.
One of the handiest SEMRush features is the Toolkit, which lets you track your website over time and assess its visibility improvement.
You can also use the Toolkit to evaluate the keywords your website is ranking for and the monthly search volume for specific keywords, and much more.
SEMRush offers all the features you're likely looking for in an SEO tool, allowing you to compare the performance of your webpages to competition, analyze backlinks, search for relevant keywords when building PPC or SEO campaigns, publish and analyze social media posts, and receive recommendations for optimizing your content to boost your organic traffic.
SEMRush Pros
Offers comprehensive search engine data
Logical & generally easy to use
Link-building function is convenient
SEMRush Cons
Quite expensive
Plans only come with one user account
Not ideal for use on a mobile device
SEMRush Verdict
SEMRush is a solid SEO tool that gives access to the critical data required to carry out a successful SEO project.
Its site auditing and link-building tools are standouts, but it would be helpful if multiple users could use accounts.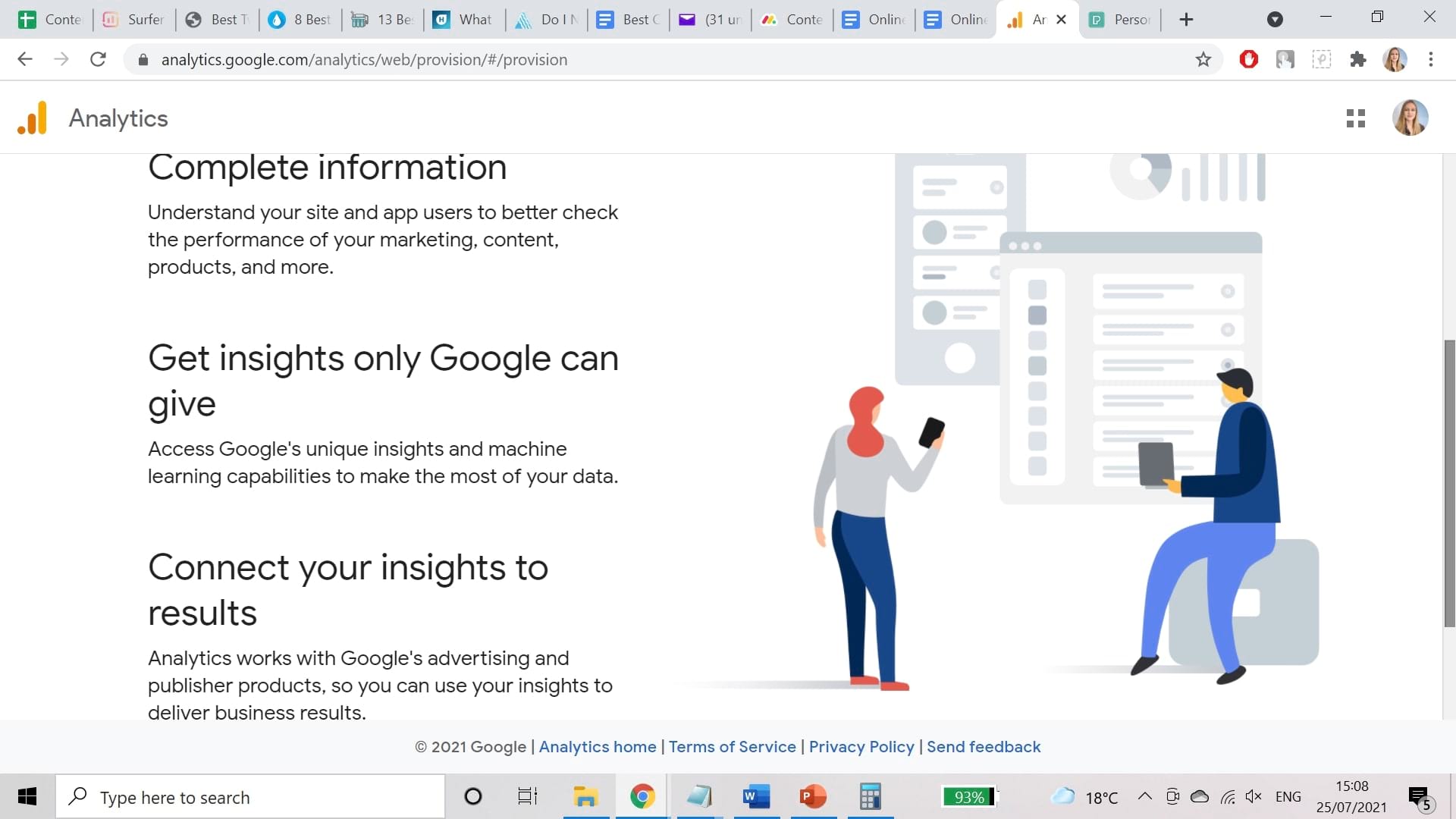 Price: Free, with optional paid add-ons
Google offers several useful SEO reporting features, and Google Analytics is one of the most popular. You can choose to pay for the more advanced Analytics tools, but the free version of this product may be more than enough for you to manage your website's SEO.
Combining Google Analytics with Google Search Console (here's how to set it up) is particularly effective, enabling your website's SEO data to be compiled and centrally located.
For example, use the queries report to examine the keywords and phrases you want to rank for and identify how to improve them.
You can also use the free version of Google Analytics to filter your referral traffic and remove anything that may potentially ruin your SEO reports.
You can compare your organic website traffic to your non-organic traffic, determine engagement metrics per page with Site Content Reports, identify your web pages with the highest traffic, and much more.
Google Analytics Pros
Free version may provide all the features you're looking for
Analytics Academy is ideal for new users
Can be used across all devices
Google Analytics Cons
Data importing and collecting are limited
Can be complex for new users
Not all data provided is fully accurate
Google Analytics Verdict
As a vast, informative, and completely free tool, Google Analytics is ideal for growing businesses looking for an affordable SEO monitoring solution. Google Analytics offers a high volume of valuable data, but it does have its limitations and drawbacks.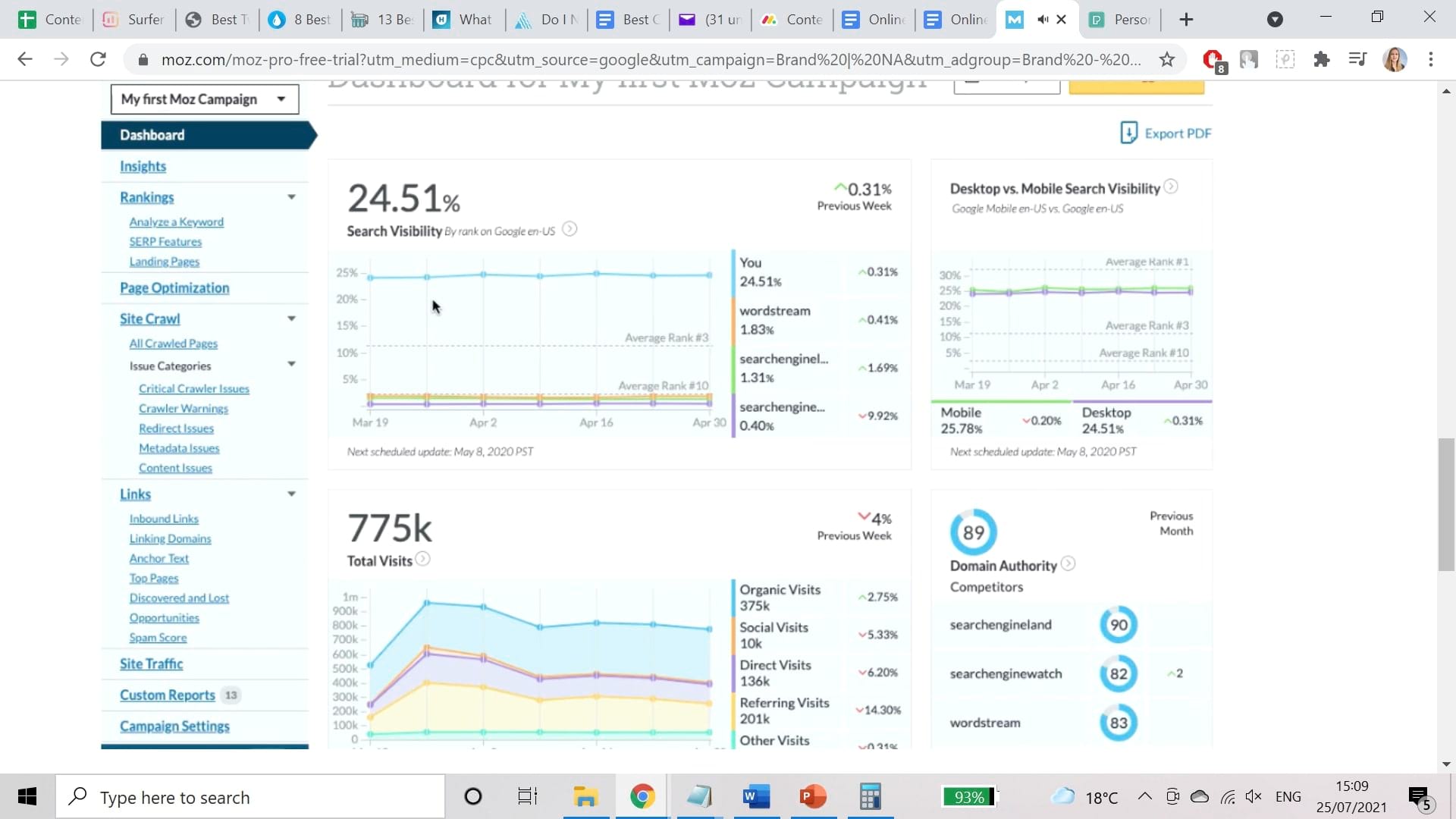 Price: Standard: $99/month; Medium: $149/month; Large: $249/month; Premium: $599/month; Free 30 Day Trial
Moz Pro is an all-in-one offering that provides a host of resources for identifying SEO opportunities and increasing ranking. Moz subscribers can build reports and track growth, using the data provided to improve their existing SEO efforts.
With Moz Pro, users have access to a website crawler that can analyze a total of 3,000 links from one URL. Additionally, Moz Pro provides email reports featuring crawl data from pages that link to your website.
One of Moz Pro's most significant benefits is that it highlights potential crawlability issues, like redirects and duplicate content, which could be hindering your overall SEO success. If you're looking to track ranking across multiple search engines and top-priority site issues, Moz Pro is a tool that's well worth considering.
Moz Pro Pros
Offers a range of highly informative resources
Page crawling data is particularly valuable
Great value for money
Moz Pro Cons
Range and depth of features can be overwhelming
User experience could be more intuitive
Some manual tasks could be automated
Moz Pro Verdict
Moz Pro offers a complete toolset for businesses looking to analyze SEO accurately. Still, its range and depth of features may be a little overwhelming for users with reduced SEO knowledge.
Price: $29/month; free 5-day trial
GrowthBar is a Google Chrome extension that offers competitive analysis, allowing you to track SEO rankings and perform keyword research.
You can use GrowthBar to access website data directly from the SERP.
This provides a fast and convenient way to analyze the performance of your competitors and view the keywords, ads, backlinks, and growth channels that have proven effective for them.
The Top Keywords feature gives you an insight into which keywords - both paid and organic - drive the most traffic to your site.
You can also use the Backlinks feature to access a list of backlinks leading to your site, ranked by authority.
The GrowthBar Keyword Difficulty Score is convenient, as it gives a difficulty ranking for specific keywords, based on the strength of the DAs of the websites that currently rank on Google's first page.
The Word Count feature lets you view how many words a specific web page contains, straight from the search engine results page.
GrowthBar Pros
Very easy to use
No limits for domain queries or keyword research
Entry level plan is cheap
GrowthBar Cons
Not quite as comprehensive as others on this list
Backlink monitoring is a little basic
Customer support could be more easily accessible
GrowthBar Verdict
GrowthBar is affordable and easy to use, making it an ideal choice for businesses dipping their toes into SEO analysis.
While this tool is suitable for basic SEO projects, it may not offer the level of depth required for more advanced undertakings.
To Conclude
Whether you want to move ahead of the competition, rebuild your SEO strategy, or improve your site's overall performance, get started by using one or more of the tools on this list to create an online SEO analysis report and find out exactly where you stand.
Use them to analyze your competition as well, potentially providing you with ideas for your own SEO.